Ty Treadway
By Jamey Giddens on March 08, 2012
Ex-
One Life to Live
star
Ty Treadway
is looking for work again. The actor and one-time host of SOAPnet's evening gabfest
Soap Talk,
was recently hired by Dallas' ABC affiliate WFAA to co-host
Good Morning Texas
. According to
Media Bistro
, Treadway is no longer with the station, after just two months. Maybe it's time for Treadway's former OLTL baddie, Dr. Troy MacIver, to look for a gig at a new (
General
)
Hospital
?
By Jillian Bowe on December 29, 2011
Just what brings outspoken soap veteran Catherine Hickland back to One Life To Live? TV Guide Magazine's Michael Logan gets the scoop from Hickland on what viewers can expect when alter ego Lindsay Rapapport returns to Llanview.
TV Guide Magazine: Back to OLTL. Word is, after the big prison break an incognito Lindsay makes a beeline for her old flame Bo [Bob Woods]. Does she still have a thing for him?

Hickland: It's sort of ambiguous. I'm not being coy. I really couldn't tell from the script. But, yeah, I got to work with Bob and Hillary B. Smith [Nora] and Ty Treadway a bit. For me, it was a satisfying ending for my character. I liked the idea of playing Lindsay one more time. That character has a place in history on that show, that's for sure. Though, at that point, Prospect Park was still planning to take the show to the Internet. I was happy to wrap it up, or leave it open. Whatever they had in mind.
Hickland also dishes on why she came out swinging against OLTL and All My Children getting the axe from ABC and speaking out against former ABC Daytime President Brian Frons. READ MORE
By Luke Kerr on November 10, 2011
Boy oh boy things are getting interesting at One Life to Live. According to Soaps in Depth, two more former OLTL stars were spotted on set. Reportedly, Ty Treadway, who portrayed twins Colin MacIver and Troy MacIver, and Meghann Fahy, who played crazy ass Hannah O'Connor, will be popping up on our screens soon.
By Jamey Giddens on October 14, 2010
Ty Treadway
's former
Soap Talk
constant interrupter
co-host
Lisa Rinna
isn't the only one jumping onto the reality bandwagon. In an interview with
Soap Opera Digest
, the former
One Life to Live
stud-turned-
Days of Our Lives
newbie revealed he recently sold a docusoap pilot, which he partnered with Bunim-Murray Productions—producers of MTV's
The Real World
docusoap franchise— to create. Treadway's potential series will revolve around the famous Saddle Ranch bar on L.A.'s Sunset Strip, where he once mixed a mean drink as a bartender.
"There was always intermingling and drama, and this one sleeping with this one, and this one got a role in the new Brad Pitt movie, and it was always exciting." READ MORE
By Jillian Bowe on July 21, 2010

Soap Opera Digest is reporting former Soap Talk host and One Life To Live star Ty Treadway will soon start on Days of Our Lives. Treadway will play, Dr. Jason Walters and will have a few episodes on the sudser. No word on his official air date, but the actor starts taping next month.
By Luke Kerr on December 17, 2008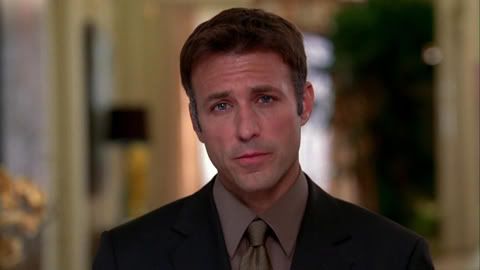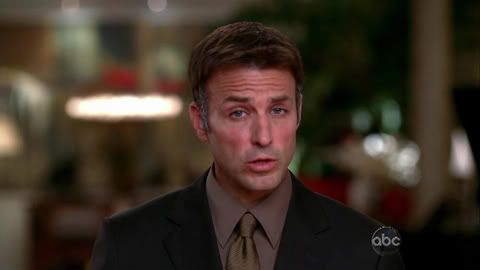 Ty Treadway
, former
One Life to Live
star and talk show host, made a cameo on tonight's
Dirty Sexy Money
as a reporter interviewing the Darling family about the Senatorial swearing-in shooting tragedy.
Question: I haven't seen Treadway on TV in a while, but is it just me or does it look like the show frosted his sideburns to make him look older?