Tristan Rogers
By Jillian Bowe on October 23, 2008
TV Guide Canada's
Nelson Branco
chats it up with
General Hospital: Night Shift's
Tristan Rogers
(Robert) about his alter ego's phenomenal storyline dealing with colon caner. This is a must read for all you Robert/Tristan fans. The
actor
opens up about the status of soaps today:
TVG: You were a part of the 1980's glory era of soaps. Is it depressing to be a part of the new realities of the genre? What's your take on the health of soaps?

TR: It's in a lot of trouble. The networks are aware of this. The good news is ABC doesn't want to cancel their soaps. Soaps have had a question mark attached to them in the past twelve months. What's happening now, however, is the economic crisis the country is facing. I always see opportunity in chaos and there's an incredible opportunity in reviving soaps by simply using storylines that have a foundation in hope. By re-adjusting our stories to focus on the dramatic situation America finds itself in written for adults in a respectful, entertaining, and enlightening manner is what the audience needs right now. People are going to be stressed and depressed, and if history is any indication, soaps have always flourished in hard times.
By Regan Cellura on October 16, 2008
Check out
Tristan Rogers
' (Robert Scorpio,
GH: Night Shift
)
Video Blogs
! Plenty of great "vlogs" for
GH
and
NS
fans alike to check out. Tristan is joined by
John Reilly
,
Finola Hughes
,
Kimberly McCullough
,
Anthony Geary, Antonio Sabato Jr.
and plenty more of the
Night Shift
cast.
By Jillian Bowe on October 12, 2008
Deathbed confessions, vows of revenge, declarations of love. All of these are cornerstones of soap operas. They can move you to tears or cause you to want someone's head on a stick. Bottom line, the lines our soap characters utter keep us coming back for more.
This week, mob king pin Anthony Zacchara hasn't let his revelation of being able to walk, dull his ability to drop zingers.
Anthony to Ric discussing Johnny's descent to the dark side:
Anthony: "Its understandable that Johnny's volatile right now. His little Lulu cracked like a coconut smacking cement".
By Jillian Bowe on October 10, 2008
Earlier in the week, yours truly
reported
that
Tristan Rogers
(Robert) was slated to be a guest on
The View
. His appearance was rescheduled and fans of the
General Hospital
and
General Hospital: Night Shift
star will finally have a chance to watch him chat it up with Babs and the gang.
Rogers gets his turn in the hot seat on the popular ABC talk show tomorrow. I promise this time!
By Jillian Bowe on October 06, 2008
The ABC publicity machine's back at it again.
General Hospital: Night Shift
star
Tristan Rogers
(Robert) will appear on the couch with the ladies of
The View
tomorrow. Rogers seems to have his hands full not only with the uber-popular
NS2,
but also a new show that's slated to air online.
The actor will helm My Soap Cafe, a show that tackles the present issues in daytime and night time soap operas, as well as anything else that comes his way. Fans will also be able to interact with the show by posting questions that will be read on the show. No word yet on when the show will air or the if show will be a recurring fixture.
By Regan Cellura on September 25, 2008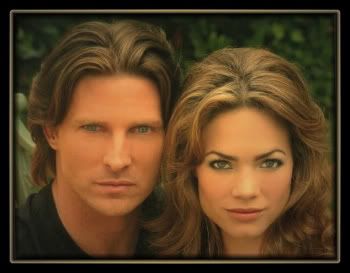 Here's the Scoop! 09.25.08
It's a Liason Day! Today is when Jason lays it all out on the table for Elizabeth. I love that he picked her over the biz! If I didn't already love Spinelli, I want to marry him now! There SHOULD be more nods to their history then just Italy. Pay close attention to their dialogue.

Carly meet your new best friend...Olivia! She'll be spilling Kate's secret today to a very pleased Carly.
More Secrets... well more on Patrick learning that Sonny has a secret son. What's he to do with that information? He has his own family drama to deal with. It looks like Kate thinks she's dying and tells Patrick that she's been keeping this HUGE secret from the man she loves. RUMORS broke that the son MAY NOT be Olivia's child. Who's is it? It APPEARS that he does have a name though. RUMOR has it, Sonny's son is named Dante.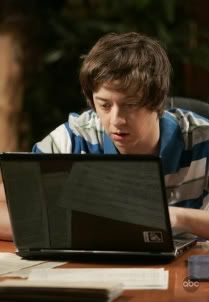 CRAZY CRAZY RUMOR ALERT... and it very well COULD BE fanfic. There is a RUMOR that Bradford Anderson will be in a dual role. These RUMORS say he'll be Dante. Get a salt boulder and check your blood pressure.
We haven't seen the last of him. Olivia's brother SHOULD be coming to Port Chuck. READ MORE