Tristan Rogers
By Regan Cellura on December 17, 2008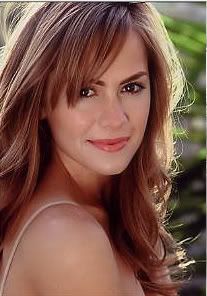 Here's the Scoop! 12.17.08
Natalia News! Everyone wants to know who will Rebecca be? We know she's a "bad girl" but will she be a Russian Mob Princess, a Bowen or someone else entirely? The latest RUMOR says Rebecca MAY be a model and that COULD be why the interview with Natalia, Tyler and Laura took place on the Crimson set. Here's a twist to the story... will Natalia's new character, Rebecca, be part of the Jax - Nikolas feud? There have been RUMORS that Jax makes another move against the Prince but nothing clear cut had been reported. NOW, we're hearing what COULD be Fanfic but I'm going to spill it anyways as it goes along with Rebecca being a model at Crimson. What if Jax hired a model that looked just like Nikolas' dead fiance to mess with his head? Too cruel for Jax?
LuSam Fans... They aren't dead in the water, yet. They'll share a kiss at the hospital but they'll also be sharing a difference of opinions as Sam will still be involved in the mob storyline. One RUMOR even suggests that in the new year we'll possibly see a new quad of sorts. READ MORE
By Regan Cellura on December 05, 2008
Here's the Scoop! 12.05.08
It looks like it's a light SCOOP day.... Q & A Day! Fire in with the questions and I'll do my best to answer them.

I dropped this in the comments yesterday: SO,,,, conflicting reports. In an Interview, Tristan Rogers said he was only on for 4 days and that he's back in town for Robin's wedding. Something along the lines that old relationships would have to wait for his next trip into PC. NOW, some are saying once again that Luke and Robert do share the screen. Here's the thing, I am the first person to warn that the mags don't always get it right either and that there is this little thing called spin that publicists get paid for. HOWEVER, Tristan is usually a pretty stand up guy so I don't seeing him giving false info in an interview. IF this is his attempt at dodging the question because he can't talk about it, it wasn't that great. No Offense Tristan, I still think you're the greatest. Also in that interview, Rogers said the show had not approached him to return after this limited run. READ MORE
By Regan Cellura on December 04, 2008
Tristan Rogers
has taken to his keyboard once again and this time he's giving his take on what we've been talking about here at Daytime Confidential, the recession that is hitting Daytime TV.
Right now Daytime has probably been hit the hardest with budget and salary cuts and the firing of front line artists. But again we haven't seen the end of it. In a genre that already has a question mark over its existence, anything that creates a ripple, in reality creates a wave. What to do about it?

There's no easy answer. Well there is, but the industry doesn't want an easy answer. The industry wants an answer based on focus groups and demographics and statistic sheets, DVR impact, ratings analysis, Lead ins, audience trending, key benchmarks…… AHHH someone stop me.
Be sure to check out Tristan's entire blog. That Robert Scorpio is not just a Super Spy but a Smart Cookie too.
By Regan Cellura on December 04, 2008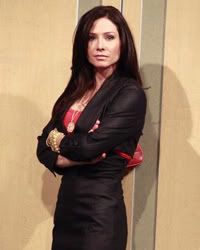 Here's the Scoop! 12.04.08
Claudia shows some compassion? Say it isn't so? RUMORS have the Mafia Princess showing some real emotion when she hears that Jake Spencer has been kidnapped by the Russian mobsters. What else is Claudia up to? Trying to bed her husband and ripping into her brother's girlfriend. Too bad Johnny hears all Claudia has to say to Lulu. Another wedge between Johnny and his family?
Does Sam pull away? RUMORS have Sam pulling away when Lucky kisses his girlfriend. Is this all a lead up to a LuSam break-up? I know, I'm confusing you all as there are RUMORS about LuSam making some forward progress in their relationship, a rarity on General Hospital. I think what will see is some progress with LuSam, maybe even one of those commitments we've been dishing on but as usual with GH, what goes up must come down. Don't be surprised if we see Lucky and Sam breaking up. READ MORE
By Luke Kerr on December 01, 2008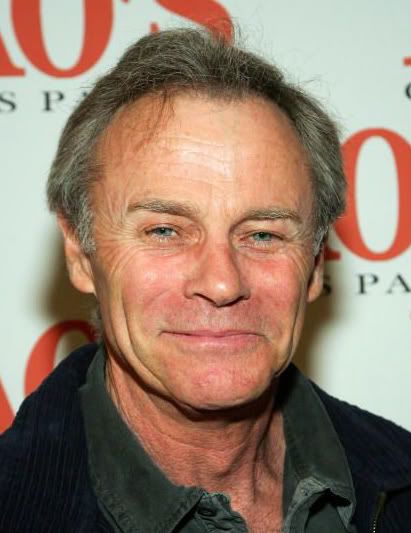 General Hospital
and
Night Shift
star
Tristan Rogers
is auctioning off memorabilia in support of
Project Cuddle
. The auction, which begins tonight, includes four autographed scripts from
Night Shift, "
The Chemo Cut" package from
Night Shift
and Robert Scorpio's 1980 trench coat from
General Hospital
.
Be sure to check out the auction at TristanRodgers.com and visit Project Cuddle for more on this worthy charity.
RELATED: Tristan Rogers Interview
By Regan Cellura on November 25, 2008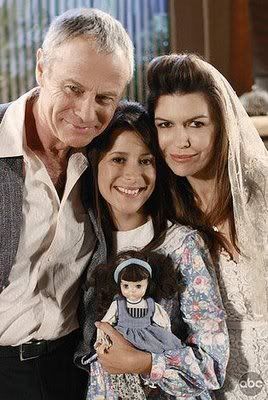 According to Robin's (
Kimberly McCullough
) proud on-screen dad (
Tristan Rogers
) the upcoming wedding re-do for Robin and Patrick (
Jason Thompson
) was a "soapish" event. Here's Tristan's
latest update
on his time at
General Hospital
.
Here comes the Bride

I have just finished shooting the wedding sequence for Patrick and Robin's wedding, and if I do say so it was upbeat and intimate. More a gathering of a close group to witness the ceremony. The emotion was high as were all the normal attributes that you find at any soap wedding. Robert and Anna were very much the proud parents, who throughout the ceremony reflected on their life and what brought them to this moment. READ MORE