Trevor St. John
By J Bernard Jones on November 12, 2008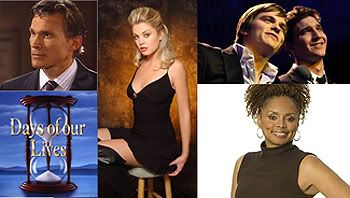 At the risk of indulging an age-old cliché or perhaps inventing a new one, real life is the soap opera that interrupts our daytime dramas.
I've been away for the last couple of weeks caring for my partner who was seriously ill for a little while (all is better now); dealing with the challenges of running a business and maintaining my livelihood in a faltering economy; consoling friends over unexpected loss in their lives and reveling in the result of a Presidential election which has left me elated and joyous in an event that I, as a Black man, never thought I would see in my lifetime. This time has been filled with hospital vigils and prayers (all answered in the affirmative), nail biting suspense, and a dash of personal intrigue. In short, the last two weeks have been a period of belief and disbelief. READ MORE
By Luke Kerr on November 06, 2008
The story you never thought would happen, or wished would never happened, actually went down today flush with flashbacks of Todd (
Trevor St. John
) and Marty's (
Susan Haskell)
first time. Check them out at your own risk after the jump.
READ MORE
By Luke Kerr on October 28, 2008
I'm sorry, I don't care how "breathless" next week's
One Life to Live
is supposed to leave us, but the Todd (
Trevor St. John
) and Marty (
Susan Haskell
) scenes are just disturbing. I'll be fast forwarding through them. With any luck they'll have Marty create "the mood" by playing "Did I Shave My Legs For This?" in the background.
By Luke Kerr on October 03, 2008
TV Guide Canada's
Nelson Branco
has a new interview with
Michael Malone
storied career on soaps. Branco questions Malone about
Ron Carlivati's
decision to pair
One Life to Live's
Marty and Todd romantically.
TVG: As you know, Carlivati has taken on a death wish by pairing Marty and Todd romantically. Your gang-rape storyline is universally hailed as the gold standard because Todd was punished for his crime, and Marty and Todd never fell in love. [After explaining the story set-up] How do you feel about Ron heading in this bold direction with one of your signature storylines?

MM: It was a soap-opera collaborative. Of course, along with Linda, Josh, Susan Haskell [Marty], and Roger Howarth [then-Todd] were instrumental to the story's success. When Todd was created he was called Frat Boy No. 1 — and that was his only purpose at the time. Todd was just there to help us tell this story about college date rape. Howarth's remarkable ability to play the monster, and the tragedy inside that monster, allowed us to connect him to the canvas in a larger way. We were all pleasantly surprised with how Roger took that character and made him real.

On one hand, it surprises me because Ron has been a far more conventional soap writer than I was. He's also a great lover of the form, and has worked in the form for a long time. Ron loves the conventions and traditions of the form. So, my first reaction is, I'm surprised. The character having amnesia literally erases the real moral consequences and the real spiritual journey Marty has embarked on. It's like telling Othello he's white and Desdemona doesn't really die. Presumably, Marty will gain her memory, and what will happen? She will be horrified…
Be sure to check out the interview and tell us what you think of this controversial storyline.
By Regan Cellura on September 26, 2008
We haven't done these in awhile and like I've said, I'm a bit behind on my One Life to Live, so bear with me.
Here's the Scoop!
Love Lindsay? We do and the RUMOR mill says she may not be in Llanview much longer. Catherine Hickland is a Daytime Confidential favorite and Lindsay will be sorely missed. Supposedly there will be one more meeting for Bo and Lindsay, but that footage may hit the cutting room floor. Expect Bo to start flirting with Dallas,TPTB are attempting to see if real life chemistry can translate to reel life. However, Dallas is also rumored to be one of the murders coming soon, so fan response will dictate.

How does Clint react to Bo and Dallas? Not well and this should cause some friction for Nora. Clint has other issues coming up as well.

Have you seen the Fall Preview? Interesting tease of an Antonio - Jessica reunion or was the tease a Cristian - Jessica reunion?
READ MORE
By Jamey Giddens on August 18, 2008

One Life to Live
leading man
Trevor St. John
(Todd) had to issue a
mea culpa
following comments he made at a recent Fan Club Luncheon. Allegedly, when asked about the controversial storyline involving his character Todd Manning and Todd's rape victim Marty Saybrooke (
Susan Haskell
), St. John replied, "I'm all for gang rape."
The actor issued the following response to SOAPnet.com:
"I regret the way I responded to the question about the upcoming Todd and Marty storyline. It was meant in jest and I should know better than to ever try and make a joke about such a serious subject. I intended no disrepect and apologize to anyone I offended." --Trevor St. John