Tobias Truvillion
By Daytime Confidential on March 03, 2010
All My Children's Shannon Kane glammed up the red carpet at the premiere of her new movie Brooklyn's Finest at the AMC Lincoln Square Theater in NYC on Tuesday. The film, in which she stars opposite Richard Gere, Ethan Hawke, Don Cheadle and Wesley Snipes, tells the story of three unconnected Brooklyn cops who "wind up at the same deadly location after enduring vastly different career paths." The premiere brought out current and former daytime stars Sherri Shepherd, Star Jones, Tobias Truvillion and Jon Prescott. See more Brooklyn's Finest premiere photos after the jump.
Brooklyn's Finest hits theaters March 5.
By Regan Cellura on June 25, 2008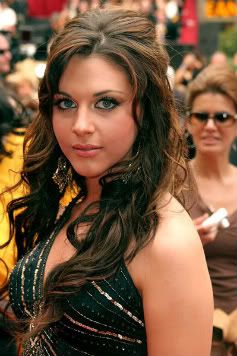 Remember that Blind RUMOR I posted? Those of you that took a crack at it were right.... it was for the character of Sarah. RUMORS say that Sarah Roberts, played by Justis Bolding, is being re-cast with another ABC fan favorite, Adrianne Leon (Brooklyn, GH; ex-Colleen, Y&R). As SPOILED, Sarah takes a trip over a watefall and is presumed dead in a re-do of a classic One Life to Live storyline. RUMORS of the re-cast started circulating when Tina returned thus giving Sarah more screen time. These RUMORS say that TPTB wanted a "bigger" name in the role of Sarah. While we're still waiting on official confirmation of the casting, there is an interesting tid bit attached to this RUMOR. Leon, who is also an accomplished musician, would feature her music on One Life to Live at Capricorn. These RUMORS also suggest that Leon would dye her hair blonde for the role of Sarah. READ MORE
By Luke Kerr on February 13, 2008
On today's show ABC soap super fan Jeania from FanFare Inc returns to Daytime Confidential to talk about what she and her stars have been up to since we last talked, including Kamar de los Reyes and The Gabriel Project, BethAnn Bonner and the Antalia pairing, Tobias Truvillion and Tika Sumpter, Sean Ringgold, David Chisum's appearance on Good Morning America and role as spokesman for Vision Walk , Marcus Patrick's new movie "Descent", NAACP nominations, Broadway Cares Equity Fights Aids, and how the ABC soaps are more diverse now than they were a year ago.
Be sure to drop by Jeania's Myspace Profile and leave her a message or comment and check out all the these Official Forums, including the Beth Ann Bonner Official Message Board, Kamar de los Reyes' Salsa Lounge, the Antalia Message Board The Precinct, Sean Ringgold's The Block, Tika Sumpter's Talk about Tika, David Chisum Official Message Board,
Listen to Daytime Confidential by clicking on the Daytime Confidential Player at the top of the page or Download us for FREE via iTunes. Vote for us on Podcast Alley. Add us as a Friend on MySpace. Drop by our sister site TV Fan Online and visit with other soap fans in the TV Fan Online Forums.
By Luke Kerr on January 14, 2008
By Luke Kerr on January 09, 2008
The NAACP Announced their 38th Annual NAACP Award Nominations yesterday including their nominees for the TV Daytime Drama categories. The awards show will air on February 14th on FOX.
This year's nominees are as follows:
Outstanding Actress in a Daytime Drama Series
• Nazanin Boniadi – General Hospital
• Christel Khalil – The Young And The Restless
• Brook Kerr – Passions
• Tracey Ross – Passions
• Tika Sumpter – One Life to Live

Outstanding Actor in a Daytime Drama Series
• Kamar de los Reyes – One Life to Live
• Kristoff St. John – The Young And The Restless
• Bryton McClure – The Young And The Restless
• Mykel Shannon Jenkins – The Bold and the Beautiful
• Tobias Truvillion – One Life to Live
By Luke Kerr on January 09, 2008