Thorsten Kaye
By J Bernard Jones on May 15, 2009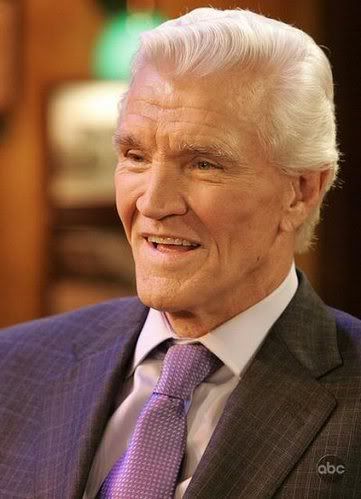 Even if you do not follow literature, you are no doubt aware that the title of this post is a phrase associated with the worst kind of lazy, pedestrian, obvious writing imaginable. "It was a dark and stormy night..." is, to put it bluntly, synonymous with the word "bad."
Bad in and of itself isn't always a bad thing, as there are varying degrees of badness from which to choose. For example, there are things that are "so bad they are good," like The Pussycat Dolls and RuPaul's Drag Race. There are other things that are really bad, like white people dancing to "Push It" and Julie Chen hosting Big Brother. Then you have things that are so atrocious, inspiring more WTF moments than a Samantha Harris post-performance interview on Dancing with the Stars that you question your sanity for sitting through it without clubbing a baby seal.
By "you" I mean "me," and it might not take too much of a stretch of the imagination to guess how I felt about Friday's abominable, lobotomized episode of All My Children that climaxed with the shooting of "a legendary character." READ MORE
By J Bernard Jones on May 11, 2009
Regular Daytime Confidential readers and aficionados may have noticed that this lovely website has added daily recaps of most of the soaps on the air, in addition to Perkie's longtime (and often hilarious) observations about General Hospital. Conspicuously absent from the recaps — at least as of this writing — has been what might be considered the quintessential forerunner of the modern soap opera, All My Children.
Not too long ago, our fearless leader, Luke, asked if I would be able to write a daily recap of the show since I've been watching it; I regrettably informed him that because of a currently unpredictable schedule (hence, why there are long lags between my posts these days) I would be unable to do so. Instead, I suggested that I would divert my recent attentions from Guiding Light to AMC a bit more closely and blog about life in Pine Valley more regularly. Since then I've mightily tried to get a grip on the show, but unfortunately watching All My Children is not unlike walking on pine cones barefoot: it's not the worst feeling in the world, but it is still pretty painful. READ MORE
By Jillian Bowe on April 09, 2009
Soaps.com
has dished that
Ronald Guttman
(Alexander Cambias, Sr) will make his way back to
All My Children
in May. As fans know, Alex was in a vegetative state when he was carted off to the nut house after being revealed as The Satin Slayer. So maybe he was hustling everyone like son Zach (
Thorsten Kaye
) thought? Will the senior Cambias return with a muffin mix to take out Erica (
Susan Lucci
) or will it be a fruit cake for Crystal (
Bobbie Eakes
)? Stay tuned!
By Jamey Giddens on April 08, 2009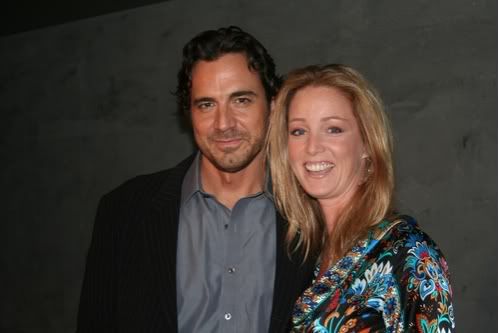 One Life to Live
's fiery leading lady
Susan Haskell
(Marty Saybrooke) tells
Nelson Branco
should would love the opportunity to work with real life and one-time reel life beau
Thorsten Kaye
(ex-Patrick,
One Life to Live
; ex-Ian,
Port Charles
; Zach,
All My Children
) again some day.
TVG: Nice! Finally, would you welcome Thorsten back to One Life as Patrick or Ian? Or a new character?

SH: Of course! He'd be awesome on One Life. We're not one of those real-life couples who avoid working with each other. We met on the set. It'd be fun. I would love to work with Thorsten again because our on-screen chemistry would [still resonate, I think]. Hey, if [Thorsten's AMC character] Zach Slater ever wanted to visit Llanview, I'd say, "come on down!" For some reason, ABC doesn't want Zach to cross over to One Life — I don't know why.
Check out the rest of Branco's revealing chat with Haskell at TV Guide Canada.
By Luke Kerr on March 18, 2009
As the World Turns
may be recycling 2006 scripts, but in the arms race for unoriginality
All My Children
is going back even further. Apparently Kendall and Ryan are back in fashion again. What could be more exciting then then Ryan and Kendall back together, yet again? I mean seriously. The angst, agony, romance and sorrow of this "iconic couple" - and I use the term so loosely a mac truck could drive right through - will spark the imagination of fans, immediately make
All My Children
"must watch TV" and save the genre from itself. Ryan the superhero, Kendall the second guesser and Zach the man who never loses are here to save the day! Whoop-de-do-da-day, inspiration abounds! I'm so happy I need to take a prescription drug to calm my excitement.
I know that many General Hospital fans think that it is the worse of the three ABC soaps, but I enjoy it exponentially more than All My Children, even with the mob. Only in the world of soaps do shows such as All My Children and Days of Our Lives have their ratings go up while shows like One Life to Live are hanging on for dear life. All My Children even beat General Hospital in the ratings. I'll let everyone draw their own conclusions about what that means, but it says something. READ MORE
By Jamey Giddens on March 10, 2009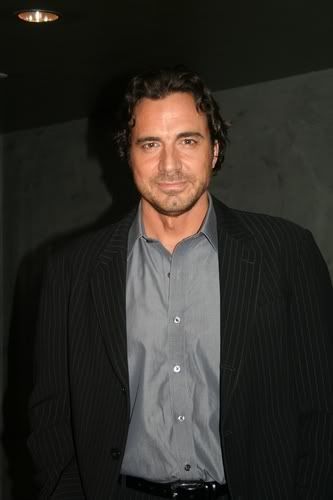 Don't look for any Marty/Patrick reunion to happen anytime soon on
One Life to Live
. Word from
Thorsten Kaye
's
official website
is that he has re-signed with
All My Children
. Thanks
Addie
for the tip!