Thorsten Kaye
By Jillian Bowe on September 30, 2009
Kiss Zach Slater goodbye, or at least the man currently playing him! According to
Thorsten Kaye
's
official
message board
, the actor will not be joining his
All My Children
cast members when they move to Los Angeles, nor will he be commuting.
According to the moderator,

Thorsten is not relocating to LA with AMC, and he is not commuting to AMC after its move. It looks as if his last AMC tape date may be in November.

If that changes, we will let you know, but that is where things stand for now.
By Jillian Bowe on September 30, 2009
Everyone can breath a sigh of relief! Daytime's first lady
Susan Lucci
revealed to the
Associated Press
her plans on sticking with
All My Children
. According to Lucci,
I made my final decision just a couple of days ago.
Don't expect her to hitch her truck and move to Beverly though. Lucci let it be known she will stay a New Yorker,
My life is here, said Lucci.
The AP also reports Lucci's co-star, Thorsten Kaye will not be moving to L.A.
Expect to see one less member of the fictional Martin clan. According to the news service, Ray MacDonnell who potrays the family patriarch Dr. Joe Martin, will retire.
By Luke Kerr on September 04, 2009
The biggest question many All My Children fans have had is "will Thorsten Kaye move to L.A.?" It looks as if that may not be happening. TV Guide Canada's Nelson Branco has this tidbit in Friday's Suds Report.
The Suds Report overheard Thorsten Kaye (Zach) telling friends at the Emmys that he will not be making the move to L.A. However, Cameron Mathison (Ryan) has reportedly finally made up his mind — he will be moving to Cali. Not too surprisingly, Susan Lucci (Erica) is still undecided.
If Thorsten Kaye stays in New York do you want him to return to One Life to Live?
By J Bernard Jones on August 31, 2009
As of this writing,
The 36th Annual Daytime Emmy Awards
concluded a few hours ago on The CW and I am awash in mixed emotions after live Twittering the event. I wanted to put down these feelings while they are still fresh but I promise to keep these ruminations brief.
First, let me offer congratulations to Daytime Confidential's Jamey Giddens, along with TVGuide.ca's Nelson Branco and Soap Opera Digest editor Stephanie Sloane in their debut as commentators during the awards pre-show. Though one could detect a teeny bit of the jitters at various times, they were a class act all the way. I also must give praise to DC's Melodie Aikels, who did a bang up job offering live blog commentary during the pre-show & ceremony. READ MORE
By Jamey Giddens on August 17, 2009
Though unconfirmed at presstime,
TV Guide Canada
's
Nelson Branco
is
hearing
the actors who portray one of
All My Children'
s most popular couples are planning to leave the series— along with two beloved patriarchs— when AMC moves to LA.
PLANNING TO LEAVE AMC: Thorsten Kaye (Zach), Alicia Minshew (Kendall), Ray MacDonald (Joe) and David Canary (Adam/Stuart)
For more of TV Guide Canada's soap scoop and reviews, check out The Soapgeist.
By Jamey Giddens on August 07, 2009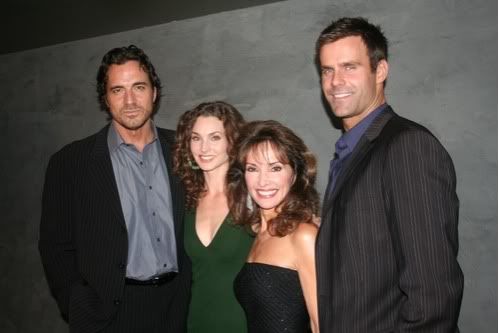 All My Children
leading man
Thorsten Kaye
tells
New York Daily News'
Carolyn Hinsey
the network has given actors one week to decide if they're moving with the soap to Los Angeles this winter.
They've given us one week to decide," says Thorsten Kaye (Zach), whose partner, Susan Haskell, toils on "OLTL" as Marty. "I'm not sure what I'm going to do. I'm not the kind of dad who wants to be 3,000 miles away from my kids. And it's not exactly the best time to sell real estate."

That said, "I think the move shows that ABC has a lot of belief in 'AMC' and wants to keep it going," says Kaye.