Texas Battle
By Jamey Giddens on November 26, 2008
Okay you knew it was coming. Now that the Idiots In Charge of The-Soap-Opera-Formerly-Known-as-Days-of-Our-Lives have let the phenomenal
Blake Berris
go, I decided to start out doing a Wishful Casting about where Berris should end up, but it turned into more of an analysis of which soaps are managing to set things up for their next generation the right way, and which ones are getting it wrong, dead wrong.
Much of the daytime industry is experiencing a serious drought in terms of talented, young stars who can actually, you know, act. Save for The Young and the Restless, One Life to Live and General Hospital, the under 30 set at most soaps is pretty much comprised of rejects from the Pamela Anderson School of Acting and Pantomime. I'll start with the soaps in most need of help and work my way up. READ MORE
By Jillian Bowe on August 14, 2008


**SPOILER ALERT**
Steffy has some serious will power in order for her to resist chocolate.


By Luke Kerr on July 28, 2008
The Bold and the Beautiful has a new contest running on their blog where you, the fans, can ask your favorite "B&B" star a question.
There are a bunch of great stars who are participating in the contest. They include Texas Battle, Brandon Beemer, Leslie-Ann Down, Winsor Harmon, Leslie Kay, Robin Riker, Hunter Tylo, Jacqueline MacInnes Woods and John McCook.
If you submit a question that is used you will win a prize (see prizes below). For the full rules click on the contest rules link below.

Contest Rules
Prizes: Each eligible participant in the contest shall receive a one time only entry prize of a B&B wallpaper for use on their computer. Each winner shall receive one autographed headshot photo of the actor for whom they asked the question which was chosen as the winner. At the end of the Entry Period, there shall be a Grand Prize Drawing in which all of all the winner's names shall be entered and from which a Grand Prize winner shall be randomly selected. The Grand Prize winner shall receive the book "In Celebration of Twenty Years on Television" autographed by the cast. Prizes must be accepted as awarded, have no cash equivalent and are not transferable..
By Luke Kerr on June 27, 2008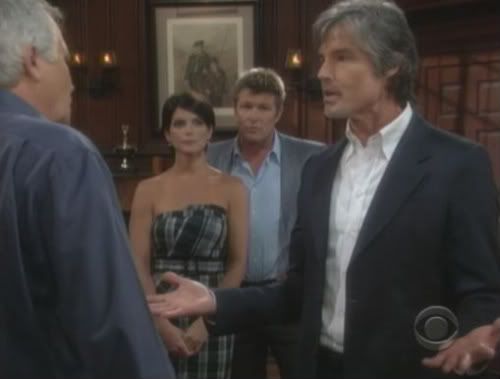 How do you solve a problem like Donna? How do you catch her in a lie and pin her down? How do you find a word that means harlot? A flibbertijibbet! A will-o'-the wisp! A clown!
Apparently the Forrester three think they've found a way to nail Donna by telling their dad that Marcus is her son before she does. Is it wrong that I'm actually enjoying Ron Moss as Ridge in this storyline? For once his role as golden son and prince of Bellair is actually entertaining and doesn't require I grit my teeth in annoyance. It's amazing how Ridge can feel so entitled some times though.
Of course Leslie Kaye and Winsor Harmon shine with what little they're given but I have to ask, would the revelation that Marcus is Donna's son be that much better if we the viewers truly felt that there was something at stake in this storyline? READ MORE
By Jamey Giddens on May 23, 2008
The Bold and the Beautiful's Donna Logan Forrester (Jennifer Gareis) got the shock of her nubile, sex kitten life when a very flesh and blood blast from her past turned up on her Forrerster mansion doorstep this past week. Texas Battle recently made his debut as Marcus, the biracial child Donna gave up for adoption as a teen. I weigh in on these developments, as well as the news that former Days hunk and Daytime Confidential podcast guest Brandon Beemer's new character Owen will be connected to Marcus, in a new blog post at The Bold and the Beautiful's official website. Register for the site and let me know what you guys think!
By Luke Kerr on May 01, 2008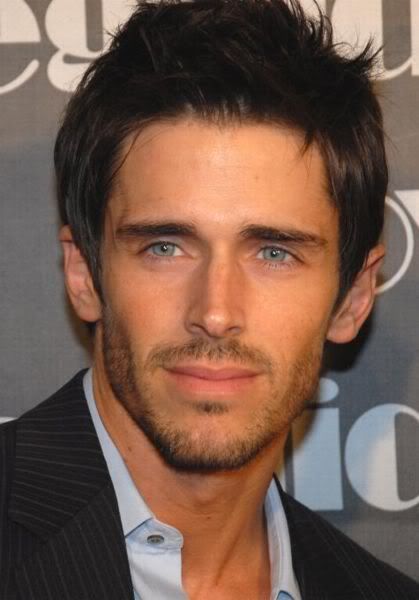 Just week's after we asked former Days of Our Lives' star Brandon Beemer here on the Daytime Confidential podcast about online speculation that he may be headed to the Bold & Beautiful and were told "nothing is set in stone" comes word that he has officially joined the cast of the West Coast soap.
According to Soap Opera Digest Brandon Beemer has been cast in the role of a new character.
It would seem that Brad Bell may be wanting to beef up the young hunk quotient on the #2 rated soap with the additions of Brandon Beemer and Texas Battle (read Texas Battle story here) to the cast. This shouldn't come as much of a surprise considering most of the show's current hunks (excluding Kyle Lowder and the rarely seen Mykel Shannon) are getting a bit "long-in-the-tooth" to still be passed off as "young hunks." READ MORE