Ted Shackelford
By Jamey Giddens on November 28, 2008
TV Guide Canada
's
Nelson Branco
seems to think
The Young and the Restless
just may have a spin-off on its hands, if the show decides to spin of
Christian LeBlanc
's Michael Baldwin and capitalize on the character's uncanny penchant for being able to rein in difficult women. What would they call it?
The Bitch Whisperer
.
TVG: I like to refer to Michael as the bitch whisperer because he's the only person in soaps who can effectively communicate with, and understand bitches! And speaking of the bitches, why don't they pair Phyllis and Michael together anymore?

CL: I know, right? Michelle and I do have a couple of scenes coming up. It's hard when you have new writers come in. It takes a while for them to fully understand all the intricate relationships and friendships these characters have on the show right away. I miss working opposite her, for sure. I would never keep Michelle or Greg out of any episode because they are simply box office gold.

By Jillian Bowe on November 20, 2008

Now THIS is a soap damnit! Dena girl, pull up a chair and take some notes!
By Jamey Giddens on October 16, 2008
Okay, all this talk about
Lisa Hartman-Black
(Ciji/Cathy,
Knots Landing)
made me run out and find a clip for all the young uns—and Luke—who may have never experienced the best damn primetime soap opera ever!!! For 14 seasons CBS fans followed the lives of
Dallas
's JR Ewing's "good for nothing" little brother Gary (
Ted Shackelford)
, his hayseed wife Valene (
Joan Van Ark
) and their friends, neighbors and enemies on the famed So Cal Cul-de-Sac.
A lot of kids I grew up with wished they had lived with the Huxtables on The Cosby Show, screw that. I wanted to be peeping through windows on Seaview Circle, especially if Abby Fairgate Ewing (Donna Mills) was up to no good! READ MORE
By Jillian Bowe on August 14, 2008

**SPOILER ALERT**
Gloria still manages to steal the spotlight.
By Daytime Confidential on August 11, 2008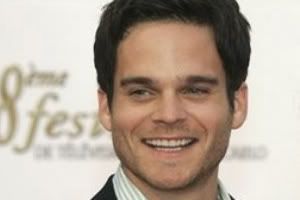 On today's special episode of the Daytime Confidential podcast The Young and the Restless' Greg Rikkart visits with Luke and Jamey about his hilarious guest appearance on Imaginary Bitches and whether or not it would be possible for his character to return.
Find out his thoughts on his The Young and the Restless' character Kevin Fisher, and how the character has evolved since first arriving in Genoa City. Hear what it is like for him to work with Christian LeBlanc, Tracey Bregman, Emily O'Brien, Ted Shackelford and Judith Chapman as part of the crazy Baldwin-Fisher-Bardwell family, and where he would like to see Kevin in five years.
All this and more on today's special episode of Daytime Confidential.
Visit these great related websites: Greg Rikaart.net, Emily O'Brien Official Website and Christian LeBlanc Official Website.
Have a question or comment for the Daytime Confidential podcast? Leave us a voicemail by calling (917) 677-9757.

Listen to Daytime Confidential by clicking on the Daytime Confidential Player at the bottom of this post or Download us for FREE via iTunes. Vote for us on Podcast Alley. Add us as a Friend on MySpace. Drop by our sister site TV Fan Online and visit with other soap fans in the TV Fan Online Forums.

By Jamey Giddens on March 29, 2008
With so many of her Knots Landing and Dallas peers turning up on daytime in recent years (Ted Shackleford and Joan Van Ark on Young and the Restless; Patrick Duffy and Linda Evans on Bold and the Beautiful. Kent Masters King on General Hospital and Kevin Dobson, soon-to-be on Days of Our Lives) wouldn't it be awesome if the best bitch to ever dwell in a SoCal cul-de-sac Donna Mills (aka Abby Fairgate Ewing) joined the cast of B&B as long absent Logan matriarch Beth?
Mills still looks just as hot as she did when she was scorching up primetime Thursday nights 20 years ago on the underrated Knots Landing. JR and Alexis might have gotten most of the attention from the mainstream press, but there has never been a more delicious blonde she-devil than Abby Ewing. Who better to play the mother of sin sisters Brooke and Donna? Not to mention gently chide youngest Logan sister Katie about her lack of fashion sense. I know Beth wasn't written as a glamazon during her earlier runs on the show, but a few years in Paris will change even the frumpiest of frumps. And with Mills in town, there would finally be someone in Los Angeles capable of taking on Hurricane Stephanie!