Tamara Braun
By Jamey Giddens on March 24, 2008
What soap fan doesn't sit at home and play fantasy exec/writer? Lord knows I do, it's what gets me through plots about unaborted children, jerky camera movement and the lack of diamonds or cleavage in Genoa City. Tonight I feel like playing fantasy casting director and letting you know just exactly who, in my humble opinion, should play which roles on what soaps.
Ted King to Days as Lawrence Alamain
With all the talk about the notorious Alamain clan of Days of Our Lives coming up both on the show and here at Daytime Confidential, a thought popped into my mind about how awesome it would be for former GH baddie Ted King (ex-Alcazar) to reunite with his former leading lady Tamara Braun (ex-Carly, GH/Ava, Days) in Salem!
King would be perfect as dastardly Alamain patriarch Lawrence. I loved Michael Sabatino, who originated the role, but he's been away from the soap for so many years and as the returns in recent years of Christie Clark, Austin Peck, Billy Warlock and many others have proven, having fan faves reprise their roles doesn't always lead to rating success for Days.
King and Braun were a hit with GH fans as Lorenzo and Carly. Those fans could decide to tune in to Days to see them reunited and raising hell. And while we're at it, why not throw in Ignacio Serrichio (ex-Diego, GH) as a recast for Lawrence's son Nicholas? READ MORE
By Jamey Giddens on March 20, 2008
Ava kidnaps Hope!
It looks like Bo won't have his Fancy Face to keep vigil by his bedside next week as loopy Ava kidnaps Hope outside of University Hospital. Steve's unstable ex has been mistaking Hope for Hope's sister-in-law Kayla for weeks and finally seized the opportunity to knock "Kayla" out via chloroform before spiriting her off to parts unknown.
Once Hope comes to she plays along, thinking that as a cop she's trained to deal with maniacal mob princesses, unlike her preggers pal Kayla. Hope even calls Steve and pretends to be his wife. A panicked Steve races to save the wife of his Merchant Marine bud from madwoman Ava. It looks like Days is finally about to get its money worth out of the fiery Tamara Braun (Ava).
Ava's pop connected to the Alamain crime family?
An interesting internet rumor making the rounds has Ava's father being a one-time business associate of the dastardly 90's Days villain Lawrence Alamain. Bo and Steve were investigating Lawrence's corrupt Jencon Oil company when Steve was critically injured in an explosion meant for Bo.
According to the rumor, Lawrence faked Steve's death and ordered Ava's father to kill him (yeah…that makes sense), but Ava's pop decided to turn the one-eyed amnesiac into a hired gun for his criminal exploits. Much to his chagrin, his then teenage daughter Ava took a shining to Steve (must have been that eye patch, get's 'em every time!), which led to Bad Daddy pawning poor Steve off on yet another Days uber villain, you guessed it, Stefano.
If this rumor proves true, I will gladly bow down and kiss Dena Higley's ring. I got so tired of James Reilly re-writing all of the histories of Days other great villains to make Stefano the ultimate puppeteer. Long time fans know that it was Orpheus, not Stefano who caused Marlena's plane to crash; it was Lawrence, not Stefano who caused Steve's "death" and it was Ernesto Toscano, again not Stefano who held Hope over a pit of acid following the Cruise of Deception! Making all roads lead to Stefano made the once interesting villain cartoonish and eyeroll-inducing. I mean what were they gonna blame on the guy next, Maury Povich?
Shelle sets sail
In other Days news, have your hankies ready as Shawn and Belle (Brandon Beemer and Martha Madison) leave town on the Fancy Face (the boat, not the mother) with cutie pie Claire in tow. It looks like history is repeating itself as Bo and Hope also set sail with their little Sailor Man Shawn D. circa 20-years ago to see the world. As much as I have griped about these two particular recasts over the last few years, Brandon and Martha have really grown on me in recent months and dagnamit, I actually hate to see them go!. Who knew all it would take was a plane crash, a cute kid and an Irish wake for me to get over Kirsten and Jason?
By Luke Kerr on February 14, 2008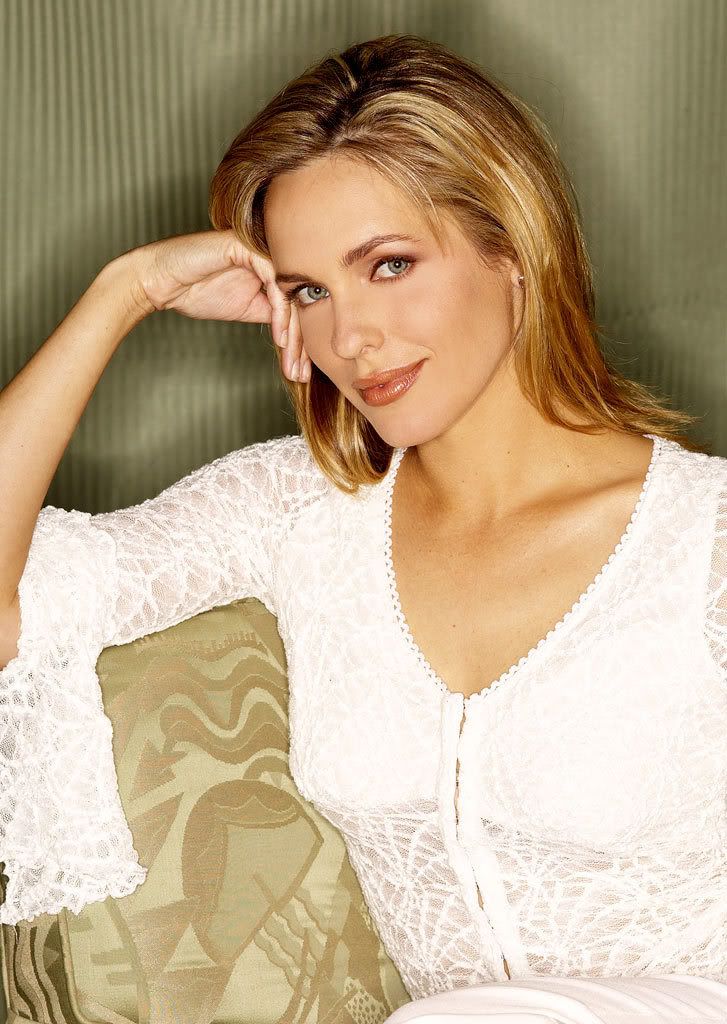 I am in Days of Our Lives 7th Heaven!
Soap Opera Network
is reporting that Arianne Zucker is returning to Salem!
I'm a huge fan of of Arianne's Nicole Walker. I've always loved her and Sami's rivalry so to have Arianne back, combined with Tamara Braun and Alison Sweeney it's almost to much to hope that these three end up in some sort of frenemy triangle.
Oh wait, I just thought of something. Can you imagine a Nicole/EJ/Sami triangle? I feel like Homer Simpson staring at doughnuts. Doh!
Now if only Lousie Sorel would return as Vivian Alamain, my Days of Our Lives dreams would be complete.
By Luke Kerr on February 10, 2008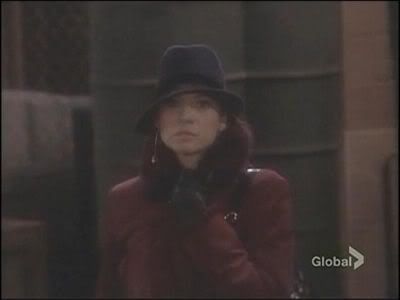 Here's a first look at Tamara Braun's scenes from Days of Our Lives which aired in Canada on Friday and will air here in the states on Monday. I think she looks awesome. Very femm fatale.
Photo Credit: Shout out to Tamara Obscura for the picture!
By Luke Kerr on January 25, 2008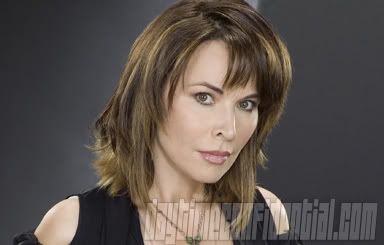 BREAKING NEWS!
Days of Our Lives
veteran Lauren Koslow's contract status has been brought into question amid online reports that she has been let go. Reportedly
SNS
broke the news in their forums.
If true this follows in the wake of the firings of Martha Madison and Brandon Beemer. This amidst the recent hiring of Tamara Braun, the reported talks between Days of Our Lives and other former General Hospital including Jason Gerhardt, and the rumors that Days of Our Lives is trying to entice Kirsten Storms to return as Belle Black and the rumor of Lindze Letherman being courted as Mimi.
For me the possibility of Koslow's Kate Roberts no longer being on Days of Our Lives is hard to image as she has played Sami arch nemesis for over a decade and is one of my favorite characters.
I have to ask this question but don't consider it a spoiler because it is not.
Considering Days of Our Lives renewal is question with NBC and considering all the major firings and the consequent hiring and rumored hirings of former General Hospital stars is it possible that Corday may have cut some sort of deal with Frons if NBC doesn't renew Days of Our Lives?
In my opinion only two things explain what is going on at Days of Our Lives these days 1) Corday is slashing the cast to make it affordable for NBC to renew or 2) Corday has cut a deal with Frons as I mentioned above.
By Brooke on January 22, 2008
Wow, what a week it's been for offscreen drama on Days of Our Lives. The news about Tamara Braun joining Days, then the breaking news of Martha Madison (Belle) and Brandon Beemer (Shawn) being fired. Is anyone safe in Salem? Rumblings around the net are that no, noone is and watch out for more firings… seems it's going to get worse before it gets better. Plus, I've heard we should expect some sort of announcement on the future of Days, sometime in Feb/March.
So is it worth continuing to watch the show? Decide for yourself – this is what you can expect to see this week (apologies, yet again I have missed Monday's show so I will comment from Tuesday on):
EJ/Sami – go into hiding with the twins; Lucas aint too happy hear about this, but there isn't too much he can do about it from behind bars… or so you would think! Maybe having Stefano as a cellmate wont be so bad after all? Especially a Stefano who may have his own reasons for finding EJ and Sami… and little Giovanni. Is Lucas about to make a deal with the devil?
Marlena/John – after John got free on Monday's episode, Marlena still refuses to give up on him (frankly I'd be disappointed if she had so soon). She and Dr Carrington give John truth serum to find out exactly what Stefano and Dr Rolf did to him in the DiMansion Dungeons – unlike for everyone else, the serum doesn't work (what modifications did Dr Rolf make to John so that truth serum doesn't work??); the mention of Stefano's name apparently has John going mental. Instead, they give him a psychiatric test, learning what seems obvious to me, that John is without emotions (a real DiMera soldier if you like). I'm just hoping what I'm reading as a spoiler is true for this next part… Marlena goes to confront Stefano, armed with more truth serum! Brooke pleads… please please please let scary Marlena stay!
Shawn/Chloe, Philip/Belle – are going to team up to investigate Claire's kidnapping. They research Rob's tattoo and end up finding him in Crystal's store. Shawn the rookie cop demands his daughter back… Belle's still recovering in hospital, with Philip there to comfort her. She wants to join the hunt for Claire of course, but is not allowed.
Sorority (and Billie) – More disagreement over whether to tell the truth about Ford's death; Stephanie confesses her rape to the sisters in an effort to convince them to stay quiet, Chelsea has a normal teenage emotion/experience when she can't convince the gals to talk and wonders if Nick will dump her because of her continued secret keeping. Billie's job is threatened by the Dean if he finds out she had any knowledge of the girls' involvement in Ford's disappearance, prompting Billie to continue to work on Nick to spill his guts, appealing to his goody goody nature and his love for Chelsea. Meanwhile, Chelsea ends up cracking under the pressure and tells Crawford Decker his son is dead. Oops. Bo gets in on the action, meeting with a Dectective to discuss the case and Stephanie finally admits the truth about the rape to Steve.
Aaaand speaking of Steve, he and Kayla are still pursuing this baby making business – I'm sorry, but the only thing making me watch this s/l is how amusing I find Patch.
Next Week:
Holy moly! Next week looks freakin' awesome…
• Return of the lost DiMera's – Lexie (Renee Jones), Tony (Thaao Penghlis) and Anna (Leann Hunley)!
• Adrienne (Judi Evans) says her goodbyes
• John and Marlena start off the Ireland adventure
• Colleen (Shirley Jones) reveals she faked her death
• Max comes forward with Ford's body (ewwwwwwwww)

In Other News:

First date onscreen: Tamara Braun – her character 'Ava' (another soap character named Ava? Is there no originality left in soapland?), will be seen from February 8th

NBC Text Message Spoiler: Hope to rejoin the Salem PD? She's certainly been getting into everybody's business lately