Tamara Braun
By J Bernard Jones on July 27, 2009
Today, The Gay & Lesbian Alliance Against Defamation (GLAAD) released its third annual Network Responsibility Index, a report measuring gay, lesbian, and trangender representation on television on various major networks including broadcast & cable covering the broadcast period from June 1, 2008 to May 31, 2009. From the report:
Of the broadcast networks, ABC and the CW received "Good" scores, Fox was marked "Adequate," and NBC and CBS were marked "Failing." While the report takes into account the substance of portrayals up to a point, much of a network's score is based on the simple visibility of characters...On the cable side, HBO was the clear winner (vampires count!), emerging as "Good" (as did Showtime, though with a lower score), while networks including Lifetime and FX were "Adequate" and A&E and TBS were "Failing."
Oddly, daytime serials were not included.
My Take: I find it extraordinarily curious that GLAAD, which has several representatives and bloggers speak and write about As The World Turns' Luke (Van Hansis) & Noah (Jake Silbermann), Guiding Light's Olivia (Crystal Chapell) & Natalia (Jessica Leccia) or All My Children's Bianca (Eden Riegel) & Reese (Tamara Braun) in many interviews or on its website did not include soaps in its survey. If their goal is to track LGBT representation, how do these characters, including Passions' Simone (Cathy Jeneene Doe) — all of which aired during the period covered in their survey — not merit inclusion in the study? Yes, the study only covers prime time but that in and of itself reveals the flaw of it. READ MORE
By Luke Kerr on July 16, 2009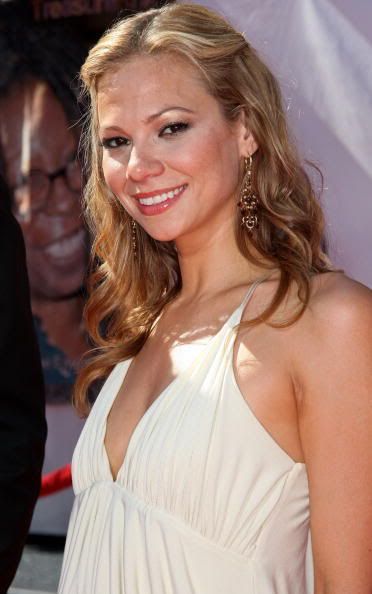 Soap Opera Source
is reporting that
Tamara Braun
has landed the recurring role of Renee Ellen on the TNT drama
Saving Grace
. The former
All My Children
,
Days of Our Lives
and
General Hospital
actress is nominated in the
Outstanding Supporting Actress
category at this year's Daytime Emmy Awards.
RELATED: Eden Riegel Takes High Road With AMC's Chuck Pratt | Confessions of Brenda Bot | Chuck Pratt and Julie Hanan Carruthers in "Pratt Falls" | Daytime and Diversity: How Far Have We Really Come? | Me Talk Dirty One Day With AMC's Tamara Braun
By Jillian Bowe on July 07, 2009
Showing what a consummate professional she is, former
All My Children
alum
Eden Riegel
(Bianca) discusses with
TV Guide
Magazine's
Michael Logan
the blame game AMC scribe
Chuck Pratt
cast upon her with Bianca and Reese's (
Tamara Braun
) dud romance storyline.
Michael Logan: Speaking of your groupies, do you watch Pratt Falls?

Eden Riegel: Ohhh, yes! Can you believe that show?

The two gals who write that series are scathingly funny. It's terrific satire!

It's so brilliant. And so perfect. I couldn't believe it when I saw it. READ MORE

They really skewered and roasted AMC head writer Chuck Pratt for that interview he gave me in TV Guide Magazine—the one where he blamed the Reese-Bianca storyline mess on you for leaving the soap earlier than expected.
By Jamey Giddens on May 04, 2009
The prosecution rests our case, Spam McCall you are guilty of being a Brenda Bot! Go on Carly-Tams, roll that neck! I swear that girl was a sistah in another life! By the way, BEST CARLY EVER!
"Although Brenda's was more stylish!" BWAAAAAA ! Thanks Riatson for the video!
By Jamey Giddens on April 16, 2009
Oh wow, I think I have a new favorite web series, sorry
Imaginary Bitches
. No hard feelings
Life in General w/Greenville General
! Check out
AMC: Pratt Falls,
a knee-slapping spoof featuring a conversation between
Julie Hanan "You Didn't See What You Saw" Carruthers
and
Chuck Pratthole
(TM Pine Valley Podcast). I don't know who
grrarrgghh
is, but you sir or ma'am are a genius. Can't wait until the next episode!

UPDATE: Check out episode two after the jump.
READ MORE
By Luke Kerr on April 10, 2009
In celebration of the first gay wedding on daytime's
All My Children
in February of 2009, the Bianca & Reese fans have come together, with
Eden Riegel
and
Tamara Braun
, to raise money to continue the battle to overturn Proposition 8.
During the month of April, All My Children fans will have the opportunity to bid on Bianca & Reese memorabilia through auctions or by purchasing raffle tickets, allowing fans to give back to the real life struggle in California.
Auctions will run from April 10th to April 24th. Raffle tickets will be available for purchase from April 17 to April 29. Proceeds from these events will be donated to "Invalidate Prop 8" and the fight to legalize gay marriage in California.
Auction items, raffle tickets and all information can be found at