T.R. Knight
By Jenna Dorsi on March 06, 2014

Isaiah Washington is checking back in to Grey's Anatomy. Dr. Burke will return as part of Sandra Oh's departure this May.

The Burke/Yang romance featured heavily into the first three seasons of Grey's Anatomy. It came to a screeching halt in 2007, after his character stood Yang up at the altar, while his contract was not renewed. READ MORE
By Regan Cellura on June 17, 2009
Michael Ausiello has a pair
of
Grey's Anatomy
scoop!
TR Knight
is officially out as Dr. George O'Malley and
Jessica Capshaw
is a series regular as Dr. Arizona Robbins. Knight may even have another gig already lined up.
Fall's still months away, but one of last season's bigger Grey's Anatomy cliffhangers has already been resolved: Sources confirm to me exclusively that T.R. Knight's wish to be released from his contract has been granted. The official decision, I'm told, came down in the past few days, just as many of his castmates began receiving their formal pickup letters from ABC.

Fans of Grey's know that there has been plenty of speculation over TR Knight's status with the show when the news hit the net that he wanted out of his contract three years premature. As for Capshaw, it looks like Callie's (Sara Ramirez) love interest and love life are still going strong with Capshaw signing on as a series regular.
By Regan Cellura on May 15, 2009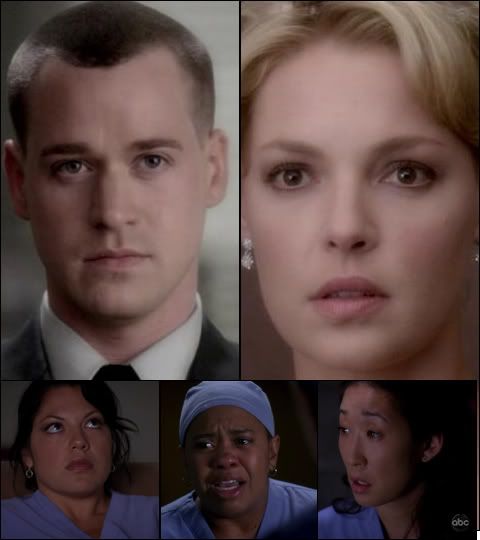 I won't spoil it for anyone who has last night's
Grey's Anatomy
finale still sitting in their DVR but for those of you who have seen it, whatcha think? If you haven't had the chance to sit through the 2-hour season ender, I highly suggest grabbing a box of tissues and watching it as soon as possible. I loved it and what a cliffhanger!
By Regan Cellura on February 10, 2009
It had been widely reported that
Grey's Anatomy
's
T.R. Knight
had asked to be released from his contract with the show. When Dr. Izzie Stevens started seeing her dead fiance due to an illness, many speculated that
Katehrine Heigl
would be following Knight out the door. Heigl and Knight's co-star,
James Pickens Jr.
has confirmed to
Us Weekly
that both actors are indeed leaving Seattle Grace behind.
"Yes, she is," Pickens told Us Weekly when asked if Heigl is leaving the ABC hospital drama. "Wherever Katherine goes, I wish her nothing but the best."

Her outspoken BFF, Knight, 35. "He's going too," Pickens told Us at the NAACP Awards luncheon in Beverly Hills. "He just wanted to pursue other career paths."
By Jamey Giddens on December 09, 2008
This just in.
Michael Ausiello
is
reporting
that several sources have come forward saying
T.R. Knight
has asked to be let out of his contract at the weekly shark jumping fest that has become
Grey's Anatomy
! With Knight's costar and real life besty
Katherine Heigl'
s future also in jeopardy, not to mention the bat shit crazy storytelling this season and reduced ratings,
Shonda Rhimes'
show has quickly gone from azucar to fecal matter!