Stuart Damon
By Daytime Confidential on July 13, 2009
On today's ABC episode of Daytime Confidential Luke, Jamey and Regan discuss the latest in All My Children, General Hospital and One Life to Live storylines and news, including:
One Life to Live's Robin Strasser may be leaving the show. Should she take the pay cut and what would her leaving mean to the Llanview canvas? Dorian stands up for Langston and Markko, while facing the reality that no one may come to help her. One Life to Live wants Guiding Light's Daniel Cosgrove in Llanview. Should Rex and Schuyler be brothers?
Has the "Who Killed Stuart" murder mystery lasted to long on All My Children and is it distasteful? Ryan is like a son to Erica and the cougar storyline is rubbing Jamey the wrong way. Would David and Liza be a hot pairing or should she be paired with someone else?
Regan and Jamey share their reactions General Hospital's Dominic being Dante. Should characters have inappropriate chemistry and subtext with actors who portray their onscreen siblings? Has General Hospital diluted its brand? The Spixie pairing is going full steam ahead and it looks as if Spinelli will propose. Do we still see moments of "the old General Hospital?" Jerry Jacks returns to Port Charles. Will General Hospital fans be in for culture shock if they follow Stuart Damon and Lynn Herring to As the World Turns?
Help support and improve the Daytime Confidential podcast: Take a few minutes to fill out the two Daytime Confidential listener surveys: Listener Survey A l
Be sure to leave your comments on all the latest goings on in the world of soaps by calling the Daytime Confidential comment line by calling 917-677-9757.
Listen to Daytime Confidential by clicking on the Daytime Confidential Player at the bottom of this post or Download us for FREE via iTunes. Vote for us on Podcast Alley. Add us as a Friend on MySpace and Facebook.


READ MORE
By Regan Cellura on July 02, 2009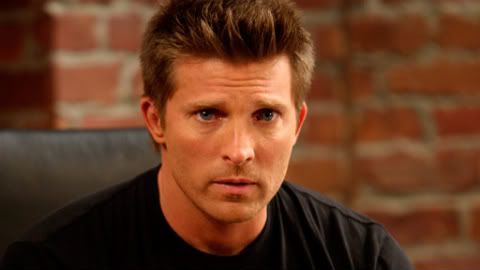 Here's the Scoop! 07.02.09

Everyone ready for the holiday weekend? I am! Today will be Q&A Day, so ask away. I'll answer what I can.

The question I'm getting the most…
well the question I've been getting for a while now is the status of
Steve Burton
's
contract. Trust me, when we know, you'll know and so far, I've got nothing more than GOSSIP and SPECULATION. Some say he's still working out the kinks, others say he's already signed. COULD Steve leave GH behind? I honestly wouldn't be surprised if he did.
CRAZY RUMOR of the DAY… Is Mercedes involved in the murder mystery? Is she the killer?
Derk Cheetwood tweeted this today: sitting in my Dressing Room figuring out how I'm not going to laugh during my scences with Bradford & Carolynn,wish me luck!
More tweets? Sebastian Roche revealed on his twitter that he'll be working with Kelly Monaco. RUMORS say it'll be about Alexis and the trouble she's in. Another CRAZY RUMOR has Alexis and Jerry hitting the sheets. I thought she was done with maniacal men? Will Kristina have something to say? READ MORE
By Jillian Bowe on July 01, 2009
Fans aren't the only ones not too keen on the recent hiring of former
General Hospital
star
Stuart Damon
(Alan) to
As The World Turns
. Daytime industry veteran
Jonathan Reiner
discusses
his take
on the latest casting development:
Today brings news (via

Soap Opera Digest

) that Emmy-winning former

General Hospital

star Stuart Damon (ex-Alan Quartermaine) is joining ATWT in a new role. "ATWT" needs a lot of things -- but one of them isn't another "GH" actor in a new role.

The soap has almost ten actors on contract with more than 20 years experience -- how about telling stories for those characters (and their kids) rather than cast a big-name actor from another network in a role that no one cares about?

For Reiner's thoughts on the status of ATWT visit www.tvweek.com. Thanks to GossipGirl for the tip!
By Regan Cellura on July 01, 2009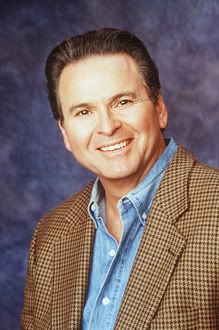 According to a BREAKING NEWS report at
Soap Opera Digest
,
Stuart Damon
(Alan Quartermaine,
General Hospital
) is heading to
As the World Turns
. Fans were outraged when
General Hospital
killed off the long time actor during the Emmy-winning storyline of the Metro Court Hostage Crisis. Since Alan's onscreen death, Damon had popped in here and there as Alan's ghost. Really, he acted as his sister Tracy's (
Jane Elliot
) conscience.
This casting reunites Damon with former GH stars Jon Lindstrom (ex- Kevin Collins) and and Lynn Herring (ex-Lucy Coe). Stuart should first appear this September as a new character.
By J Bernard Jones on June 22, 2009
Dear Ms. Phelps,
I present to you the new opening for As the World Turns that debuted on Monday, June 23rd. ATWT's executive producer Chris Goutman might not be producing the best show (an understatement), but he does know how to update his show's opening credits every year or two. Not all of ATWT's openings have been great, but they represent an attempt to keep current.
Now I know what you might be saying, something along the lines of "We have the daytime equivalent of the budget of Transformers: Revenge of the Fallen and can do much bigger, better and flashier than that! And we can include the cast, too! Hell, our credits run for 11 minutes, not 9 seconds!"
Ms. Phelps, it goes without saying that of course you do and of course you can (and of course it does), which is the point. If anything you certaintly have the flashier part right: GH's current opening has more epilepsy inducing lens flares than J.J. Abrams' Star Trek. READ MORE
By J Bernard Jones on May 29, 2009
Dear Ms. Phelps,
I will keep this brief.
In the name of all that is holy, change the frakkin' opening credits to General Hospital!
I don't know which is worse on your part, the fact that it seemingly takes half a decade to add or subtract contract cast members or that ding dang ending shot of all "The Men of GH" — half of which aren't even on the show anymore.
How is that a show like Guiding Light, which you once produced and with 1/84th your GH budget, can manage to keep its opening credits updated to current storylines on a daily basis but GH, having laid out $3 million to upgrade its studio facilities to high definition, somehow can't get it together to find a way to digitially erase Justus Ward (last played by M'fundo Morrison), a character who has been dead since 2006? READ MORE