Sri Rao
By Jamey Giddens on September 10, 2012
Score one for the good guys! One of the most talented soap scribes to come down the pike in a long, long time has landed a high profile primetime project.
Sri Rao
, who penned the critically-acclaimed second season of
General Hospital: Night Shift
, has sold a political soap to NBC, with prolific producers
Craig Zadan
and
Neil Meron
, reports
Deadline
.
READ MORE
By Jamey Giddens on March 10, 2010
Here's a little pick-me-up for all the fans reeling over ABC Daytime's ridonkulous decision to phase out the Kish love story on Too Gay to Live One Life to Live. Cable channel BRAVO has announced it is adding a fifth night of programming to include a series executive produced by Beverly Hills, 90210, Melrose Place and Sex and the City creator Darren Starr.The series just so happens to have a writer by the name of SRI RAO attached to co-write it!!!
By Regan Cellura on April 02, 2009
TVGuide Canada
's
Nelson Branco
chatted up
GH
's supercouple Robin and Patrick (
Kimberly McCullogh
and
Jason Thompson
) in celebration of the sudser's 46th Anniversary. The duo talk about Robin's Post Partum Depression, their love of
Finola Hughes
(Anna Devane) and
Tristan Rogers
(Robert Scorpio) and give kudos to
NightShift
head writer
Sri Rao
.
TVG: Kimberly, we were all a little bit surprised when you returned to GH a few years ago because you had relative success in other mediums. Are you planning on staying on GH for the foreseeable future? READ MORE
By J Bernard Jones on December 29, 2008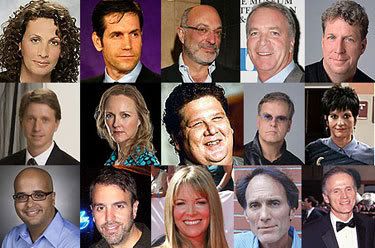 I warn you now, what follows is not strictly a bit of soap opera nostalgia. Though cloaked in fond remembrance, there are deeper issues at play here, if you will bear with me...
My late mother loved "her stories." One might say she was a one network kinda woman, too. When I came along into my parents' lives, her soap schedule was more or less as rock solid as the dawning of the sun: Love is a Many Splendored Thing, As the World Turns, Love of Life, Search for Tomorrow, The Guiding Light and The Secret Storm.
I vaguely recall a few of these shows as I was all of about 5 or 6 years old at the time, but they began to imprint themselves on my mind because by some strange coincidence or another I was always catching some memorable scenes or events that would be the equivalent to sweeps stunts today. READ MORE
By Jamey Giddens on November 26, 2008
Okay you knew it was coming. Now that the Idiots In Charge of The-Soap-Opera-Formerly-Known-as-Days-of-Our-Lives have let the phenomenal
Blake Berris
go, I decided to start out doing a Wishful Casting about where Berris should end up, but it turned into more of an analysis of which soaps are managing to set things up for their next generation the right way, and which ones are getting it wrong, dead wrong.
Much of the daytime industry is experiencing a serious drought in terms of talented, young stars who can actually, you know, act. Save for The Young and the Restless, One Life to Live and General Hospital, the under 30 set at most soaps is pretty much comprised of rejects from the Pamela Anderson School of Acting and Pantomime. I'll start with the soaps in most need of help and work my way up. READ MORE
By Jillian Bowe on October 15, 2008
Fans of
General Hospital: Night Shift
get ready to be wowed. Head Writer
Sri Rao
bares all with
TV Guide Canada's
Nelson Branco
where he surprises readers by saying, *gasp* he's a fan of soaps! A rarity these days.
TVG: Are you a soap fan? You clearly understand the genre.

SR: I grew up on General Hospital. It is the show I've watched the most in my life. I started watching at eight years old, and religiously tuned in for 15 years. In recent years, I've drifted in and out, but I always kept tabs on it.

When ABC approached me, I was surprised, because this gig wasn't something I sought out. I never considered writing for daytime TV, but when they called, it was perfect. It really was a dream come true. As a fan, it's like being given the keys to the candy store. I think every fan head-writes a soap in their head at one point or another. And I actually got to do it. It was a huge thrill. And a lot of fun.
Doesn't anyone else want to just kiss that man? Maybe give a fist bump to Nelson while we're at it.