Sonya Eddy
By J Bernard Jones on June 22, 2009
Dear Ms. Phelps,
I present to you the new opening for As the World Turns that debuted on Monday, June 23rd. ATWT's executive producer Chris Goutman might not be producing the best show (an understatement), but he does know how to update his show's opening credits every year or two. Not all of ATWT's openings have been great, but they represent an attempt to keep current.
Now I know what you might be saying, something along the lines of "We have the daytime equivalent of the budget of Transformers: Revenge of the Fallen and can do much bigger, better and flashier than that! And we can include the cast, too! Hell, our credits run for 11 minutes, not 9 seconds!"
Ms. Phelps, it goes without saying that of course you do and of course you can (and of course it does), which is the point. If anything you certaintly have the flashier part right: GH's current opening has more epilepsy inducing lens flares than J.J. Abrams' Star Trek. READ MORE
By Jamey Giddens on June 12, 2009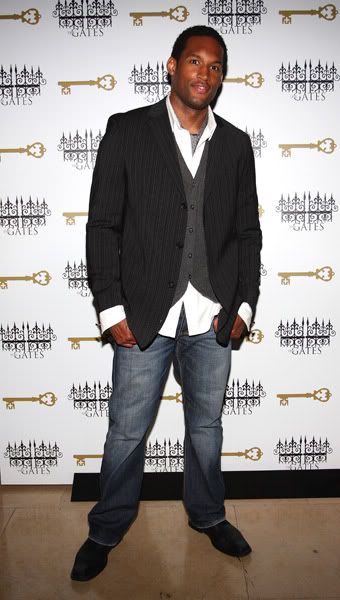 Hey brass at
General Hospital,
wanna a.) give the fans what they want in terms of more storylines featuring the hospital and b.) actually tell a storyline featuring people of color on your canvas as opposed to simply having them provide psychiatric counseling, prenatal advice and sassy commentary at the nurses' station? How about bringing back the character of Tom "Tommy" Hardy Jr. in the form of
Guiding Light star
and recent
Ugly Betty
guest
Lawrence Saint-Victor
?
As the son of Dr. Tom Hardy (last played by DAYS superstar Matt Ashford) and Tom's African-American ex-wife Dr. Simone Ravelle (last played by Felicia Bell), Tommy Hardy is a legacy character in the true definition of the word— the grandson of GH's first supercouple Dr. Steve (the late John Beradino) and Nurse Audrey (Rachel Ames), which makes Tommy a descendant of Port Charles' first family and a cousin to Elizabeth Webber (Rebecca Herbst). READ MORE
By Regan Cellura on April 15, 2009
Welcome Back Billy Dee!
SOAPnet.com
is reporting
Billy Dee Williams
will reprise his
General Hospital: Night Shift
role, Touissant Dubois, on ends. Will Epiphany (
Sonya Eddy
) and Touissant rekindle their romance?
By Luke Kerr on April 13, 2009
By Luke Kerr on January 21, 2009
By Jamey Giddens on August 08, 2008
Rumors have been running rampant for weeks that there is tension on the set of
General Hospital: Night Shift
between veteran actor
Billy Dee Williams
(Toussaint) and
Sonya Eddy
(Epiphany). Now our pal
TV Guide Canada
's
Nelson Branco
is reporting that an inside source tells him Williams is prone to walking off the set of the SOAPnet series because of his dislike of the Toussaint/Piph pairing. A little birdie also told me if Williams shows up for his set call and they aren't ready for him right then and there, he will walk off in a heartbeart!
Now look, I love Billy Dee, he is a true icon, from Lady Sings the Blues to Dynasty, but I don't see George Lucas asking him to reprise his role as Lando in another Star Wars movie so if these rumors are true, he better get somewhere and sit down and act like he has some sense! Quit acting up and go on and give Piph some SUGAR before Sonya goes upside that head like she did Suge Knight! Who you with? Team Piph! You go Sonya!