Shonda Rhimes
By Luke Kerr on March 15, 2013
Please, please, please let this happen! According to The Hollywood Reporter, Grey's Anatomy and Private Practice creator Shonda Rhimes would like to bring Kate Walsh back as Addison Montgomery at some point. Unfortunately, there are no immediate plans to do so.
"I would love to see Addison back at Seattle Grace at some point for a visit," Rhimes told The Hollywood Reporter recently. "I've said a million times that before the show ends its run, Addison has got to put on her shoes and scrub cap and come scrub in at the hospital. That's a given for me."
By Jamey Giddens on January 30, 2013
The hottest scripted couple in primetime will be joining the ladies of
The View
today.
Kerry Washington
and
Tony Goldwyn
, who play forbidden lovers Olivia Pope and President Fitzgerald Grant III on
Shonda Rhimes
' hit ABC sudser
Scandal,
are scheduled to appear.
I wonder if the co-hosts will ask the stars about former The View nightmare Star Jones acting a plum fool on Twitter with Shonda Rhimes and fans over Olivia being in love with the married POTUS, when she could be with the Senate Majority Leader dude? Lord knows I jokingly take a few Twitter swipes at Scandal, but someone should tell Starlet it's a soap opera and to have several seats. Watch the promo for today's episode of The View after the jump! READ MORE
By Jillian Bowe on December 10, 2012
Don't expect Katherine Heigl to return to Seattle Grace anytime soon. Grey's Anatomy showrunner Shonda Rhimes spoke with Oprah Winfrey Sunday night to discuss her latest primetime drama Scandal, featuring Kerry Washington. The Mighty O asked Rhimes about Heigl's controversial 2008 decision to pull her name from Emmy nominations. Fans of the series recall Heigl told the press she wasn't submitting since the writing for her character wasn't up to snuff. Ouch. Rhimes has kept mum on Heigl's diss until now. Said Rhimes on Oprah's Next Chapter:
On some level it stung, and on some level I was not surprised. When people show you who they are, believe them. I carry that with me a lot. It has served me well. READ MORE
By Jillian Bowe on October 19, 2012
Say goodbye to the doctors of Santa Monica's fictional Oceanside Wellness Group. After six seasons, ABC has decided to end Private Practice's run once it completes the current 13-episode order. Per Deadline, ABC and Private Practice's showrunner/creator Shonda Rhimes mutually came to the decision to end the series after the Mouse House declined to give it an additional 9-episode pickup.
By Regan Cellura on December 05, 2008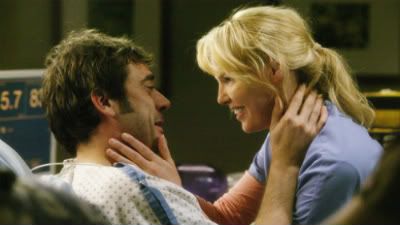 I'm not talking about
General Hospital
's very dated opening but
Grey's Anatomy
does seem to be pulling a few pages from GH's storybook. It's ok, GH recycles all the time, another show might as well benefit from their stellar example.
Michael Ausiello is giving readers a little insight into the ghostly storyline that is going on with Dr. Izzie Stevens (Katherine Hiegl) and her dead Fiance Denny. Grey's Shonda Rhimes, who is a General Hospital fan, had said that Izzie is not suffering from a brain tumor ala Nikolas Cassadine (Tyler Christopher). Nikolas was able to carry on with his dead Fiance, Emily Quartermaine (Natalia Livnigston), thanks to his tumor. So what has Izzie seeing dead people? READ MORE