Shirley Jones
By Jillian Bowe on January 08, 2014
Is 70's TV mom
Shirley Jones
heading to
General Hospital
? According to
William deVry
(Julian), she sure is! The actor revealed the information about
The Partridge Family
star's upcoming stint on
GH
on
Twitter
while conversing to
Star Trek
's
William Shatner
. deVry tweeted:
By Jamey Giddens on August 01, 2013
Hell hath no fury like Alexis Morell Carrington Colby Dexter Rowan!
TMZ
is reporting soap mega goddess
Joan Collins
is livid over allegations in
Shirley Jones
'
new memoir
that, back in the 60's, Collins and then-husband
Anthony Newley
almost engaged in a partner-swapping orgy with Jones and then-husband
Jack Cassidy
.
READ MORE
By Kelly on February 13, 2008
Dear Samantha Gene,
I would just like you to know that I think you are fierce and I love you. Even though you have cried continuously for the last 14 months I still love you. And because I love you I feel that it is my duty to tell you of your latest fashion faux pas. It is never, NEVER EVER acceptable to wear sequins to jail. Especially when you are saying goodbye to your baby daddy/one true love. Also, the Mary Alice head band is NOT a good look for you. At this point only Claire could get away with this:
(Not to mention that it is so low cut I can see your belly button. Something like that could cause a prison riot!)
Just remember Samantha, the next time you visit a man in prison you should wear something a little less provacative. Maybe something more like this:
Sincerely,
Kelly and the Peeps at DaytimeConfidential.com
(****Screencaps courtesy of chit-chat-haven.com)
By Luke Kerr on February 04, 2008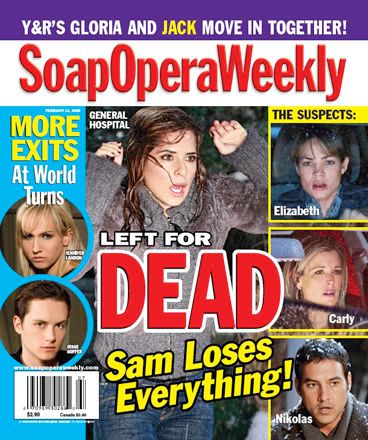 Well its time to take a look at this week's magazine covers. I'll probably end up regretting saying this but the moment I saw the cover of Soap Opera Weekly I inadvertently started humming "Grandma got ran over by a reindeer" except it was more along the lines of "Sam got ran over by 4x4". I know, I know, such fantasies are futile but I'm just being honest.
Moving on to more somber topics. 2007 may not have been Jesse Soffer or Jennifer Landon's most stellar year in terms of storylines but they will be missed if they do leave As the World Turns.
Of course I can just imagine how many emergency rooms filled up when Young and Restless fans had coronaries from the thought of Gloria moving back into the Abbot mansion. Let's hope that they and she has medical insurance because for some reason I have a feeling she's going to be in for a bumpy ride (no puns intended) living with Jack.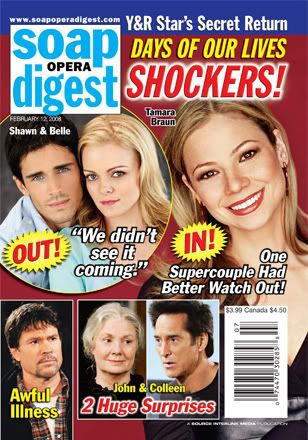 Soap Opera Digest may quite possibly have the understatement of the year on their cover in the form of the quote from Martha Madison and Brandon Beemer. "We didn't see it coming." No shitaki mushrooms Sherlock. No one saw that coming. In fact I'm not sure that anyone could have predicted last November when Martha Madison put in her best work to date that she'd be fired the following January. Days of Our Lives is getting an ugly reputation for renewing actor contracts and then firing those same actors a short time later.
So what is everyone thinking of Shirley Jones so far? Personally, I'm impressed but John's fingering the knife in every other scene is a bit much if you ask me.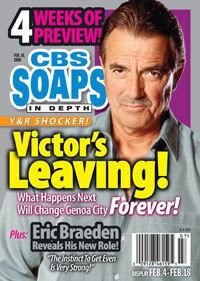 "Victor's Leaving!" Sure he is. Probably because Eric Braden is going on vacation or has a side role in the works. Not really so shocking when you think of it that way is it? Personally, I'd be more interested to see a cover with Jeane Cooper on it to help clear up these rumors about whether or not Katherine Chancellor is going to be killed off we're hearing. Now that would be a headline.
By Brooke on January 22, 2008
Wow, what a week it's been for offscreen drama on Days of Our Lives. The news about Tamara Braun joining Days, then the breaking news of Martha Madison (Belle) and Brandon Beemer (Shawn) being fired. Is anyone safe in Salem? Rumblings around the net are that no, noone is and watch out for more firings… seems it's going to get worse before it gets better. Plus, I've heard we should expect some sort of announcement on the future of Days, sometime in Feb/March.
So is it worth continuing to watch the show? Decide for yourself – this is what you can expect to see this week (apologies, yet again I have missed Monday's show so I will comment from Tuesday on):
EJ/Sami – go into hiding with the twins; Lucas aint too happy hear about this, but there isn't too much he can do about it from behind bars… or so you would think! Maybe having Stefano as a cellmate wont be so bad after all? Especially a Stefano who may have his own reasons for finding EJ and Sami… and little Giovanni. Is Lucas about to make a deal with the devil?
Marlena/John – after John got free on Monday's episode, Marlena still refuses to give up on him (frankly I'd be disappointed if she had so soon). She and Dr Carrington give John truth serum to find out exactly what Stefano and Dr Rolf did to him in the DiMansion Dungeons – unlike for everyone else, the serum doesn't work (what modifications did Dr Rolf make to John so that truth serum doesn't work??); the mention of Stefano's name apparently has John going mental. Instead, they give him a psychiatric test, learning what seems obvious to me, that John is without emotions (a real DiMera soldier if you like). I'm just hoping what I'm reading as a spoiler is true for this next part… Marlena goes to confront Stefano, armed with more truth serum! Brooke pleads… please please please let scary Marlena stay!
Shawn/Chloe, Philip/Belle – are going to team up to investigate Claire's kidnapping. They research Rob's tattoo and end up finding him in Crystal's store. Shawn the rookie cop demands his daughter back… Belle's still recovering in hospital, with Philip there to comfort her. She wants to join the hunt for Claire of course, but is not allowed.
Sorority (and Billie) – More disagreement over whether to tell the truth about Ford's death; Stephanie confesses her rape to the sisters in an effort to convince them to stay quiet, Chelsea has a normal teenage emotion/experience when she can't convince the gals to talk and wonders if Nick will dump her because of her continued secret keeping. Billie's job is threatened by the Dean if he finds out she had any knowledge of the girls' involvement in Ford's disappearance, prompting Billie to continue to work on Nick to spill his guts, appealing to his goody goody nature and his love for Chelsea. Meanwhile, Chelsea ends up cracking under the pressure and tells Crawford Decker his son is dead. Oops. Bo gets in on the action, meeting with a Dectective to discuss the case and Stephanie finally admits the truth about the rape to Steve.
Aaaand speaking of Steve, he and Kayla are still pursuing this baby making business – I'm sorry, but the only thing making me watch this s/l is how amusing I find Patch.
Next Week:
Holy moly! Next week looks freakin' awesome…
• Return of the lost DiMera's – Lexie (Renee Jones), Tony (Thaao Penghlis) and Anna (Leann Hunley)!
• Adrienne (Judi Evans) says her goodbyes
• John and Marlena start off the Ireland adventure
• Colleen (Shirley Jones) reveals she faked her death
• Max comes forward with Ford's body (ewwwwwwwww)

In Other News:

First date onscreen: Tamara Braun – her character 'Ava' (another soap character named Ava? Is there no originality left in soapland?), will be seen from February 8th

NBC Text Message Spoiler: Hope to rejoin the Salem PD? She's certainly been getting into everybody's business lately
By Luke Kerr on January 07, 2008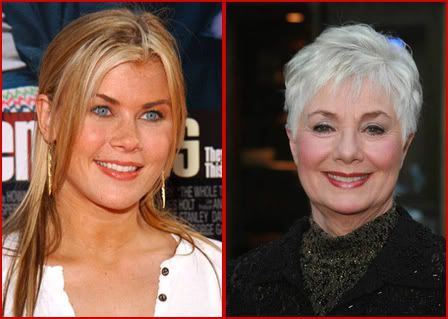 After word of Shirley Jones joining the cast of
Days of Our Lives
and the possibility of her portraying Colleen Brady one of our readers Christine_in_Wisconsin asked for a side by side picture so that we can all compare whether or not Sami and the possible Colleen look anything alike.
So here you go, do the actresses who portray Sami and possibly Colleen look anything alike? Discuss by commenting.