Sherri Shepherd
By Jillian Bowe on December 11, 2008
Seems like we're not the only ones pissed at ABC for letting some great shows bite the dust. Today on
The View
, co-host
Whoopi Goldberg
decided to let her employers at ABC know how she feels on their decision to cancel
Eli Stone
and
Dirty Sexy Money
. At the 6:00 minute mark until the end, Ms. Goldberg comes out swinging on ABC and isn't afraid to do so! Love Joy's comments about the entire thing.
Anyone else find it refreshing that a star at major network decided to call out their bosses for some of the stupid mistakes their making regardless of any consequences they may face? Maybe this will become a new trend for television actors to put their executive bosses on full blast. Here's hoping the brass over at ABC decide to halt cancelling DSM and ES!
By Jillian Bowe on December 09, 2008
If you thought funnyman
Don Rickles
's
zinger
to
The View'
s
Elisabeth Hasslebeck
was harsh try again! The comic made a pitstop by the ABC talk show to pimp er promote his book,
The Rickles Letters,
which is based on things he'd like to say to his friends and other celebs.
Pay attention to the 1:55-2:37 mark of the clip where Don and Joy banter. He pretty much threw fish grease on Star Jones and nemisis er former boss Barbara Walters tries to play peace maker. Its official, Don's the man because he just put out the dirty laundry of that show without batting a eye! READ MORE
By Luke Kerr on December 06, 2008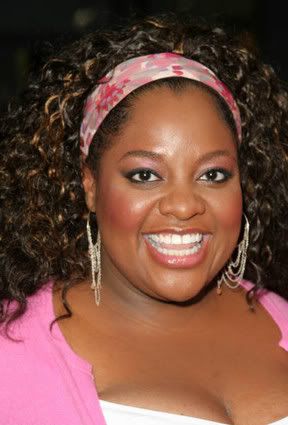 Entertainment Weekly has named Elisabeth Hasselbeck and Sherri Shepherd among the Top 25 Smartest People in TV saying that the ladies at The View "put the shrew in shrewd this election year, juicing ratings by pumping up their political banter."
EW's Top 25 Smartest People in TV also includes other such notables as Tyra Banks, Marc Cherry of Desperate Housewives, JJ Abrams of LOST and Fringe, Josh Schwartz of Gossip Girl and Chuck and Tyler Perry.
By Luke Kerr on November 20, 2008
Barbara Walters
came out swinging in her oh-so-polite away saying that she "resents" a couple ex co-hosts dumping on
The View
for their own publicity.
Translation: The political season is over, what better way to keep ratings at all time highs than to take on the big R and big S again?
By Luke Kerr on November 18, 2008
Sherri Shepherd
was at Super Soap Weekend and has some behind the scenes looks your favorite ABC stars including
Susan Lucci
,
Erika Slezak
, the hot hunks of ABC daytime and tells how she grabbed
Jason Thompson's
butt twice.
Note: If this clip does not appear in Internet Explorer view in Firefox.
By Jillian Bowe on November 13, 2008
One Life to Live
star,
Michael Easton
will make his chat fest debut with the ladies of
The View
tomorrow. This should be an interesting show since the actor could be put in the hot seat about his character John McBain being part of the highly controversial Todd (
Trevor St. John
) and Marty (
Susan Haskell
) romance storyline. The actor's take on the "Tarty" storyline, plus the possibilty we'll see if his
Soul Stealer
graphic novel character put the smackdown on
Elisabeth Hasslebeck
just might make this episode of
The View
truly Must See TV!