Sherri Shepherd
By Luke Kerr on March 04, 2009
Sherri Shepherd has provided countless laughs - some intended, some not - since joining The View. Some of those laughs have come from the re-telling of how she dealt with her husband's philandering.
Well, if those stories have ever made you think to yourself "this would make a great sitcom" you are in luck. According to The Hollywood Reporter, Sherri will star in multi-camera sitcom loosely-based on her life and will revolve around "a woman who contends with her husband's infidelity and his illegitimate child when she allows the child and mother to move in with them." The series will air on Lifetime.
This isn't the first time a morning talk show host has pulled double duty. Many Daytime Confidential readers probably remember Kelly Ripa's (ex-Hayley, All My Children) hilarious Hope and Faith. That series lasted three seasons.
Would you watch a series based on Sherri's life?
By Luke Kerr on February 20, 2009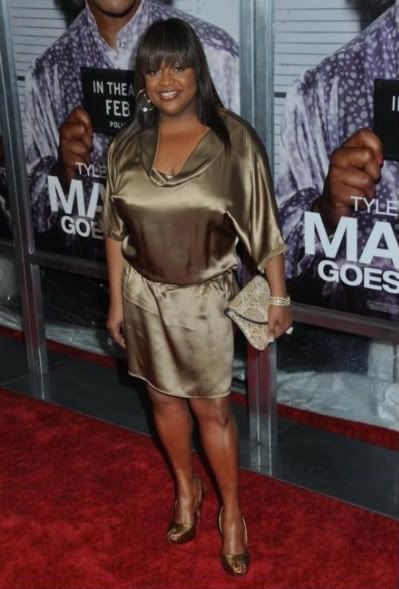 Love it or Hate it: Sherri Shepherd
By Luke Kerr on February 02, 2009
Today it was almost as if
The View
took a step back in time. Controversial film maker
John Siegler
had
Joy Behar
and
Elisabeth Hasselbeck
duking it out over the November presidential election and
Sarah Palin
, while
Whoopi, Barbara
and
Sherri
tried to get a word in edge wise. Siegler dropped by
The View
to promote his new documentary
Media Malpractice
. For those who have missed the pre election sparring, the second clip you'll particularly enjoy.
READ MORE
By Jillian Bowe on January 26, 2009
Illinois Governor
Gov. Rod Blagojevich
made a pit stop by
The View
today and had a one on one interview with the show's executive producer and host,
Barbara Walters
. He spoke with Walters, who was in Los Angeles, via satellite. Later, he went up against the rest of the hosts.
READ MORE
By Jillian Bowe on January 12, 2009

Fast-forward up to the 4:52 mark and see what set off The View, ladies today when speaking with conservative pundit Ann Coulter. I get what Ann's trying to say in regards to biracial children, it seems as though your favoring one side of your heritage for another. It comes off as a person just disregarding an entire side of themselves. Tell me this though, when did Ann become the spokesperson for the biracial masses? I didn't know she was on Halle's payroll along with Alicia and Pres-elect Obama's. Is she passing? If so that debunks her entire debate now doesn't it? Gotta love Whoopi's remark though at the 7:00 mark..
By Jillian Bowe on January 12, 2009

We all know Ann Coulter's routine is to stir up controversy in order to sell books. Everyone knows bad publicity is good publicity, if someone's talking about you then you must be doing something right. Ann did that and got more than what she bargained for today when, she made her rounds to promote her book and stopped by The View. Watch the clip as those ladies of The View all come together and just check's Ms. Coulter on her latest firestorm she's created. I love how Sherri goes out swinging for her Babs and Whoopi... Well ya'll know Ms. G don't play that!