Sebastian Roche
By Regan Cellura on August 04, 2008
Happy Birthday to
General Hospital's
Sebastian Roche (Jerry Jacks). GH's resident bad boy turns 44 today!
By Luke Kerr on June 20, 2008

Image details: The 35th Annual Daytime Emmy Awards Behind-The-Scenes Preview served by picapp.com
Here's another shot at some of the
General Hospital
tables from an angle that has Sebastian Roche front and center. It appears that Brandon Barash and Josh Duhan whose onscreen characters are foes will also be sitting at the table.
By Luke Kerr on April 30, 2008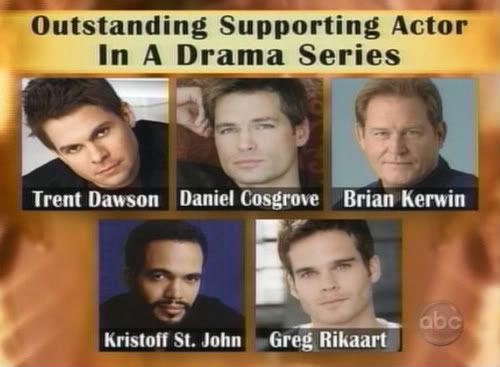 Congrats to Trent Dawson, Daniel Cosgrove, Brian Kerwin, Kristoff St. John and Greg Rikaart. Best of luck. This is going to be a tough category to predict.
This could be a tough category. I can't fault any of the actors nominated in this category because each is a true supporting actor. However, at first glance there seems to be some obvious omissions amongst the nominations. Where is One Life to Live's Tuc Watkins? Is John-Paul Lavoiser suffering from the same thing Trent Dawsom did for years, in that Rex is to much of a comedic character? Why isn't at least one of the three actors from General Hospital nominated?
Looking at the prenominations list below and comparing it to the nominees above is there anyone who you feel is missing from this list or who should be on it instead of someone else?
Outstanding Supporting Actor Pre-Nominees
AMC: Jeffrey Carlson, Jacob Young, and Billy J. Miller
ATWT: Trent Dawson, Grayson McCouch, and Austin Peck
B&B: William deVry, Patrick Duffy, and Dax Griffin
DAYS: Bryan Dattilo, Jay Kenneth Johnson, and Joseph Mascolo
GH: Bradford Anderson, Rick Hearst, and Sebastian Roche
GL: Murray Bartlett, Jordan Clarke, and Daniel Cosgrove
OLTL: Brian Kerwin, John-Paul Lavoisier, and Tuc Watkins
Passions: Christopher Maleki, Phillip Jeanmarie, and Eric Martsolf
Y&R: Greg Rikaart, Ted Shackelford, and Kristoff St. John
Be sure to tune in for our Daytime Emmy Nominations podcast episode with should air on Thursday or Friday.
By Jamey Giddens on March 21, 2008
Sebastian Roche unhappy at GH? Adrianne Leon to return to Y&R? Days renewed? Those are just a few of the soapy tidbits Daytime Confidential's BFF Nelson Branco dishes about in the latest edition of his online column The Suds Report available at TV Guide Canada's website.
Fresh from the GLAAD Awards Nelson also provides an awesome interview with ATWT gay supercouple Van Hansis and Jake Silbermann (Luke and Noah).
Nelson also raves about DC's recent podcast chat (DC #210) with soap and horror writer Victor Miller, who talked about working under controversial All My Children scribe Megan McTavish (whom Miller considers a dear friend and a great headwriter) and what it was like to write the first Friday the 13th slasher flick.
By Jamey Giddens on February 29, 2008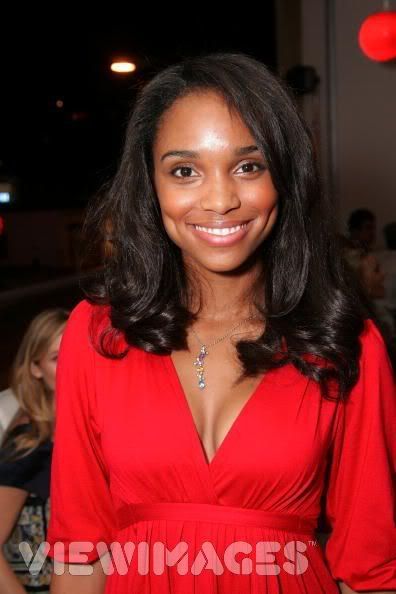 What happens when you take a few actors from ABC's hit soap General Hospital and put them at the same Las Vegas hotel/casino as a disgruntled former rap music tycoon? A hot mess that's what!
Soap Opera Weekly is reporting that GH/Night Shift actress Angel Wainwright (Regina) got into an altercation with
infamous hip hop personality Suge Knight. Wainright was in Vegas for a GH fan event over the President's Day weekend along with Sonya Eddy (Epiphany), Ignacio Serricchio (Diego), Sebastian Roche (Jerry) and Jason Thompson (Patrick).
Allegedly, Wainwright and Knight got into their scrape at the Tryst nightclub located in the Wynn Hotel. Knight supposedly threatened Wainwright who responded by jabbing the man in his eye! Knight then grabbed Wainwright, causing Sonya Eddy to begin pummeling Knight to get him to release her co-worker! Who says Jason Morgan is the only hero in Port Chuck?
For soap fans not familiar with Suge Knight, he is the co-founder and former CEO of West Coast-based Death Row Records which was involved in a long-term, messy "East Coast vs. West Coast" turf feud with Sean "P.Diddy" Comb's Bad Boy Records. Both labels lost their key stars (Tupac Shakur and Christopher "Biggie Smalls" Wallace respectively) at the climax of the feud, although both deaths remain unsolved. Death Row was once also the home of OLTL celeb fan Snoop Dogg.
By Luke Kerr on January 27, 2008
In an episode of Daytime Confidential to air this week Foxy, Jay and I were discussing General Hospital in comparison to All My Children and One Life to Live when it comes to using their veterans. The discussion got me to thinking.
General Hospital is, without question, the #1 ABC soap in terms of ratings. It has the nicest sets. It has the biggest sweeps stunts in daytime. It seems to be nominated for Emmys more than the One Life to Live or All My Children. However, even with this going for it, proportionately speaking it has the fewest veteran actors in front burner storylines. Why is this and does this seem odd to anyone else?
Take for example All My Children and One Life to Live.

All My Children's ratings have been in the toilet by comparison. Fans are crucifying it because the writing has been horrible and many of the characters are being written out of character. But even with all this going against it, it has brought back the veteran/heritage characters portrayed by Debbie Morgan (Angie) and Darnell Williams (Jesse) and still features Susan Lucci (Erica Kane), David Canary (Adam Chandler), Michael E. Knight (Tad Martin), and Walt Willey (Jackson Montgomery) prominently in its storylines.
Over on One Life to Live, which is by far the best written soap in daytime but whose ratings have yet to reflect its quality, it is jammed packed with veteran/heritage actors/characters. Erika Slezak (Victoria), Robin Strausser (Dorian), Robert S. Woods (Bo), Hillary B. Smith (Nora), Patricia Mauceri (Carlotta), Catherine Hickland (Lindsey), Kassie DePaiva (Blair), Patricia Elliot (Renee), Trevor St. John (Todd), and Timothy Stickney (RG).
General Hospital on the other hand.
Unlike All My Children or One Life to Live, General Hospital suffers from a bad case of anti veteran actor/heritage characteritis. Sure it has John Ingle (Edward), Leslie Charleson (Monica) Jane Elliot (Tracey), Anthony Geary (Luke), Jackie Zeman (Bobbie), John J. York (Mac), Kin Shriner (Scotty) and now Kristina Wagner (Felicia) but does General Hospital use them? Let's take a look.
Anthony Geary of course gets pretty much as much airtime as he wants but unfortunately for us there seems to be a direct correlation between when Anthony Geary goes on vacation and when Jane Elliot's screen time evaporates.
Then we have John Ingle and Leslie Charleson who have been relegated to deaths, funerals, and hostage situations. Sure we've been told for years that Leslie will get a major storyline and it appears that the drinking storyline may be the storyline we've been promised but will TPTB go through with it and not drop it? Only time will tell.
Over at the Scorpio household John J. York must be getting dust bunnies in his ears as little he is used. How is it that with all the crime in Port Charles that the Chief of Police is rarely seen? I'll tell you. It's more glamorous to have dark and brooding "heroes" take care of the bad, bad, bad men of Port Charles than to actually have an effective police force. Now we have Kristina Wagner back as Felicia to investigate Georgie's death but will we actually get a good investigation or will we just see her once or twice a week and then she'll disappear faster than Helena in the Wyndamere tunnels?
Talk about potential. Kin Shriner returns to the role of the ever-popular Scotty and wham bam bang he has a son he never knew of. Should be a good right? Apparently, wrong. Instead of building up the Luke vs. Scotty rivalry over their children, Shriner has languished in the land of back burner actors while his character's son has gone from being the man of choice for Lulu to the underdog in a romantic triangle.
Lastly we have Jackie Zeman. Poor Jackie Zeman. The actual General Hospital, you know the one that the show is named after, is finally getting almost equal airtime as the mob related storylines and Bobbie is no where to be found. We had a glimmer of hope after Zeman was dropped to recurring and a week later Luke was in the hospital and we saw Bobbie more in two weeks than we had the entire previous year. I don't know about the rest of you but I had hoped that Zeman would have been lucky enough to be one of those recurring actresses who the moment they were dropped to recurring we saw them almost every day. No such luck.
Adding insult to injury, one can count on two hands the number of times Bobbie has had scenes with her daughter Carly (and "star" of the show) since Laura Wright has taken over the role. We won't mention the fact that we have yet to have a scene between Bobbie and Sebastian Roche's Jerry. So what that he held her daughter hostage. So what that he was once a man that Lucas looked up to. So what that Jerry and Bobbie were once engaged. Seriously, shouldn't we have had some sort of face off between these two over everything that has happened since Jerry's return almost a year ago? One would think so. Or at least I do.
Which leads me to my biggest problem.
How is it that all All My Children and One Life to Live can have so many veteran actors/heritage characters front and center when apparently General Hospital, with all it has going for it, can't "afford" to throw its veteran actors/heritage characters a bone in the form of meaty storylines? How is it that Genie Francis can't get a contract that would bring her back to the show and the fans that adore her?
Could it be the fact that General Hospital (the show) seems to be spending a fortune on a long line of characters that we as fans have no connection to a core or heritage family?
Why do we keep getting new doctors and nurses (no offense to the actors) up the whazoo when Monica isn't fighting for chief of staff or Bobbie isn't giving Epiphany a run for her money as head nurse?
Why is John J. York's Mac Scorpio portrayed as a bumbling idiot with little airtime when his police force either A) rarely works as in the case of Lucky and the now departed Coop or B) a long line of basically nameless detectives who we either don't care about or are used instead of Mac? On top of all this doesn't it seem a bit odd that Spinelli does more investigating than the cops? Mac would get more airtime if he quite the force and started a detective agency with Spinelli than he's getting now.
I don't want anyone to interpret my thoughts as bashing the talented and not so talented (depending on how the various fan bases view them) actors and actresses who were lucky enough to land a contract and get airtime. That isn't what this is about.
What this is about.
What this is about is that in a time when both All My Children and One Life to Live are using there veterans in larger numbers. We now have, at minimum, nineteen characters on contract with General Hospital that arrived within the last three years that are not connected to a core or heritage family. Of those nineteen characters at least ten of them (possibly more) appeared on our screens this past Friday.
With such a large number of new characters circulating on a show on a daily basis, is it to much to ask that say three or four of these ten (or more) characters don't appear on any given day in order to give a veteran or two an opportunity to have some screen time and an actual storyline? There has to be a way to balance all the new character while also featuring veteran actors/heritage characters isn't there?
I certainly hope so.