Sebastian Roche
By Regan Cellura on March 18, 2009
Is Jerry Jacks (
Sebastian Roche
) on the first train back to PC? According to
SOAPnet
he is!
NEW: Now that he's been killed off of "24," Sebastian Roche is free to return to "GH" as presumed-dead Jerry Jacks. Surely this means trouble for Claudia and her Secret That Almost Everyone Knows, but it probably means no shortage of angst for Alexis, Jax, Carly, Sonny, Johnny, and Sam, and Jason too. Jerry claws his way out from the bottom of the harbor (... we assume) on April 15th.
I've been talking about Jerry being alive for the last few days in SPOILERS and Jerry SHOULD be confirming his alive and well status for his brother Jax when he views the DVD Jerry sent him. Is Claudia done for? Will this be the storyline coming up for Alexis? Will Jason finally get to finish Mr. Craig off and make our own Belinda very happy?
RELATED: James Craig aka Jerry Jacks aka Sebastian Roche's John Quinn Killed on 24
By Luke Kerr on March 17, 2009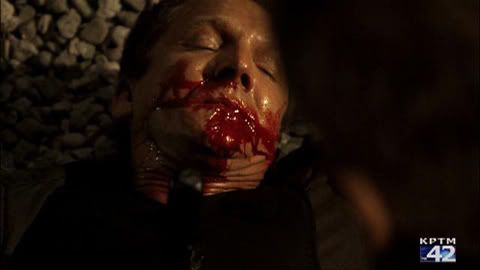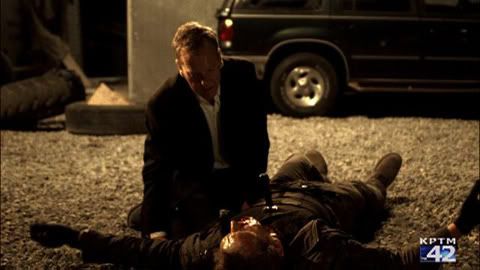 24's
Jack Bauer (
Kiefer Sutherland
) did what
General Hospital's
Sonny, Jason, Claudia and countless other Port Charles residents attempted and failed to do, kill James Craig aka Jerry Jacks (
Sebastian Roche
) aka John Quinn. For all those such as
Eye on Soap's
Belinda (
The View From The Recliner's Edge
) who hated Roche's
General Hospital
character, this episode of
24
may give you some closure. More pictures after the jump.
READ MORE
By Regan Cellura on December 02, 2008
Sorry for being MIA... it's been Baby madness (she's too precious for words) and then I went and caught the flu, again. Thankfully this one seems to be only the 24 hour type. I hope everyone had a safe and thankful holiday.
Here's the Scoop! 12.02.08
Jerry's back... Sebastian Roche returns. Remember we've been saying how Jerry is only presumed dead. Roche returns to wrap it all up. Will this be a classic GH re-do? RUMORS have Jerry getting a little revenge ala Diego before he really dies but does anyone ever really die on a soap?
Carly is on the revenge path... will Trevor team up with her? Who else would be interested in sticking it to Jax? Nikolas! There are a few fans that think a Nikolas and Carly pairing could be hot but what we MAY get is the pair teaming up to take down Kate and Jax. Also, remember I mentioned Lulu playing a part in this. Lulu is back at work, shocking I know, and Carly wants her cousin to give her as much dirt on Kate as possible. There are RUMORS about Carly inserting her way into Crimson with Maxie and Lulu taking sides. Now, if you were Carly and wanted the perfect revenge what would you do? It seems like taking away the career that had Kate giving up her identity is a good place to start. READ MORE
By Luke Kerr on November 26, 2008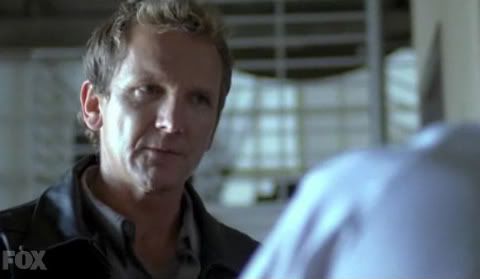 The mystery of where Jerry Jacks (
Sebastian Roche
) disappeared to is solved! It turns out that after faking his death Jerry traveled to Washington D.C. to work for an evil corporation. Apparently, the job qualifications needed to get the job were being interrogate prisoners and bury them in cement. Should be right Jerry's sleeve.
From the cliffhanger of 24: Redemption it would appear that Roche may also appear in the upcoming season of 24.
Oh it is looks as if Mary Cherry and Wentworth Miller aren't the only Popular alum working in primetime these days, Carly Pope is romantically connected to the new president's son. Check out more pics after the jump. READ MORE
By Jillian Bowe on November 21, 2008
Don't cry for him Argentina 'er DC'ers! Former
General Hospital
star,
Sebastian Roche
has snagged a recurring role on Fox's
24
. Roche is set to play a hit man opposite the show's star
Kiefer Sutherland
(Jack Bauer). The episodes are slated to air Nov. 23, Jan. 11 and 12 as a two-part season premiere. Another GH
alum that will be on the show is
Annie Wershing
, who played the scheming Amelia Joffe, nemisis to Sam McCall (
Kelly Monaco
).
By Daytime Confidential on October 24, 2008
On today's show Luke, Belinda and Jamey discuss all the latest in All My Children, General Hospital and One Life to Live news including the tornado that ate Pine Valley, Justis Bolding leaving One Life to Live, Sebastian Roche leaving General Hospital and some General Hospital November Sweeps previews.
Have a question or comment for the Daytime Confidential podcast? Leave us a voicemail by calling (917) 677-9757.
Listen to Daytime Confidential by clicking on the Daytime Confidential Player at the bottom of this post or Download us for FREE via iTunes. Vote for us on Podcast Alley. Add us as a Friend on MySpace and Facebook. Drop by our sister site TV Fan Online and visit with other soap fans in the TV Fan Online Forums.