Sebastian Roche
By J Bernard Jones on May 29, 2009
Dear Ms. Phelps,
I will keep this brief.
In the name of all that is holy, change the frakkin' opening credits to General Hospital!
I don't know which is worse on your part, the fact that it seemingly takes half a decade to add or subtract contract cast members or that ding dang ending shot of all "The Men of GH" — half of which aren't even on the show anymore.
How is that a show like Guiding Light, which you once produced and with 1/84th your GH budget, can manage to keep its opening credits updated to current storylines on a daily basis but GH, having laid out $3 million to upgrade its studio facilities to high definition, somehow can't get it together to find a way to digitially erase Justus Ward (last played by M'fundo Morrison), a character who has been dead since 2006? READ MORE
By Regan Cellura on April 07, 2009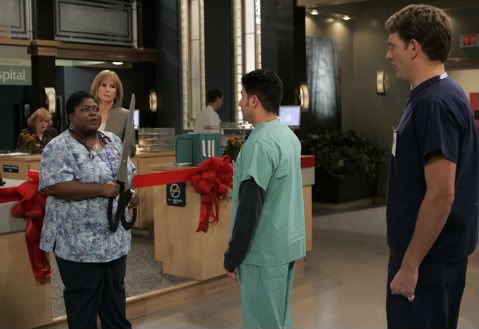 Here's the Scoop! 04.07.09

The new digs debut next week!
General Hospital got an update. It's all set up and ready for the ribbon cutting just waiting for Helena to drop in and put a damper on it. I know I was not all for the new sets but they look good. Now let's hope they're used as GH has not focused around the hospital as much as it should.
Helena reveals herself on the hospital monitors. Dedications and speeches are being shown and then the lights go out. Another black out hitting Port Chuck? Nope! It's Helena making her grand entrance. Alexis believes Rebecca is a Helena implant and it APPEARS her fears are validated when Nikolas sees Rebecca meeting with Hells. READ MORE
By Regan Cellura on March 27, 2009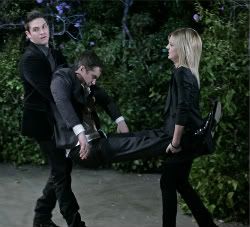 Here's the Scoop! 03.27.09
Ask Away Day! Hit me with your best shot and if I can answer, I will.

Claudia – Scrubs, Claudia – Scrubs…Why have the last few SPOILER blogs started with them? Apparently they're the only ones getting written for on GH. I like Scrubs despite the lack luster storytelling for Robin's Post Partum story and while I love Sarah Brown, the character of Claudia never really worked for me. Every day I read how bored you all are with the SCOOP and the show and I am right there with you.
Claudia gets top billing today as she's the girl with the plan. Maxie and Johnny help her out by getting rid of Ric and the pair ditch him at the hospital. Claudia drops by just in time for Ric to strangle her. He's not killing her, he needs her and tells her try to kill me again and a copy of the DVD goes straight to Sonny. Johnny's role in all of this does not end with getting Ric to the hospital. Claudia wants Johnny to join up with Sonny and help her get the goods on her hubby and Jason. Is this why Johnny and Lulu end? READ MORE
By Regan Cellura on March 18, 2009
Is Jerry Jacks (
Sebastian Roche
) on the first train back to PC? According to
SOAPnet
he is!
NEW: Now that he's been killed off of "24," Sebastian Roche is free to return to "GH" as presumed-dead Jerry Jacks. Surely this means trouble for Claudia and her Secret That Almost Everyone Knows, but it probably means no shortage of angst for Alexis, Jax, Carly, Sonny, Johnny, and Sam, and Jason too. Jerry claws his way out from the bottom of the harbor (... we assume) on April 15th.
I've been talking about Jerry being alive for the last few days in SPOILERS and Jerry SHOULD be confirming his alive and well status for his brother Jax when he views the DVD Jerry sent him. Is Claudia done for? Will this be the storyline coming up for Alexis? Will Jason finally get to finish Mr. Craig off and make our own Belinda very happy?
RELATED: James Craig aka Jerry Jacks aka Sebastian Roche's John Quinn Killed on 24
By Luke Kerr on March 17, 2009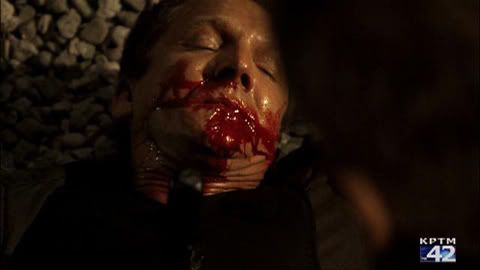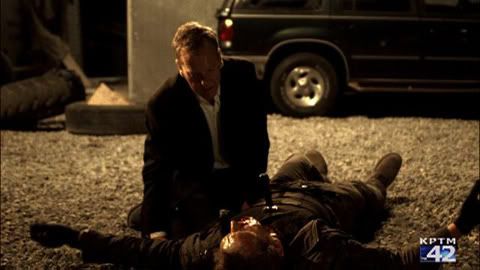 24's
Jack Bauer (
Kiefer Sutherland
) did what
General Hospital's
Sonny, Jason, Claudia and countless other Port Charles residents attempted and failed to do, kill James Craig aka Jerry Jacks (
Sebastian Roche
) aka John Quinn. For all those such as
Eye on Soap's
Belinda (
The View From The Recliner's Edge
) who hated Roche's
General Hospital
character, this episode of
24
may give you some closure. More pictures after the jump.
READ MORE
By Regan Cellura on December 02, 2008
Sorry for being MIA... it's been Baby madness (she's too precious for words) and then I went and caught the flu, again. Thankfully this one seems to be only the 24 hour type. I hope everyone had a safe and thankful holiday.
Here's the Scoop! 12.02.08
Jerry's back... Sebastian Roche returns. Remember we've been saying how Jerry is only presumed dead. Roche returns to wrap it all up. Will this be a classic GH re-do? RUMORS have Jerry getting a little revenge ala Diego before he really dies but does anyone ever really die on a soap?
Carly is on the revenge path... will Trevor team up with her? Who else would be interested in sticking it to Jax? Nikolas! There are a few fans that think a Nikolas and Carly pairing could be hot but what we MAY get is the pair teaming up to take down Kate and Jax. Also, remember I mentioned Lulu playing a part in this. Lulu is back at work, shocking I know, and Carly wants her cousin to give her as much dirt on Kate as possible. There are RUMORS about Carly inserting her way into Crimson with Maxie and Lulu taking sides. Now, if you were Carly and wanted the perfect revenge what would you do? It seems like taking away the career that had Kate giving up her identity is a good place to start. READ MORE