Scott Bryce
By Jamey Giddens on February 25, 2010
Anyone who has thought we at Daytime Confidential.com have been mean for making fun of the dismal production values at the Procter and Gamble soaps in recent years need only watch the first episode of
Steamboa
t to see the actors obviously feel the same way we do! From the hilarious minds of
Michael O'Leary
(ex-Rick,
Guiding Light
) and
Scott Bryce
(ex-Craig,
As The World Turns
),
Steamboat
tells the story of a dead last sudser, desperately trying to stay on the air amid budget cuts so severe they have to move into a rundown theater to tape the series
in Peapack, New Jersey
.
I wonder who Kim Zimmer is channeling for her performance as the soap's control freak show runner? I'll bet you a New York magazine cover I know the muse! Me likes. Hell, if you can't laugh, you'll cry. See the Steamboat Season One teaser below. READ MORE
By Jamey Giddens on February 08, 2010
What would happen if
As The World Turns
' original Craig Montgomery and
Guiding Light
's goofy Dr. Rick Bauer teamed up for a comedy series spoofing soap operas? It looks like we're about to find out!
Scott Bryce and Michael O'Leary are currenty shopping the pilot episode of Steamboat, a comedy series about the last days of a soap opera. Directed by Bryce and written by O'Leary, Steamboat also stars O'Leary's former GL costars Beth Chamberlin (who is also serving as a story consultant), Kurt McKinney (Liam, Gotham), Justin Deas, Orlagh Cassidy and Bryce's ATWT costar Michael Park (Richard, Gotham).
The pilot eppy of Steamboat was shot at Palace Digital Studios in South Norwalk, CT. Hmm, how much y'all wanna bet we will see some of Chamberlin's Kettlebells as product placement? For more info on this new venture, check out Steamboat's Facebook page.
By Mark on May 23, 2009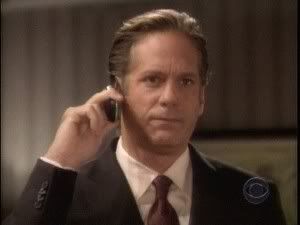 Our thoughts are with Scott Bryce (ex-Craig Montgomery, As the World Turns) and his family. Scott's mother Dorothy Bryce (who appeared on The Doctors and Guiding Light) has passed away at the age of 85..
By J Bernard Jones on February 13, 2009
Before I get to the main event regarding the much ballyhooed resurrection of the lost Spaulding heir, a little housekeeping is in order.
First, no matter what one may think of the current state of Guiding Light or its prospects for survival, one cannot fault CBS for not marketing the high holy hell out of the return of Grant Aleksander and the character of Phillip Granville Spaulding. GL/Phillip/Aleksander has been everywhere: print ads and a steady barrage of television commercials have been broadcast non-stop, right down to a live interview with Sarah Bibel on Fancast.com. Internet advertising has been almost overwhelming.
Think I'm exaggerating? Consider that the publicity has run so deep and so wide that outlets as disparate as TVGuide.com have featured two video packages to The Wall Street Journal's financial/investment website MarketWatch.com have featured Aleksander/GL related material. Hell, all that was missing was a Super Bowl commercial; given how ubiquitous the marketing has been, no doubt CBS would have run one had it broadcast the game! I don't believe I have seen this much publicity for a soap since the heydey of General Hospital's Luke & Laura or, more recently, Susan Lucci's reported pay cut. READ MORE
By Mark on October 08, 2008
WeLoveSoaps
is reporting that
Jon Lindstrom
has been cast as the new Craig Montgomery on
As the World Turns
. His first airdate is December 3rd.
Lindstrom is best known for his roles as twin brothers Kevin Collins and Ryan Chamberlain on General Hospital and Port Charles.
Scott Bryce, the original Craig, was fired earlier this year. Do you think Craig is needed on the canvas right now? And what are your thoughts about another recast (Lindstrom is the fourth actor playing Craig)?
By Jamey Giddens on March 14, 2008
The message boards of several soap sites are ablaze with the rumor that recently departed As The World Turns actor Scott Bryce (ex-Craig) is going over to ATWT's sister soap Guiding Light as a recast for Philip Spaulding.
This possible turn of events could prove highly topical, considering Bryce would be replacing wildly popular fan favorite Grant Aleksander as the Spaulding scion. Bryce, while popular on ATWT during his initial run as Craig Montgomery in the 80's, didn't seem to strike a cord with newer fans during his most recent stint. Possibly due to Hunt Block's recent popularity in the role opposite Cady McClain's Rosanna and Maura West's Carly.
As GL fans know, Philip Spaulding was "killed off" by his own father Alan (Ron Raines) following the character being written into the corner after having a nervous breakdown and planning to escape from Springfield with all of his children from his various wives.
The show later revealed that Philip hadn't died and the character was spirited off to a mental hospital offscreen. However he managed to escape and contact his beloved uncle Ross Marler ( Jerry Ver Dorn, now Clint, OLTL) who died in a plane crash en route to rescuing Philip from himself. None of these actions have endeared the once noble character to GL fans, however a
return of Philip has always been out there looming on the Springfield horizon.
Currently the character is sending his ex-wife Beth (Beth Chamberlain) cryptic text messages offscreen and recently posted bail for Beth's current husband Rick Bauer (Michael O' Leary), who also happens to be Philip's oldest friend. Philip's possible return also resulted in another of his exes-a dying Olivia (Crystal Chappell)-bonding with Philip's brother Gus (soon-to-be exiting Ricky Paull Golden) who has promised to protect Olivia and Philip's daughter Emma from the madman once Olivia dies.
All of this definitely gives the Bryce rumor legs, especially since Grant Aleksander, now a director at ATWT, has reportedly been approached several times about reprising the role, but has continued to turn the offers down. We'll keep you posted as the story develops.