Sarah Brown
By Regan Cellura on December 02, 2008
Sarah Brown
updated her status on Facebook.
Sarah Brown's Agent Rhonda Price, who she loves, closed a deal to keep Sarah on GH another year ;) Oh Happy Day!
We agree Sarah, it's a very happy day!


By Regan Cellura on December 02, 2008
Sorry for being MIA... it's been Baby madness (she's too precious for words) and then I went and caught the flu, again. Thankfully this one seems to be only the 24 hour type. I hope everyone had a safe and thankful holiday.
Here's the Scoop! 12.02.08
Jerry's back... Sebastian Roche returns. Remember we've been saying how Jerry is only presumed dead. Roche returns to wrap it all up. Will this be a classic GH re-do? RUMORS have Jerry getting a little revenge ala Diego before he really dies but does anyone ever really die on a soap?
Carly is on the revenge path... will Trevor team up with her? Who else would be interested in sticking it to Jax? Nikolas! There are a few fans that think a Nikolas and Carly pairing could be hot but what we MAY get is the pair teaming up to take down Kate and Jax. Also, remember I mentioned Lulu playing a part in this. Lulu is back at work, shocking I know, and Carly wants her cousin to give her as much dirt on Kate as possible. There are RUMORS about Carly inserting her way into Crimson with Maxie and Lulu taking sides. Now, if you were Carly and wanted the perfect revenge what would you do? It seems like taking away the career that had Kate giving up her identity is a good place to start. READ MORE
By Regan Cellura on November 20, 2008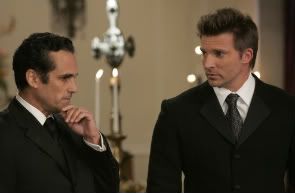 Here's the Scoop! 11.20.08
It's all about Sonny and Jason. Isn't that what it always boils down to? Guza's greatest pairing ever... Love in the Afternoon. One time friends turn enemies running rival mob syndicates. Will their relationship be destroyed beyond repair? Is this all one big fake out as previously RUMORED? Does anyone care?
Jason's distracted, his son has been kidnapped and Sam thinks he's walking into a trap. Will Sonny start reclaiming his old stomping grounds while Jason's head is elsewhere?
Sonny and Claudia marry... Anthony thinks he has the upper hand. Sonny thinks he's playing the old man. Claudia wants the power that comes along with her new title. Will Sonny find out that his new bride is responsible for Michael's shooting? RUMORS have said it's coming and remember Sarah Brown is only signed on through January. No word on her status with the show as many SPECULATE she'll be throwing her hat into the Pilot season this year.
Jason's arrested. Alexis, after they get the cobwebs off her, refuses to release him and wants him to pay for the turmoil happening all over town. Diane begs her friend to cut her client loose or things may get worse. READ MORE
By Regan Cellura on November 03, 2008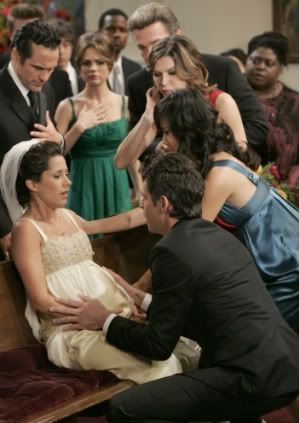 Here's the Scoop! 11.03.08

Sweeps without the Stunt? It looks like Guza's big Sweeps Stunt has been pushed back until January. So is it Sweeps if there is no Sweeps Stunt? Not at General Hospital! GH is known for their Sweeps events and this was supposed to be Guza's last ditch effort according to RUMORS. Does pushing the stunt back to January buy him more time? What about the "twist" at the end of Sweeps? Is it still coming or is that all part of what's been delayed until January?
So much GOSSIP out there, but is it FanFic or the real deal? Some of it's really good so my guess is that the good stuff is FanFic. Get your salt licks out, trust me, you need them.
Scrubs baby... she arrives today via C-Section. Robin slips into a coma after too much blood loss. It looks like her name will be Emma Grace. Boooooo! They should at least make her middle name Georgie! READ MORE
By Regan Cellura on October 31, 2008
Check out some great Halloween's past on General Hospital!
READ MORE
By Luke Kerr on October 27, 2008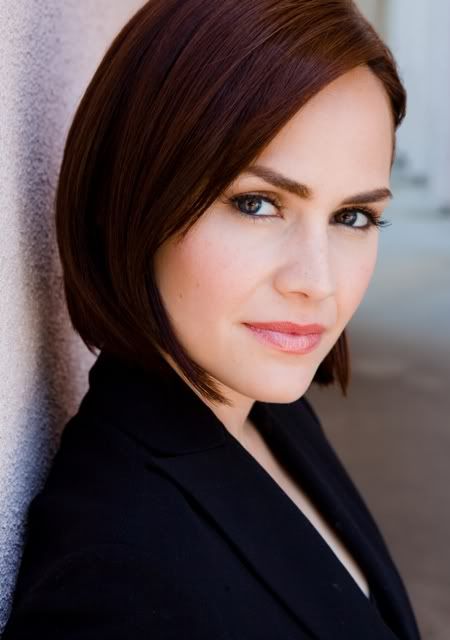 Natalia Livingston
(ex-Emily) was spotted on the set of
General Hospital
. According to reliable sources the actress was allegedly reading for an entirely new role on the show. Because this worked
oh so
well with
Sarah Brown
.
Photo Credit: Natalia-Livingston.com