Sarah Brown
By Regan Cellura on February 05, 2009

Here's the Scoop! 02.05.09
Jason needs Anthony alive to make sure the Feds bust ZaCrazy and not the Jackal. Jason is a good friend, Sonny needs to pay attention and take some pointers.
Is Spinelli going to get his hero cape to match Jason's? It looks like Spin takes some risks to save others but it's his brain that MAY be the real savior as he finds out what the Feds are really up to. RUMOR has it the Feds want the toxic spheres back so that they can turn them over to Equinox. Does Batman take advice from Robin?
Winnie! Sorry I like Senta Moses so I would really like to see what sort of story they'll give her. Remember, she's on the Jackal's side despite who she works for and let's face it, we have plenty of males in that age range, we need some ladies. Winnie SHOULD be working in a hazmat suit to get the remaining spheres but when she spots Spinelli also in head to toe hazmat, will she turn the Jackal in or turn a blind eye?
Johnny and Maxie didn't give in... I'm a little torn over this one. The pair is hot, there is no denying that but I do not want the Spixie friendship completely trashed so I'm glad they didn't go through with it. Lulu is not going to be feeling the same way. A kiss is not always just a kiss. READ MORE
By Regan Cellura on December 30, 2008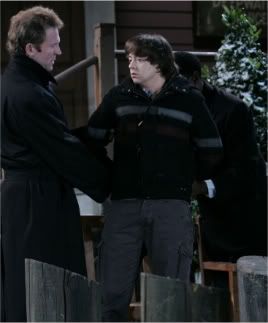 Miss Me? Here's the Scoop! 12.30.08
The Jackal gets busted! Spinelli finds himself the subject of a federal investigation and Agent Rayner has Jason's sidekick put behind bars. Is this all just part of Rayner's plan to bring down Sonny Corinthos? Seems to be the case as SPOILERS say Jason must choose, Spinelli or Sonny. Pick Spinelli Jason! And Stone Cold just MAY be choosing to turn against his former friend to save Spin's butt. The Feds want dirt on Sonny and Jason SHOULD be willing to talk to get Spinelli released.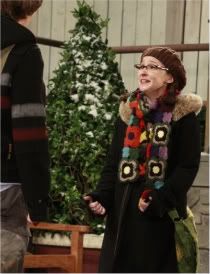 Meet Winnie... the Jackal's should be nemesis and Maxie's reason for getting jealous. Winnie and Spinelli have a lot in common but will he learn she's working for the feds? Will Maxie get a feeling that there is more to this female version of the Jackal? That Maxie is one smart cookie!
Will Maxie finally admit her feelings for Spinelli? That's a RUMOR out there. Is it because of the above mentioned jealousy or the real deal? Maxie and Spinelli kiss!
Robin's Post Partum Depression storyline has not been dropped. It SHOULD be picked back up when the newlyweds return to work. Patrick will be worried about his wife as the newly married docs must learn to balance work and family. Remember that new house they were supposed to be getting? Well it MAY be happening in the new year. Look for Robin to have problems, one where she'll leave Emma with Elizabeth and when patients start kicking the bucket, Patrick is surely going to have his hands full. READ MORE
By Regan Cellura on December 16, 2008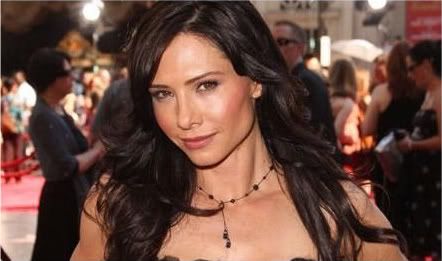 Sarah Brown
(Claudia,
General Hospital
) sat down with
TVGuide's Matt Mitovich
recently to talk Claudia Z. and her decision to re-sign with GH for another year.
TVGuide.com: Sarah Brown is never one to take her career moves lightly. What was important to you in deciding on another year with General Hospital?

Sarah Brown: Re-signing for me this time around was dependent on several major things — What's happening in the economy? Who would be writing the show this year and what kind of story did they have in mind for me? I like having a steady job. It's nice for a change, and that was a big part of the reason I decided to stick around. I love the people I'm working with and it is, after all, a great job for a single mom. I work hard, but I work locally and usually have much of my day free. READ MORE
By Regan Cellura on December 11, 2008
Here's the Scoop! 12.11.08
Robin's baby woes continue... Hopefully the RUMORS are true and it ends soon. The LATEST? The Jackal steps in and helps the distressed mom. Why does Robert say no to walking his little girl down the aisle? He thinks Mac deserves the honor more than him but his brother sets him straight and Robert will be giving Robin away. Robin gets a Christmas present, she's able to calm Emma. The Christmas Eve episode SHOULD be Robin and Patrick's wedding.
Sam's dream sequence... It's SUPPOSED to be while she's trapped at the bottom of the pit. Some scenes that were to be included in that MAY have been cut according to RUMORS.
The residents of Port Charles are celebrating the New Year. Missing the romance? This episode is supposed to be full of it. RUMORS say there's a montage.
As always, be sure to check the comments. In case you missed out, here's what was dropped yesterday.
There are RUMORS/RUMBLINGS that casting difficulties are in fact putting the Dante story on hold. Bringing Michael out of his coma, earlier than planned, is one option the show MAY be considering. READ MORE
By Jamey Giddens on December 11, 2008
While this hasn't been confirmed yet by
General Hospital
. Sources claim
Maurice Benard
(Sonny) has indeed re-signed with the show for an undetermined amount of time. Of course, silly dreamer soap fan that I am, I would hope this means a Skate reunion is on the horizon for Benard and the amazingly-underrated
Megan Ward
(Kate Howard), but why ever would
General Hospital
write an organic, character-driven storyline when they can simply try to recapture old lightening between Benard and
Sarah Brown
? This question is of course rhe-
frons
-ical.
READ MORE
By Regan Cellura on December 04, 2008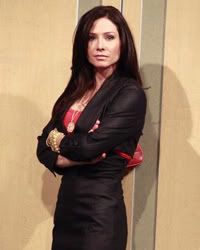 Here's the Scoop! 12.04.08
Claudia shows some compassion? Say it isn't so? RUMORS have the Mafia Princess showing some real emotion when she hears that Jake Spencer has been kidnapped by the Russian mobsters. What else is Claudia up to? Trying to bed her husband and ripping into her brother's girlfriend. Too bad Johnny hears all Claudia has to say to Lulu. Another wedge between Johnny and his family?
Does Sam pull away? RUMORS have Sam pulling away when Lucky kisses his girlfriend. Is this all a lead up to a LuSam break-up? I know, I'm confusing you all as there are RUMORS about LuSam making some forward progress in their relationship, a rarity on General Hospital. I think what will see is some progress with LuSam, maybe even one of those commitments we've been dishing on but as usual with GH, what goes up must come down. Don't be surprised if we see Lucky and Sam breaking up. READ MORE