Rosie O'Donnell
By Luke Kerr on November 20, 2008
I have to say I'm a little bit shocked. This isn't quite the reaction I expected out of Rosie after Barbara ripped her on The View today.
By Luke Kerr on November 20, 2008
Barbara Walters
came out swinging in her oh-so-polite away saying that she "resents" a couple ex co-hosts dumping on
The View
for their own publicity.
Translation: The political season is over, what better way to keep ratings at all time highs than to take on the big R and big S again?
By Luke Kerr on November 17, 2008
By Luke Kerr on October 23, 2008
Rosie O'Donnell is producing the new Lifetime movie, America. America is the story of a foster care child by the same name. In it O'Donnell plays a psychiatrist who helps the child come to terms with his past.
By Jillian Bowe on October 02, 2008
Former
The View
host
Rosie O'Donnell
has landed a new variety show with NBC according to
Entertainment Weekly's
Michael Ausiello.
Rosie's Variety Hour
, will air this Thanksgiving and if all goes well for O'Donnell, NBC and the comedian have inked a deal that will order a full season of the show.
The Ausiello Files
reported that NBC has ordered a "backdoor pilot," of the show and it will feature celebrity guests, comedy skits, musical acts and huge giveaways for the home and in-studio audience.
In a statement, O'Donnell remarked
This is a dream come true for any performer, Old time variety, live from New York with a nod to Ed Sullivan, Carol Burnett and memories of Sonny and Cher.
By Luke Kerr on September 11, 2008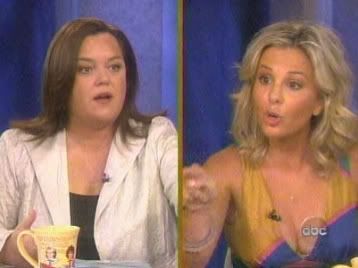 Most wouldn't be surprised that
Rosie O'Donnell
would have something to say about
Sarah Palin
. What might surprise them is how long it took for O'Donnell to weigh in. Well, wait no longer. On her blog at Rosie.com compared
The View's
Elisabeth Hasselbeck
to Palin saying...
sarah p - elisabeth h

identical cousins

women who hunt in high heels

gives one pause

RELATED: Rosie vs. Liz: Best Catfight Ever
Meanwhile John McCain and Cindy McCain are scheduled to appear on The View on September 12, though their daughter Megan McCain appeared on The View to promote her book My Dad John McCain earlier in the week. Check out a clip of Megan's visit after the jump. READ MORE