Ronn Moss
By Daytime Confidential on January 08, 2009
On today's CBS and Days of Our Lives Daytime Confidential episode Luke, Mike, Jamey and Melodie discuss the latest news and recaps for As the World Turns, The Bold and the Beautiful, Days of Our Lives, Guiding Light and The Young and the Restless including...
Predictions on how much Grant Alexsander's return will bump ratings up or down. Melodie has an update on her spoilers from December. It's not Kim Zimmer's fault that Guiding Light has gone down hill, should she have to take a pay cut during this next go around? Could GL survive without Reva if Zimmer didn't accept pay cuts and left the show?
As the Recasts Turns is systematically breaking Douglas Marland's rules on how not to wreck a soap and it's making it hard to watch so many new faces.
Who knew that all it took to have a successful fashion show was Donna in a knit bikini? Mike goes ballistic and isn't going to take it from The Bold and the Beautiful anymore. Kyle Lowder and Ronn Moss pop up on The Soup. Rick and Steffy are so cliche it hurts.
What is up with The Young and the Restless trying to put almost every boring character in one scene? Neil's wedding featured Karen and Victoria, not to mention a the character castrated JT all in one scene. Gloria discovers Katherine in jail. Jamey thinks that Maria Arena Bell has a check list of all of LML's debacles and is fixing everything one, by one by one.
Could Daniel and Chloe be the next big Days of Our Lives couple? Jamey seems to think so. Imagine if Dena Higley was writing your life ala Stranger Than Fiction?
Help support and improve the Daytime Confidential podcast: Take a few minutes to fill out the two Daytime Confidential listener surveys: Listener Survey A l Listener Survey B
Be sure to leave your comments on all the latest goings on in the world of soaps by calling the Daytime Confidential comment line by calling 917-677-9757.
Listen to Daytime Confidential by clicking on the Daytime Confidential Player at the bottom of this post or Download us for FREE via iTunes. Vote for us on Podcast Alley. Add us as a Friend on MySpace and Facebook.

By Jillian Bowe on January 03, 2009
For those of you that missed
Ronn Moss
(Ridge) and
Kyle Lowder
's (Rick) appearance on E!'s
The Soup
, sit back and get ready for the mayhem. It seems like
The Bold and the Beautiful
has decided to capitalize on the attention brought to them. The soap industry needs all the help it can get these days.
By Darren Lomas on January 03, 2009
I'm entering 2009 with a sense of dread when it comes to The Bold and the Beautiful. I'm scratching my head, trying to remember if there has ever been such an unappealing set of couples onscreen at once. READ MORE
By Jillian Bowe on December 23, 2008
All the hard work and intricate storytelling has finally paid off for
The Bold and the Beautiful. B&B
stars
Ronn Moss
(Ridge) and
Kyle Lowder
(Rick) are slated to make a special guest appearance on E!'s
The Soup
with host
Joel McHale
on Jan. 2.
By Darren Lomas on December 21, 2008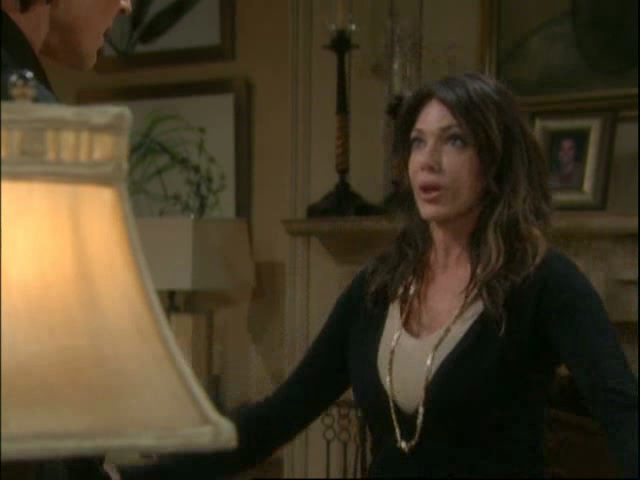 At the beginning of the week, Rick (Kyle Lowder) vowed to change and make his family proud. This doesn't bode well - if he's going to follow the moral code of his family, he's either going to start coming to work dressed like a hooker or start straddling Nick Marone.
Phoebe's death continued to stir up animosity between Stephanie and Brooke, and again both Katherine Kelly Lang and Susan Flannery rocked their scenes. Taylor blamed herself and, in my opinion, Hunter Tylo was great in what must be an incredibly hard storyline for her to play out. READ MORE
By Darren Lomas on December 16, 2008
Check out this, ahem, "classic" trailer for
The Bold and the Beautiful
from the early nineties. It features the following jingle/rap/hot mess:
"His eyes seduce you, you yearn for his kiss,
He's hurt you before, you've just got to resist.
Imagine the desire, imagine it's you,
If temptation embraced you, what would YOU do?"
If Ridge embraced me, I know what I'd do...