Ron Raines
By J Bernard Jones on February 18, 2009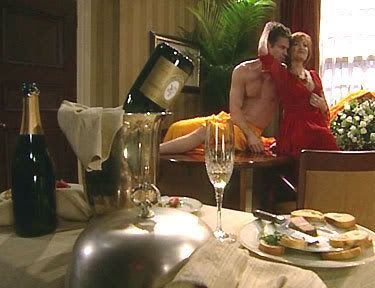 To say that One Life to Live is on fire these days is making a declaration verging on cliche. Each and every episode is a marvel of writing, acting and storyline integration. It is a shame that its ratings don't reflect the awesomeness of its writing and ensemble.
If OLTL has two weak links story-wise, one is the Vanessa/Ray/Cristian black widow/revenge story and the teen drug plot. I agree that the former is very undeveloped at this point, with characters that few seem to find interesting on an already crowded canvas. The latter, the drug storyline, has suffered from a different sort of problem: despite some solid acting, the interactions and dialogue among most of the teen set (not to mention the unrealistic shock of the school principal) is rather unbelievable. At times it sounds as if the teens are in a very bad ABC Afterschool Special and we're waiting for the inevitable overdose, a crisis of conscience and a moral to the story that "drugs are bad."
However, I'm beginning to think the story is not about completely about the teens. I think there are two drug stories going on at the same time and the second one is about the adults. The drug isn't marijuana or cocaine. The drug is alcohol. READ MORE
By J Bernard Jones on February 13, 2009
Before I get to the main event regarding the much ballyhooed resurrection of the lost Spaulding heir, a little housekeeping is in order.
First, no matter what one may think of the current state of Guiding Light or its prospects for survival, one cannot fault CBS for not marketing the high holy hell out of the return of Grant Aleksander and the character of Phillip Granville Spaulding. GL/Phillip/Aleksander has been everywhere: print ads and a steady barrage of television commercials have been broadcast non-stop, right down to a live interview with Sarah Bibel on Fancast.com. Internet advertising has been almost overwhelming.
Think I'm exaggerating? Consider that the publicity has run so deep and so wide that outlets as disparate as TVGuide.com have featured two video packages to The Wall Street Journal's financial/investment website MarketWatch.com have featured Aleksander/GL related material. Hell, all that was missing was a Super Bowl commercial; given how ubiquitous the marketing has been, no doubt CBS would have run one had it broadcast the game! I don't believe I have seen this much publicity for a soap since the heydey of General Hospital's Luke & Laura or, more recently, Susan Lucci's reported pay cut. READ MORE
By J Bernard Jones on January 30, 2009
Funny how the universe sometimes lines up and minds think alike, isn't it? Guiding Light is in the thoughts of a lot of people these days. Bloggers, soap journalists and industry watchers — not to mention the writers, cast and crew of GL — are all on pins and needles about this 72 year old institution. The writing has been on the wall among commentators on the Internet and in the soap press for some time regarding GL's maybe/probably/likely cancellation, which would essentially signal the final march along daytime's trail of tears as the end of the genre.
The signs are obvious and ominous: GL has been hovering at a 1.5 rating for the last few months, a situation exacerbated by a genre-crushing free fall in advertising revenues, which have in turn led to massive budget cuts by the networks for all the shows. If GL doesn't get its act together by the Ides of April, as our own Jamey Giddens so aptly put it, the oldest series on broadcast television will bite the dust. However, there is hope. As has been reported here, Guiding Light needs the minimum of a steady 1.8 rating to avoid getting the ax.
Back to minds thinking alike: Just as I was finalizing this list, Mr. Giddens posted his "Top 10 Last Ditch Stunts To Save Guiding Light," followed by Spauldingfield's awesome GL promo posted by Luke Kerr. Because of their excellent efforts I almost decided to not post these recommendations, but the situtation at Guiding Light is so important to those of us who love the show that I felt it was more important to contribute to the call to keep GL on the air and risk repetition than not do so. Therefore, consider these considerations an addition to their efforts. GL needs viewers not tomorrow, but today and here are ten reasons to tune in right now! READ MORE
By Jillian Bowe on December 25, 2008

This promo has this former Guiding Light viewer deciding to end her 14-year sabbatical....