Ron Carlivati
By Jamey Giddens on November 26, 2008
Okay you knew it was coming. Now that the Idiots In Charge of The-Soap-Opera-Formerly-Known-as-Days-of-Our-Lives have let the phenomenal
Blake Berris
go, I decided to start out doing a Wishful Casting about where Berris should end up, but it turned into more of an analysis of which soaps are managing to set things up for their next generation the right way, and which ones are getting it wrong, dead wrong.
Much of the daytime industry is experiencing a serious drought in terms of talented, young stars who can actually, you know, act. Save for The Young and the Restless, One Life to Live and General Hospital, the under 30 set at most soaps is pretty much comprised of rejects from the Pamela Anderson School of Acting and Pantomime. I'll start with the soaps in most need of help and work my way up. READ MORE
By J Bernard Jones on November 13, 2008
"You have changed me."
Those desperately uttered words have perfectly and succinctly summed up the sick, twisted and ultimately riveting story line of Todd and Marty on One Life to Live.
I use the word "riveting" in its purest sense: not to imply something that is entertaining or enjoyable for entertainment's sake alone, but rather as a thing that keeps our attention for better or worse, against whatever other instincts that might ask us to look away. In other words, this story line of compounded lies and grand delusion has kept many of us as glued to the screen as a car accident might induce a chronic case of rubbernecking or a nasty lover's quarrel in a supermarket might cause us to turn and watch. Yes, this is the story we thought "they" would never tell, but there is a question lurking just beneath the surface reactions for those fans titillated by the prospect of the loathsomely nicknamed "Tarty" and those other fans filled with disgust and anger:
Exactly whose story has been told? READ MORE
By J Bernard Jones on November 12, 2008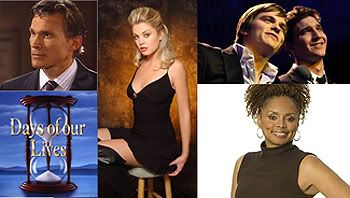 At the risk of indulging an age-old cliché or perhaps inventing a new one, real life is the soap opera that interrupts our daytime dramas.
I've been away for the last couple of weeks caring for my partner who was seriously ill for a little while (all is better now); dealing with the challenges of running a business and maintaining my livelihood in a faltering economy; consoling friends over unexpected loss in their lives and reveling in the result of a Presidential election which has left me elated and joyous in an event that I, as a Black man, never thought I would see in my lifetime. This time has been filled with hospital vigils and prayers (all answered in the affirmative), nail biting suspense, and a dash of personal intrigue. In short, the last two weeks have been a period of belief and disbelief. READ MORE
By Luke Kerr on August 13, 2008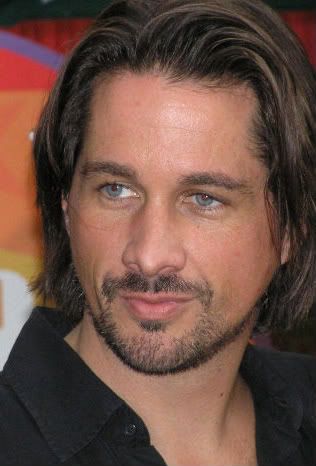 Nelson Branco has a new interview with One Life to Live's Michael Easton up at TV Guide Canda in which Easton reveals that he's reserving judgment on the Blair and John pairing. Here is an excerpt.
TVG: Are you psyched about the burgeoning Todd-Blair-John-Marty quadrangle? It's quite the controversial and risky storyline.
ME: Yeah, but Susan Haskell, speaking of Toronto people, and Trevor are doing really interesting things with the story. Susan's a fantastic actress. Hopefully, we'll build towards something explosive with this group of characters. I wasn't sure if I was happy about John and Blair's romance, but [I'm reserving judgment until I see it play out]. I try not to ask a lot of questions. I don't think I've ever had a meeting with Ron Carlivati about storyline. I never sat with Dena Higley nor Josh Griffith and Michael Malone. There was a story out there once that I liked to sit down with the writers all the time, but that's not true. We'll talk when we pass each other in the hallway, but that's it.
Check out the entire interview by visiting TV Guide Canda.
By Luke Kerr on June 21, 2008


Relive Ron Carlivati winning Outstanding Writing at the Daytime Emmys.
By Regan Cellura on June 18, 2008
We've been singing his praises, but does Ron Carlivati have something up his sleeve that will have One Life to Live fans singing from their rooftops?
RUMORS are going crazy over a possible return of James DePaiva and his fan favorite character Max Holden. Fans of OLTL know that Ron C. has tapped James DePaiva to return in the past and hey, who wouldn't want to come to work with his wife?
Will a certain female character return as well? Are Max and Gabrielle (played by Fiona Hutchison) returning together? Will the fans learn that the thought dead Gabrielle is alive and well and in Argentina with Max? So many questions, so little answers as this is said to be Ron C's big 40th Anniversary surprise.
More Spoilers! Here's the Scoop!
Tess is back... Jessica's other personality Tess makes a reappearance due to Jess' grief over losing her husband. At the funeral, Jessica unleashes on her sister, Natalie and Jared. Will Tess/Jess lose Nash's baby? Will Natalie wind up pregnant with Jared's child? READ MORE