Roger Howarth
By Jamey Giddens on April 04, 2011
HELL TO THE YES! Soap Opera Digest is reporting the Vanessa Marcil of Llanview, PA aka Roger Howarth is returning to One Life to Live. I could freaking cry right now. While I make no bones about preferring Trevor St. John as Todd, game recognizes game and OLTL needs Howarth like Charlie Sheen needs coke and whores! GO FRANK, GO! Save our show!!!!!!
By Jillian Bowe on February 23, 2011
Will Roger Howarth resume the role of Todd Manning? One Life to Live's head writer Ron Carlivati talks with Soap Opera Digest about the rumors and little hints being dropped onscreen and stated:
We're playing on that history and use it in the mystery that we started to tell with Blair and Tomas. The savvy viewer will notice. So it opens up a lot of questions and possibilities. There is definitely an element of the mystery that is connected to the way Todd used to look.
By Jamey Giddens on February 03, 2011
Okay,
One Life to Live
is
loving
teasing us with this whole "Is
Roger Howarth
coming back?" bidness! On Feb. 11 the soap opera will rebroadcast Todd (then played by Howarth) and Blair's (
Kassie DePaiva
) 1995 wedding. You know, the one where the photo of Blair that
TOE
-
MAS
(
Ted King
) used to paint her portrait was taken.
READ MORE
By Jamey Giddens on September 24, 2010
One Life to Live's
Kassie DePaiva
just sent the interwebs into a frenzy with the following
Facebook
update:
It's good to be Blair!!! Love both my Todds! READ MORE
By Mark on September 09, 2010
After 54 seasons and one unforgettable journey As the World Turns comes to an end. Watch the series finale promo after the jump.
By J Bernard Jones on September 07, 2010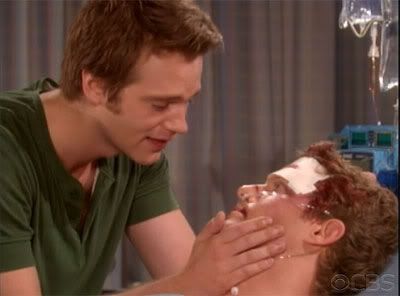 Before I get to today's stunning episode of As the World Turns, in which Dr. Reid Oliver dies and donates his heart to his professional nemesis/colleague Dr. Chris Hughes, I have a few thoughts about not only the serial's final days on the air, but also —in a broader sense—fan perceptions about what a soap's last days should be like, themes that will be carried forward as we look toward ATWT's final hours.
First, with less than two weeks to go before its final fade to black, ATWT is ending its 54 year history in perhaps better dramatic shape than almost any serial since the cancellation of NBC's Texas in 1982, a specific observation I will expand upon in a few days. Of course, there is lots to gripe and nitpick about the woulda-coulda-shoulda's of how the show might have wrapped things up. Many of those ideas are quite good and some are downright ludicrous, but in the final turn of events, all of that stuff is moot. The last scenes were shot, the sets have been struck, and the actors all went along different paths weeks ago. READ MORE