Robin Riker
By Jamey Giddens on November 08, 2012

Kyle Lowder may no longer inhabit the roles of Brady Black on Days of Our Lives, or Rick Forrester on The Bold and the Beautiful, but he is still getting his boy-bitch on! Check out Lowder, along with his former B&B granny Robin Riker and Dynasty veteran Gordon Thompson, in the Season 3 trailer for Michael Caruso's scandalous web sudser DeVanity.
Lowder's real-life wife Arianne Zucker, Dallas 1.0 and 2.0 star Charlene Tilton and The Colby's Maxwell Caulfield also appear in Season 3. Watch the trailer after the jump!
READ MORE
By Luke Kerr on April 18, 2010
This week in daytime,
I wondered if All My Children's Zach (Thorsten Kaye) and Kendall (Alicia Minshew) fans were steaming mad about their couple's onscreen reunion, of sorts. Not being a Zendall fan myself I expect it had to be more than a little bittersweet to see a favorite couple return, only to dissolve before our eyes like a hairball in a drain pipe attacked by Draino. My sympathies are with you Zendall fans.
By Jillian Bowe on April 01, 2010
According to published reports, Patrick Duffy and Robin Riker are slated to return to The Bold and the Beautiful. Starting April 12, the duo will have a short stint on the sudser in which Duffy's alter ego, Stephen, has some bad news for his daughters .
By Jillian Bowe on August 27, 2009

Beth Logan decides enough's enough and has a showdown with big bad mama Stephanie. Meanwhile, who else thought she was crazy to shove La Forrester without a weapon?!
By Luke Kerr on July 28, 2008
The Bold and the Beautiful has a new contest running on their blog where you, the fans, can ask your favorite "B&B" star a question.
There are a bunch of great stars who are participating in the contest. They include Texas Battle, Brandon Beemer, Leslie-Ann Down, Winsor Harmon, Leslie Kay, Robin Riker, Hunter Tylo, Jacqueline MacInnes Woods and John McCook.
If you submit a question that is used you will win a prize (see prizes below). For the full rules click on the contest rules link below.

Contest Rules
Prizes: Each eligible participant in the contest shall receive a one time only entry prize of a B&B wallpaper for use on their computer. Each winner shall receive one autographed headshot photo of the actor for whom they asked the question which was chosen as the winner. At the end of the Entry Period, there shall be a Grand Prize Drawing in which all of all the winner's names shall be entered and from which a Grand Prize winner shall be randomly selected. The Grand Prize winner shall receive the book "In Celebration of Twenty Years on Television" autographed by the cast. Prizes must be accepted as awarded, have no cash equivalent and are not transferable..
By Luke Kerr on June 02, 2008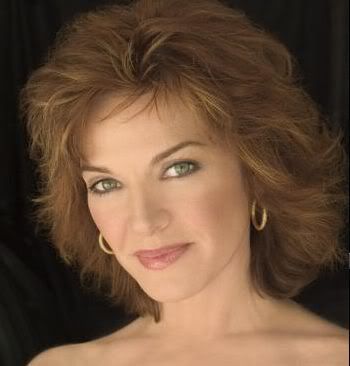 Soaps.com is reporting that The Bold and the Beautiful has cast primetime TV star Robin Riker as Beth Logan. Reportedly her first appearance is in July.
According to IMDB Riker has appeared in a host of primetime TV shows including Big Love, The Closer, Boston Legal, Malcum in the Middle, Crossing Jordan, NCIS, Dragnet and Reba to name a few.
Now since bloggers like to dig up the old work of stars from their earlier days, I found this You Tube gem from Riker's 1980 film Alligator. Oh the cheesy goodness of the 80's.