Robert S. Woods
By J Bernard Jones on February 22, 2009
A few days ago, Daytime Confidential's Jamey Giddens delicately asked the question Who In High Hell Fathered David Vickers on OLTL? Because I'm a sucker for such things, I attempted to explain in the comments section of his post how the paternity would shake out. However, it seems the matter is still rather confusing to some/many/everybody, including me.
My feverish brain could not let the issue go, so I decided to simplify the explanation a bit for those who are still confused about who banged whom, when minds were switched, and what's the smoke monster. Oops, wrong show! Anyway, here is my attempt to unravel the mystery of David Vickers' paternity. Mind you, if you stick with me to the very end of this, there is a theory of mine that I think will please people who have wanted to see a particular outcome. Mind you, it's only a theory but it is based on everything we've seen on screen.
Are you sitting down? Got your anti-anxiety medication ready, be it prescription or a stiff drink? Take a deep breath. In and out, slowly. Get set! And here we go!... READ MORE
By J Bernard Jones on February 18, 2009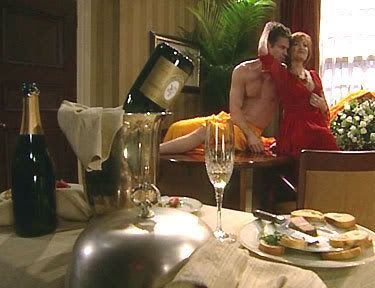 To say that One Life to Live is on fire these days is making a declaration verging on cliche. Each and every episode is a marvel of writing, acting and storyline integration. It is a shame that its ratings don't reflect the awesomeness of its writing and ensemble.
If OLTL has two weak links story-wise, one is the Vanessa/Ray/Cristian black widow/revenge story and the teen drug plot. I agree that the former is very undeveloped at this point, with characters that few seem to find interesting on an already crowded canvas. The latter, the drug storyline, has suffered from a different sort of problem: despite some solid acting, the interactions and dialogue among most of the teen set (not to mention the unrealistic shock of the school principal) is rather unbelievable. At times it sounds as if the teens are in a very bad ABC Afterschool Special and we're waiting for the inevitable overdose, a crisis of conscience and a moral to the story that "drugs are bad."
However, I'm beginning to think the story is not about completely about the teens. I think there are two drug stories going on at the same time and the second one is about the adults. The drug isn't marijuana or cocaine. The drug is alcohol. READ MORE
By J Bernard Jones on October 03, 2008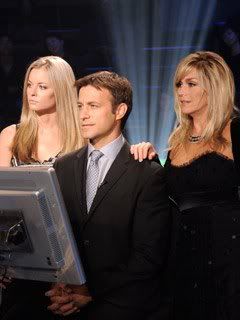 Every once in a while a soap produces a story arc that renews one's faith in the genre.
One Life to Live's "Who Wants to Be Shane Morasco's Father?" may have been a stunt but they were also episodes that managed to do right just about everything the 40th anniversary episodes got wrong.
In the bargain, they did everything the anniversary episodes did right just a few notches better. I know this kind of thing is not everyone's cup of tea, but I'll take this little detour the way Star Trek's Captain Picard likes his Earl Grey: Hot!
Borrowing the Who Wants to be a Millionaire? set, OLTL took what was rapidly becoming a hoary cliche — the near death out of body experience — and instantly breathed new life into it. While Viki's latest visit to "heaven" here and the shared Chris/Allison/Aaron Fellini-esque versions on As the World Turns were done very well, the staging and production of Rex's game show experience lent the entire sequence an air of immediacy that a cheesy in-house set would have been unable to accomplish. READ MORE
By Regan Cellura on September 26, 2008
We haven't done these in awhile and like I've said, I'm a bit behind on my One Life to Live, so bear with me.
Here's the Scoop!
Love Lindsay? We do and the RUMOR mill says she may not be in Llanview much longer. Catherine Hickland is a Daytime Confidential favorite and Lindsay will be sorely missed. Supposedly there will be one more meeting for Bo and Lindsay, but that footage may hit the cutting room floor. Expect Bo to start flirting with Dallas,TPTB are attempting to see if real life chemistry can translate to reel life. However, Dallas is also rumored to be one of the murders coming soon, so fan response will dictate.

How does Clint react to Bo and Dallas? Not well and this should cause some friction for Nora. Clint has other issues coming up as well.

Have you seen the Fall Preview? Interesting tease of an Antonio - Jessica reunion or was the tease a Cristian - Jessica reunion?
READ MORE
By Daytime Confidential on July 27, 2008
Join the Daytime Confidential gang and TV Guide Canada's Nelson Branco as they celebrate One Life to Live's 40th Anniversary by taking a trip down memory lane and reminisce about how they became hooked on the ABC soap and who is their favorite character.
They discuss One Life to Live's two 40th Anniversary episodes and all the special moments, the little tributes to the show's past, the Mendora story, Viki's heavenly experience, Dorian's reunion with Mel and Bo and Rex's trip into the past.
All this and more on today's One life to Live 40th Anniversary episode.
Have a question or comment for the Daytime Confidential podcast? Leave us a voicemail by calling (917) 677-9757.

Listen to Daytime Confidential by clicking on the Daytime Confidential Player at the bottom of this post or Download us for FREE via iTunes. Vote for us on Podcast Alley. Add us as a Friend on MySpace. Drop by our sister site TV Fan Online and visit with other soap fans in the TV Fan Online Forums.

By Jillian Bowe on July 15, 2008

One Life to Live
are pimping and pimping hard. Last week they had Andrea Evans (Tina) out and about and now Robert S. Woods (Bo) and Erika Slezak (Viki) are among the latest cast members to appear on
The View.
Tomorrow the actors will appear on the popular gabfest to promote OLTL's 40th anniversary that will air later on this month.
Be sure to tune in and show the love!