Robert Newman
By Jamey Giddens on May 03, 2009
In the
online article
that went along with CBS Pittsburgh affiliate KDKA's coverage of a recent
Guiding Ligh
t fan event, the reporter attributed quotes about
Guiding Light
'
s future prospects to
Grant Aleksander
. The statements were actually given by
Robert Newman
.
"Procter and Gamble is very much working toward the show going elsewhere, finding another form. It might be something on cable, I think there is a possibility with Lifetime, TV Land - so it may continue on - we will see," he said."
Click here for the video.
By J Bernard Jones on April 18, 2009
She'd been teased and mocked for years, no more so than in her competition with other, younger and, some would say, prettier hopefuls. Her appearance had been derided as "downmarket." She obviously couldn't afford fancy stylists and didn't have the finesse of her peers, but when she revealed the depths of her talents she left viewers and critics quaking in their boots.
I'm not talking about Susan Boyle, the YouTube and Britain's Got Talent overnight sensation. I'm talking about the magnificent week of high octane, balls to the wall drama that has been Guiding Light.
I'm glad I waited before posting anything about the extraordinary week that has transpired on GL as the Olivia/Natalia love story played out before my astonished eyes. Temptation tested me in the aftermath of Olivia's shattering graveyard soliloqy to her heart donor Gus and, later, her heartstopping confession of love to Natalia, in what is quite possibly destined to become remembered as one of the greatest performances in daytime of the last decade. My fingers fidgeted over my keyboard during one of the most gloriously tortured daytime weddings in recent memory. My mind raced with superlatives about Natalia's struggle at the altar and her tearful confession of love for Olivia mixed with guilt about Frank. While the week belonged to Otalia (which I will get to in a moment), the entire show was, to borrow a phrase, a towering inferno of greatness. Let us count the ways: READ MORE
By Melodie on March 28, 2009
The cast of Guiding Light recently spent some fun in the sun at Universal Orlando, filming on location episodes to air later this spring. Robert Newman took time out of his busy schedule to visit with me about Guiding Light, the investment of the network in the show, the impact of the new production model and what the future might hold for one of daytime's legendary couples, Josh and Reva (Kim Zimmer).

Daytime Confidential: Now I understand you aren't filming here?
Robert Newman: No. I'm just here for the PR part of it.
DC: How have you adjusted to the new production style?
RN: Well, it took me a while. I'm not gonna lie about that. I've been in this game for a long time and I've been through a zillion changes. This one by far has been the most extreme. I think it was hard. I've heard Alan say before that one of the most difficult things was that we had to go through these changes in front of the audience. We couldn't just shut down for 6 months and figure out how to do this. It was a lot of growing pains, adjustment, and difficulty.
For a while I felt really kind of out of sorts with it. I couldn't figure it out. One of the biggest changes for us as actors was zero rehearsal. I mean we had no rehearsal whatsoever. There's something that's kind of exciting about that and then there's something kind of really scary as hell about that. You just don't know. I mean you start a scene and you really don't know where it's going to go. READ MORE
By Jamey Giddens on February 26, 2009
Okay, I can't take it anymore!
Guiding Light
is doing SO much better, but if I have to sit through just one more episode where that Prince Richard lookalike (
Bradley Cole
) who banged a pubescent Marah, speaks the lines to Reva Shayne (
Kim Zimmer
) that Joshua (extra on the
uah
) Lewis (
Robert Newman
) should be saying to her, why I might just raise more sand than an Oklahoma twister!
READ MORE
By Luke Kerr on January 30, 2009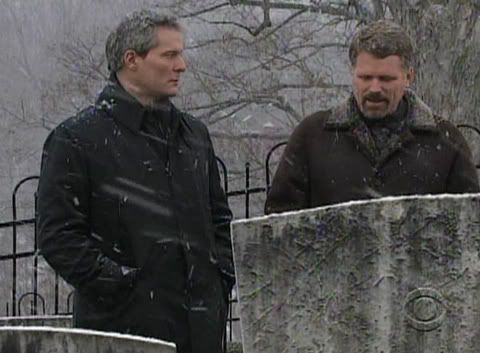 Now what in the world could Edmund (
David Andrew MacDonald
) and Josh (
Robert Newman
) have left to say to one another after all these years? Take your best Caption This shot.
By J Bernard Jones on January 30, 2009
Funny how the universe sometimes lines up and minds think alike, isn't it? Guiding Light is in the thoughts of a lot of people these days. Bloggers, soap journalists and industry watchers — not to mention the writers, cast and crew of GL — are all on pins and needles about this 72 year old institution. The writing has been on the wall among commentators on the Internet and in the soap press for some time regarding GL's maybe/probably/likely cancellation, which would essentially signal the final march along daytime's trail of tears as the end of the genre.
The signs are obvious and ominous: GL has been hovering at a 1.5 rating for the last few months, a situation exacerbated by a genre-crushing free fall in advertising revenues, which have in turn led to massive budget cuts by the networks for all the shows. If GL doesn't get its act together by the Ides of April, as our own Jamey Giddens so aptly put it, the oldest series on broadcast television will bite the dust. However, there is hope. As has been reported here, Guiding Light needs the minimum of a steady 1.8 rating to avoid getting the ax.
Back to minds thinking alike: Just as I was finalizing this list, Mr. Giddens posted his "Top 10 Last Ditch Stunts To Save Guiding Light," followed by Spauldingfield's awesome GL promo posted by Luke Kerr. Because of their excellent efforts I almost decided to not post these recommendations, but the situtation at Guiding Light is so important to those of us who love the show that I felt it was more important to contribute to the call to keep GL on the air and risk repetition than not do so. Therefore, consider these considerations an addition to their efforts. GL needs viewers not tomorrow, but today and here are ten reasons to tune in right now! READ MORE