Rob Bogue
By Daytime Confidential on October 10, 2011
Ex-Guiding Light star Bradley Cole and current and former One Life to Live peeps Gina Tognoni, David Gregory and Brittany Underwood (pictured above) rocked the night away at the 7th Annual Rock Show for Charity to benefit The American Red Cross. The event took place on October 8 at the SoHo Playhouse in New York City. See more photos after the jump! READ MORE
By Daytime Confidential on May 31, 2011
Former Guiding Light stars Robert Bogue and Saundra Santiago wrapped previews of their new play, Manipulation. The production took place at the Cherry Lane Theatre in New York City and is written by Victoria E. Calderon.
In Manipulation, Cristina outwardly appears to have everything she can desire, however, she cannot enjoy her life. Her husband, Mauricio, torments her with flagrant displays of infidelity while her mother, Dona Beatriz, encourages her to have an affair with Luis. When Cristina turns to a psychoanalyst for help, he proceeds to take advantage of her. With every attempt to find herself, Cristina is manipulated back into submission until she finds a way to cut the ties that bind her to her previous existence.
Scheduled to premiere on June 16, Playbill is reporting Manipulation is on hiatus, while changes are being implemented. A new premiere date has not been announced.
Check out photos of Robert Bogue, Mandy Bruno and Saundra Santiago after the jump! READ MORE
By Luke Kerr on March 31, 2011
Congratulations are in order for former Guiding Light stars Robert Bogue and Mandy Bruno. According to CBS Soaps in Depth, the couple said "I do" on March 26 in Playa del Carmen, Mexico.
By Luke Kerr on November 16, 2009
New York soap, primetime and Broadway stars turned out for the Stockings with Care celebrity bartending event at the Stitch Bar & Lounge on November 11. The event, which helps raise money to buy holiday gifts for children whose families cannot afford to celebrate their holiday, brought together stars from All My Children, As the World Turns, One Life to Live and former Guiding Light stars.
See photos of Adam Mayfield, Austin Peck, BethAnn Bonner, Brandon Buddy, Bree Williamson, Brett Claywell, Brian Kerwin, Brittany Allen, Daniel Kennedy, Daphnee Duplaix, David Fumero, Grant Bowler, Jason Tam, Jesse L. Martin, Mandy Bruno, Malcolm Jamal Warner, Mark Lawson, Melissa Claire Egan, Melissa Fumero, Meredith Hagner, Michael Urie, Murray Bartlett, Robert Bogue, Stephanie Gatschet, Terrell Tilford, Terri Colombino, Trent Dawson, Vanessa Williams and more after the jump. READ MORE
By J Bernard Jones on September 15, 2009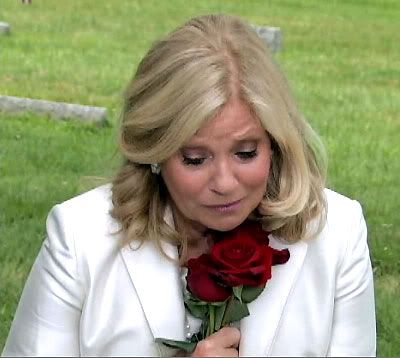 The first in a highly personal, non-objective series highlighting various aspects of the last episodes of Guiding Light, which will end its 72 year run on September 18th.
These final weeks of Guiding Light have been pure torture to watch. I don't mean "the new production model" (a phrase I never hope to hear again in my lifetime) or Bonnie Dennison's (Daisy) futile attempts to remember her lines. No, what has been extraordinarily difficult for me as a viewer — who vividly remembers when Roger (Michael Zaslow) kidnapped Holly (Maureen Garrett) in the Caribbean and Ed (then Mart Hulswit) threw him off a cliff — is watching the series' stories come to their inevitable conclusions. READ MORE
By J Bernard Jones on July 15, 2009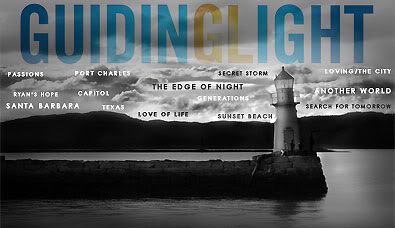 One of the hardest tasks in all of television must be bringing a daytime drama to a close. In other realms of entertainment, plays and musicals can be resurrected through countless revivals. Primetime TV shows can come and go, yet have the potential to be re-imagined or rebooted for the small or big screen. The biggest box office disasters can live on via countless direct-to-DVD sequels. Radio hosts and their dubiously talented sidekicks can be fired for the most hateful commentary, yet live on with the same formats other stations to be spiteful for another day.
With the exception of Dark Shadows, once a soap opera is canceled it is gone forever. During my time I've watched some of my favorites disappear: The City, Port Charles, Generations, Texas, and — in my opinion — two of the genre's titans, Santa Barbara and The Edge of Night. Many of you are still missing your own beloved shows over the last three decades as well. Fans of Capitol, Love of Life, Sunset Beach, Passions, Search for Tomorrow, and the still mourned Another World among others express their loss as if there yet remains a certain kind of grief that has not yet abated after all these years. Soon we will lose another giant among soaps: in less than ten short weeks, Guiding Light will shine for the last time on CBS. READ MORE