Rick Hearst
By Regan Cellura on July 09, 2009
Here's the Scoop! 07.09.09
Spixie Loving… I've been sold on this pairing for a while now even though I thought JoMax was smoking. My hesitation has always been that I just didn't see TPTB committing to Spixie. Well it SEEMS they are and I couldn't be happier. Now, we all know that Guza loves to have at least one couple that is angst ridden on this show. This COULD be Spixie. They APPEAR to be on the right track however every road has a few bumps along the way. Spin has a "proposal" for Maxie and she's just not sure what to do about it. SPOILERS say it's "that" kind of proposal and The Jackal turns to his master for assistance. It looks like a romantic rooftop scene is set for the big question with Spinelli dropping the ring off the roof.
So many of you have said you're bored with Rebecca, Ethan, Nikolas and this whole mess. How would you write them out of this terrible storyline? What's coming up? Ethan's a jealous lover but he's also a jilted con who at least wants his piece of the pie. Will Ethan confront Nikolas? Over what? Will Ethan make an adjustment to the plan? READ MORE
By Regan Cellura on July 01, 2009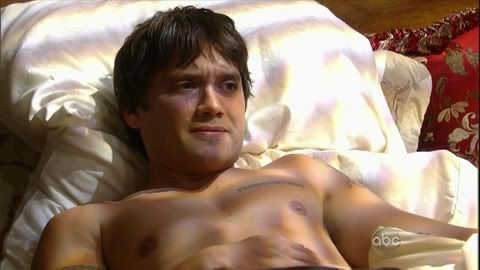 Here's the Scoop! 07.01.09
Dominic/Dante… What's in a name anyways? Apparently Dante wanted to protect his mother from his line of work and decided to change his name to Dominic. Protecting the innocent huh Dante? Well Olivia isn't so innocent. She's been keeping secrets from everyone about who Dante's daddy is. How long will we have to wait this reveal out? Not sure but don't expect for it to be out in the open just yet.
Claudia's role in Dante's story… Dominic wants Claudia to smooth things over with Sonny and get him on the inside. Will Sonny just give the man who held a gun on his boys and Carly a job? Really, what's going to stop Sonny from killing Dominic on the spot? Obviously something does and it doesn't appear to be the reveal that he's actually Sonny's son.
Kudos to Maurice Benard and Steve Burton… those scenes yesterday were the Sonny and Jason of old. So many emotions coming off them in waves. Is this a rare glimpse or a sign of what's to come? READ MORE
By Regan Cellura on June 26, 2009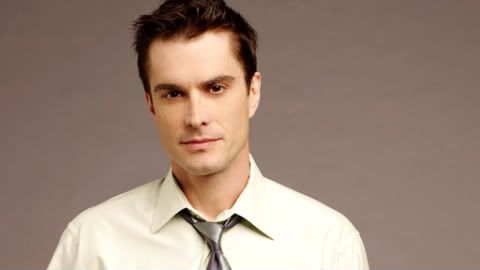 Here's the Scoop! 06.26.09

Thank God it's Friday!
It's been a long week with far too many sad stories. Which is exactly why I look to my guilty pleasure to uplift me, not bring me down any further. Can GH pull itself out of its slump to pull the fans out from theirs?
They could have started by giving Rick Hearst a better send off… Can we even call what we got a send off? Ric mentioning to Claudia and Diane that he's leaving town for an offer he couldn't refuse in LA. Is that how you write out an Emmy winning actor? I know, I know, there wasn't enough time is their excuse. There was plenty of time. The minute Hearst was dropped to recurring an exit should have been prepared. They didn't seriously think another show wasn't going to come and snatch him up, did they? GH isn't that full of themselves, are they? I'm sorry, this fan is bitter. Was that parting line of "I'll be back" supposed to ease our pain or toy with our emotions? I'm not sure if there are enough words to describe just how disappointed I am in this sendoff. READ MORE
By Perkie on June 25, 2009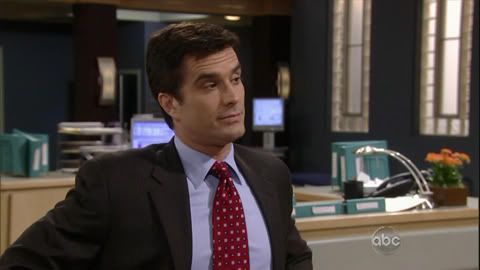 I've spent years listening to Carly harp, shriek and biatch at my girl Alexis and now that she is almost, sort of, kind of, being civil towards Alexis, I have to listen to Claudia harp, shriek and biatch at her? UGH. I was so hoping Alexis would remember who her father and step mother are, and go all Cassadine on Claudia's butt. Shut up Claudia. It might be your house, but it's Alexis' daughter and she chooses how to raise her and who she hangs out with. Then when Sonny shows up and Alexis mentions that Michael was at Jake's, Claudia actually has the audacity to say that it's ok with her, as though she has any say in how Michael is raised. Man oh man, I'm actually starting to hate Claudia more than I hate Sonny, and I didn't think that was possible.
READ MORE
By J Bernard Jones on June 24, 2009
NAME THAT PLOT: An ambitious, publicly principled but morally crippled politician with aspirations for higher office has a hidden but longstanding extramarital affair while in office. His wife, moneyed or ambitious in her own right, not only knows of her husband's indiscretion but also puts up with it as long as it does not bring embarrassment to her or damage her own priorities. Is it...
A) All My Children's DA (Kieran Campion) and wife Madison (Stephanie Gatschet)
B) General Hospital's Mayor Floyd (John Bolger) and wife Andrea (Martha Bryne)
C) South Carolina Governor Mark Sanford and wife Jenny
D) All of the Above
Here's a hint: the correct answer is not A, B, or C....(continued) READ MORE
By Regan Cellura on June 15, 2009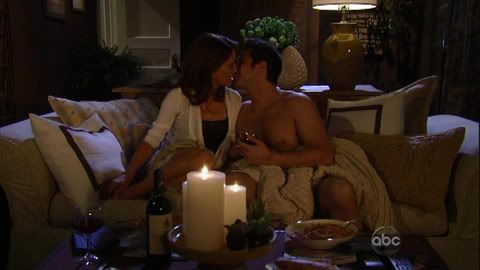 Here's the Scoop! 06.15.09

JOlivia…
more to come? That's the RUMOR! I actually like them together. Does this pairing have the legs to go the distance? Surely Dante's arrival will throw a wrench at the "mechanic." Weigh in!
What's the Mayor going public with? It's SPOILED to be "startling." Will he out his affair with the DA? Do we really care about this story except for it including Martha Byrne (Andrea Floyd)? What exactly do Ric and Andrea have cooking?
Was Rick Hearst given a proper send off? RUMOR has it there wasn't enough time. But there was enough time for a little Hearst –Byrne interaction. What's the deal? One RUMOR says Ric wanted the DA job back and was using Andrea to get it. Maybe "using" isn't the right word. The SCOOP says Andrea is the one to tell Ric about Alexis and Mayor Floyd's indiscretion. Was Ric planning on using that information to get his old job back? Really Ric? You're no angel; in fact, you slept with your wife's daughter around the same time. READ MORE