Rick Hearst
By Regan Cellura on July 25, 2008
Here's the Scoop! 07.25.08
Sonny and Jason fight? We've all been witness to the mounting tension and RUMORS have had the downfall of Jason and Sonny for almost a year now. The latest? I am hearing the longtime friends will have a blow out. A pretty big one from what I can tell, Jason tells Sonny he gave up everything for him.
Laura's return... which SPOILER should we believe? Tyler Christopher was disappointed that he wouldn't be working with Genie. Then word broke that Genie Francis MAY be back longer than originally thought and would interact with Luke. As quickly as that news broke, RUMORS started pointing back to Laura only appearing in Lulu's mind. NOW, our pal Nelson Branco reports that Genie will stick around for two months, Tony Geary will return in time and the scenes are chilling. IF Genie is back for two months and out of her catatonic state, she better have some scenes with her sons.
Robin's Plan? Remember she has a plan to get back at Eli for dissing her mom and don't forget, Max is in on it. Will Robin arrange for Max and Milo to kidnap the rockstar? That's a RUMOR out there and it's Anna to the rescue. READ MORE
By Regan Cellura on July 11, 2008
General Hospital Fan Club Weekend is upon us! What does that mean in terms of Scoop? It means lots of fans hit the message boards and give recaps of what they've heard and seen while at various actor's events as well as the main event. The reports are already coming in! Check back for updates!
So far, here is what I've got (remember to have your salt shakers near by, these recaps are all based on the fan's perspective of how things were said and the actors in the past have been told by TPTB what they can and can not say):
One fan said Steve Burton (Jason) was asked about Liason and his response was that they are stalled. However, he also said that he would be a guest at Rebecca Herbst's (Elizabeth) event and they would talk more about it then.
The actor's discussed their charities and Sebastian Roche (Jerry Jacks) spoke about his trip to Africa.
Ignacio Serricchio (ex-Diego) gave a fan a lap dance. Apparently there was an auction at a Girls Night Out event. He also sang with his band at the Kick Off and if I am understanding these recaps correctly, so did Rick. At the GNO event, there were quite a few Night Shift cast members. Sonya Eddy (Epiphany Johnson) told the fans the writing on Night Shift Season Two is very good. READ MORE
By Daytime Confidential on June 02, 2008
On today's impromptu episode of Daytime Confidential Luke and Nicki visit with mutual friend Meredith about Sonny "leaving" the mob on General Hospital and who is Meredith's favorite Greg Vaughn or Rick Hearst.
Meredith gives her take on "The Real Greenlee" campaign and the returns of Angie and Jesse to All My Children and what we think of Charles Pratt as the new Head Writer of the venerable show.
Luke and Nicki discuss Guiding Light's alleged budgetary woes and the apparent mass exit of the show's biggest stars.
We discuss the class system in soaps, cumulative story telling, Soaphunks' Adonis 2008, does anyone still date in soaps and who knew that camera angles made such a difference in the perceived height of daytime's actors.
Listen to Daytime Confidential by clicking on the Daytime Confidential Player at the bottom of this post or Download us for FREE via iTunes. Vote for us on Podcast Alley. Add us as a Friend on MySpace. Drop by our sister site TV Fan Online and visit with other soap fans in the TV Fan Online Forums.

By Jamey Giddens on May 05, 2008
Giving the Devil his due. In honor of Beverlee McKinsey's memory I searched through countless You Tube clips to find one that best summarized her tremendous strength as an actress. This clip is famous for Guiding Light fans, as it is where Springfield's grand dame Alexandra Spaulding makes a mockery of her cheating, thieving husband Roger Thorpe played with equal brilliance by the late Michael Zaslow. Alex also makes amends to her loved ones for believing in Roger over them.
The clip is almost painful to watch as it evokes memories of Guiding Light and the daytime soap opera at its best. One thing that amazes me is that most of the actors in this storyline, Alex, Roger, Fletcher (Jay Hammer), Holly (Maureen Garrett), Vanessa (Maeve Kinkead), Ross (Jerry ver Dorn), Henry (William Roerick, Ed (Peter Simon) and Maureen (Ellen Parker) were over 40. READ MORE
By Luke Kerr on April 30, 2008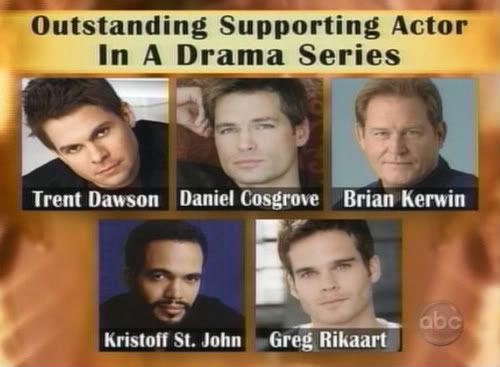 Congrats to Trent Dawson, Daniel Cosgrove, Brian Kerwin, Kristoff St. John and Greg Rikaart. Best of luck. This is going to be a tough category to predict.
This could be a tough category. I can't fault any of the actors nominated in this category because each is a true supporting actor. However, at first glance there seems to be some obvious omissions amongst the nominations. Where is One Life to Live's Tuc Watkins? Is John-Paul Lavoiser suffering from the same thing Trent Dawsom did for years, in that Rex is to much of a comedic character? Why isn't at least one of the three actors from General Hospital nominated?
Looking at the prenominations list below and comparing it to the nominees above is there anyone who you feel is missing from this list or who should be on it instead of someone else?
Outstanding Supporting Actor Pre-Nominees
AMC: Jeffrey Carlson, Jacob Young, and Billy J. Miller
ATWT: Trent Dawson, Grayson McCouch, and Austin Peck
B&B: William deVry, Patrick Duffy, and Dax Griffin
DAYS: Bryan Dattilo, Jay Kenneth Johnson, and Joseph Mascolo
GH: Bradford Anderson, Rick Hearst, and Sebastian Roche
GL: Murray Bartlett, Jordan Clarke, and Daniel Cosgrove
OLTL: Brian Kerwin, John-Paul Lavoisier, and Tuc Watkins
Passions: Christopher Maleki, Phillip Jeanmarie, and Eric Martsolf
Y&R: Greg Rikaart, Ted Shackelford, and Kristoff St. John
Be sure to tune in for our Daytime Emmy Nominations podcast episode with should air on Thursday or Friday.
By Jamey Giddens on April 04, 2008
With rumors of the talented Rick Hearst (Ric) leaving General Hospital during May Sweeps heating up, this fan of his Guiding Light character Alan-Michael Spaulding (He was the second adult AM after Carl T. Evans) can't help but wonder if Hearst could be the salve the ailing P&G sudser needs to nurse its wounds?
With leading man Ricky Paull Goldin (ex-Gus) out, phenom Tom Pelphrey (ex-Jonathan) only popping up for the occassional blink-and-you-missed it short term arc and rumors of Beth Ehlers and Marcy Rylan (Harley and Lizzie) jumping ship, Guiding Light definitely needs a stabilizing force to rebuild the show around, who better than Hearst?
Hearst hasn't met a role he couldn't make work, from Julie Williams' snarky grandson Scotty on Days of Our Lives, to Brooke's preppy, smitten, faux-hubby Whip on the Bold and the Beautiful, Hearst has turned one solid performance after another. He even made us have sympathy for the Devil aka deranged rapist Matt Clark on Young and the Restless when he assumed that role originated by Eddie Cibrian. But it was on Guiding Light that Hearst did his best work, opposite the legendary Beverly McKinsey (ex-Alexandra), Melina Kanakaredes (ex-Eleni, GL/now Stella, CSI: New York) and Sherry Stringfield (ex-Blake/ ex-Susan, ER).
Even after his original leads retired or left the soap for primetime success, Hearst continued to shine as AM. His character's comedic, sexually-charged scheming with Liz Keifer, who replaced Stringfield as Blake, were some of the best stories of the Jill Farren Phelps era of the show. Not to mention AM's pairing with Harley's little sister Lucy (Sonia Satra) which elevated both characters into supercouple status. Maybe Satra could be persuaded to come back with Hearst? If not, Keifer as Blake is still there, just dying to be used. Could you imagine a Blake/Alan-Michael/Dinah/Mallet quadrangle with Rick Hearst as the anchor? Butta, I tell ya, Butta!