Rick Hearst
By Regan Cellura on August 28, 2008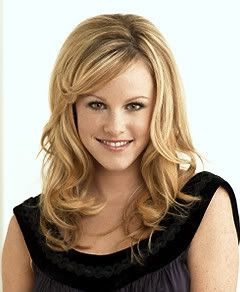 Here's the Scoop! 08.28.08
Lulu's spilling more than just her murderous secret. She'll tell Laura that she did not kill Rick Webber.
Everyone's asking: Where's Jason? Why hasn't he been to the hospital to check on his grasshopper? We'll learn that Jason is in South America on business. Maxie will insist that Diane get a message to him. Spinelli needs him!
Witness list... Claudia and Lulu are both RUMORED to take the stand in Johnny's trial. Talk about the right to a speedy trial! What lie will Claudia be telling under oath this time? The trial should begin later on next week.
Johnny enlists Nikolas' help. Who will Nik need help from? Jason! READ MORE
By Regan Cellura on August 06, 2008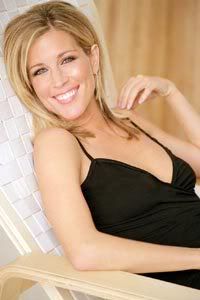 Here's the Scoop! 08.06.08

Carly or Claudia? Who makes a better rival for Kate Howard? SPOILERS say Kate and Claudia go toe to toe. RUMORS say Carly and Kate take their non stop bitchfest into a full blown brawl. Will Kate bust in on Carly and Jax making some headway in their marriage?
Have the cops found Johnny and Lulu? Nope, its Lourdes' brother they're looking for. What else is coming up for our lovers on the run? Well Lulu is still set to lose it and Johnny is prepared to turn himself in if it means Lulu gets the help she needs.
More threats for Lex? RUMORS say Trevor issues a threat to the DA and once again, Kristina is the intended target. Will one of her daddies finally step up and defend the little girl? Alexis has a warning of her own and it's for Jerry. She'll take him down if he pulls another Mr. Craig, good sex be damned.
Scrubs Fans... if you're not a NightShift watcher, Robin and Patrick revealed last night that they are indeed expecting a little girl. READ MORE
By Regan Cellura on July 28, 2008
Here's the Scoop! 07.28.08
More Sam? That's what I am hearing so all our Sam fans, you should be liking what's coming up. Ms. McCall is in the thick of things with this great drug caper. There will be plenty of LuSam as well. Elizabeth will ask Nikolas to help the couple reunite while they're hiding out in the cubby next door, sucking face from what I've seen. Lucky MAY want to clue Elizabeth in on the fake break-up but Sam is RUMORED to shoot that idea down.
Four Musketeer Talk... GH Fans remember the summer of teens days with the Four Musketeers (Emily, Elizabeth, Nikolas and Lucky) and whatever drama they wound up in. Nikolas and Lucky reminisce and Lucky comments on how different things turned out for the brothers and the ladies they loved.
Roommate Rumble... Matt and Maxie bicker over him eating her food and Maxie doing something to the garage door opener. READ MORE
By Regan Cellura on July 25, 2008
Here's the Scoop! 07.25.08
Sonny and Jason fight? We've all been witness to the mounting tension and RUMORS have had the downfall of Jason and Sonny for almost a year now. The latest? I am hearing the longtime friends will have a blow out. A pretty big one from what I can tell, Jason tells Sonny he gave up everything for him.
Laura's return... which SPOILER should we believe? Tyler Christopher was disappointed that he wouldn't be working with Genie. Then word broke that Genie Francis MAY be back longer than originally thought and would interact with Luke. As quickly as that news broke, RUMORS started pointing back to Laura only appearing in Lulu's mind. NOW, our pal Nelson Branco reports that Genie will stick around for two months, Tony Geary will return in time and the scenes are chilling. IF Genie is back for two months and out of her catatonic state, she better have some scenes with her sons.
Robin's Plan? Remember she has a plan to get back at Eli for dissing her mom and don't forget, Max is in on it. Will Robin arrange for Max and Milo to kidnap the rockstar? That's a RUMOR out there and it's Anna to the rescue. READ MORE
By Regan Cellura on July 11, 2008
General Hospital Fan Club Weekend is upon us! What does that mean in terms of Scoop? It means lots of fans hit the message boards and give recaps of what they've heard and seen while at various actor's events as well as the main event. The reports are already coming in! Check back for updates!
So far, here is what I've got (remember to have your salt shakers near by, these recaps are all based on the fan's perspective of how things were said and the actors in the past have been told by TPTB what they can and can not say):
One fan said Steve Burton (Jason) was asked about Liason and his response was that they are stalled. However, he also said that he would be a guest at Rebecca Herbst's (Elizabeth) event and they would talk more about it then.
The actor's discussed their charities and Sebastian Roche (Jerry Jacks) spoke about his trip to Africa.
Ignacio Serricchio (ex-Diego) gave a fan a lap dance. Apparently there was an auction at a Girls Night Out event. He also sang with his band at the Kick Off and if I am understanding these recaps correctly, so did Rick. At the GNO event, there were quite a few Night Shift cast members. Sonya Eddy (Epiphany Johnson) told the fans the writing on Night Shift Season Two is very good. READ MORE
By Daytime Confidential on June 02, 2008
On today's impromptu episode of Daytime Confidential Luke and Nicki visit with mutual friend Meredith about Sonny "leaving" the mob on General Hospital and who is Meredith's favorite Greg Vaughn or Rick Hearst.
Meredith gives her take on "The Real Greenlee" campaign and the returns of Angie and Jesse to All My Children and what we think of Charles Pratt as the new Head Writer of the venerable show.
Luke and Nicki discuss Guiding Light's alleged budgetary woes and the apparent mass exit of the show's biggest stars.
We discuss the class system in soaps, cumulative story telling, Soaphunks' Adonis 2008, does anyone still date in soaps and who knew that camera angles made such a difference in the perceived height of daytime's actors.
Listen to Daytime Confidential by clicking on the Daytime Confidential Player at the bottom of this post or Download us for FREE via iTunes. Vote for us on Podcast Alley. Add us as a Friend on MySpace. Drop by our sister site TV Fan Online and visit with other soap fans in the TV Fan Online Forums.