Rick Hearst
By Jillian Bowe on October 01, 2010
Fans missing
Rick Hearst
onscreen, rejoice!
The Bold and the Beautiful
actor has snatched up a guest star role on
Castle
. The actor announced his upcoming appearance on
twitter
.
Hot Damn! Booked an episode of Castle! Shoots October 7th! Nice little role.
By Darren Lomas on March 29, 2010
The Bold and the Beautiful
's teen set took center stage at the beginning of last week. Sweet-yet-drippy Hope battled with supposed "vixen" Steffy for the affections of Oliver. Oh, how we yawned. Is Steffy starting to have real feelings for the DJ-turned-filmmaker? Or is she just out to make Hope's life hell? It's a mystery. As is the reason a school dance was held at Forrester Creations in the first place. Another mystery: why does that fool Marcus keep cheerleading for Steffy? She already admitted to hating the Logans, and would gladly have his mother thrown out of FC on her derriere. Yet still he stands around, all "aw, shucks, Steffy, you're awesome." We learned that he has a girlfriend, so at least Mr Smiles is getting some.
READ MORE
By Daytime Confidential on March 24, 2010
In addition to releasing a hilarious spoof video, The Bold and the Beautiful's cast, including Brandon Beemer, Katherine Kelly Lang, Lee Phillip Bell, John McCook, Bradley Bell, Ronn Moss, Susan Flannery and Jacqueline MacInnes Wood (pictured above) celebrated the show's 23rd anniversary on March 23. Check out more photos of the B&B cast's celebration after the jump. READ MORE
By Jillian Bowe on March 06, 2010
Get ready for bring your child to work day over at The Bold and the Beautiful. On March 17 and 22, John McCook's daughter, along with the sons of Katherine Kelly Lang Rick Hearst and Don Diamont will all appear as extras at a high school dance. No word on if the kids will have speaking roles.
By Darren Lomas on January 31, 2010
After fantasizing about being ravished by Ridge, Taylor decided it was time to move on. She told Ridge to stop calling her "Doc" because it got her all horny. Stephanie didn't help by telling her not give up on Ridge. On a roll, Stephanie cornered Whip and let him know that Taylor and Ridge would always have feelings for each other. The meddling old bat then paid a visit to Ridge to say that Taylor might soon drop her drawers for the Whipster. The crazy lady is obsessed. Undeterred, Whip presented Taylor with a specially commissioned frock from doctor-turned-designer Bridget. For some reason, he did this in Stephanie's office, where he'd also set out a meal for the two of them. Weird.
READ MORE
By Darren Lomas on December 14, 2009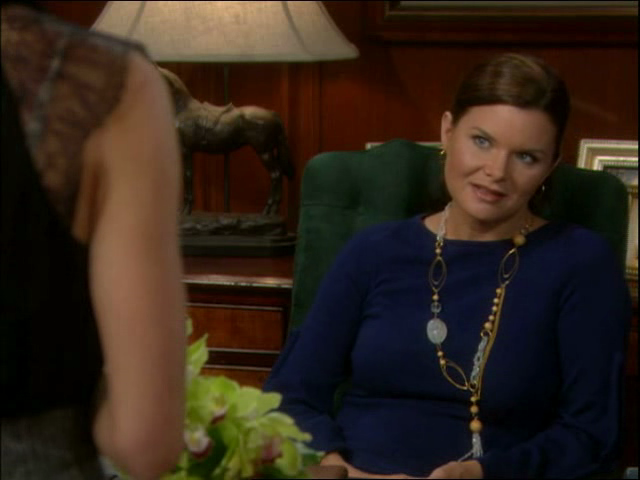 Last week's B&B shenanigans started with Brooke confronting Steffy the strumpet, warning her not to get fresh with Bill again. Things simmered down pretty quickly. They came to an agreement, hugged, and were relieved further drama had been averted. Little did they know, Katie had already found out.
Katie channelled her inner Victoria Newman and gave bratty Steffy a major slap-down at Forrester Creations. Following Bill's confession that Steffy had planted not one, but two smooches on him, Katie took things into her own hands. She fired the little weasel and tore her to shreds, saying that Steffy was only interested in taking Bill from Katie to avenge Forrester Creations being taken away from the Forresters.
Steffy licked her wounds and confessed her misdeeds to her brother Thomas. She blurted that she wanted "[Katie] to hurt like we hurt!" Thomas didn't think that her feelings were healthy. I guess car bombs are more his style. READ MORE