Regis Philbin
By Luke Kerr on May 17, 2010
Live With Regis and Kelly host Regis Philbin will be hosting the 37th Annual Daytime Emmys, according to Entertainment Tonight. The Daytime Emmys air on CBS June 27.
By Luke Kerr on December 01, 2009
Regis and Joy Philbin signed copies of their new CD Just You. Just Me at the Lincoln Triangle Barnes & Noble on Monday. Just You. Just Me, released on November 23, is the Philbin's first recording of an album together. For more details on Just You. Just Me visit Amazon.
By Jamey Giddens on November 05, 2008

It looks like Cameron Mathison will have to wait a while longer to possibly replace Regis Philbin on Disney's long-running syndicated talker Live With Regis and Kelly. According to the New York Daily News, the man who singlehandedly made me fall in love with New York through a television screen (okay, before Darren Starr and Michael Patrick King) just by talking about his nights on the town, is gonna keep shaking his head at cutie Kelly Ripa's shenanigans through 2011. For more on Mathison's career plans, check out last week's edition of The Suds Report.

By Luke Kerr on November 02, 2008
I always look forward to seeing what Regis Philbin and Kelly Ripa come up with at Halloween. I finally found clips from Friday's show. Check them out.
By Luke Kerr on August 07, 2008
Who knew having Anderson Cooper fill in for Regis Philbin on Live With Regis and Kelly with Kelly Ripa would or could turn into a full blown media slugfest?
Cooper, who regularily fills in for Philbin was visiting with Ripa about Ali Lohan's apiring "career" and made some comments about Ali and her mother Dina Lohan that could be considered less than complimentary by the Lohan clan. Never one to pass up the opportunity to talk to a celebrity mag, mamma lion Lohan fired back through Ok Magazine telling them that "People are just cruel! This is bad karma for him." To which Cooper responded on Anderson Cooper 360 (see above clip). READ MORE
By Luke Kerr on August 04, 2008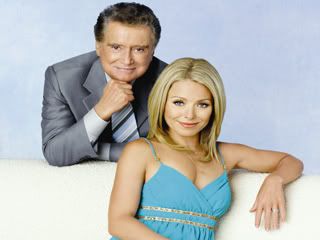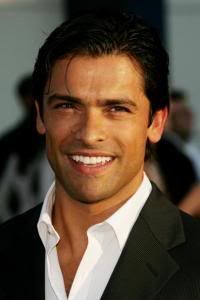 We might as well start calling
Ugly Betty
"The Ripa Hour". On the heals of word from
Entertainment Tonight
that Mr. Kelly Ripa,
Mark Consuelos
, will be appearing in at least three episodes of the ABC hit series comes news from
E! Online
that
Regis Philbin
and
Kelly Ripa
will be making a cameo on the September 25th premiere of
Ugly Betty.