Rebecca Herbst
By Jamey Giddens on March 06, 2009
DC's
Regan
has been
talking about
possible casting drama taking place at
General Hospital
ever since news of the massive ABC pay cuts first
broke
. Now comes
news from TV Guide Canada's Nelson Branco
that the jobs and/or contractual statuses of
Leslie Charleson
(Monica),
Megan Ward
(Kate),
Greg Vaughan
(Lucky)
and
Rebecca Herbst
(Liz)
are on shaky ground and that
Rick Hearst
's (Ric) future with the soap isn't looking to bright either. I'd love to say I'm surprised, but I'm not.
Charleson plays a Quartermaine, and GH has made it all-too clear how they feel about this insanely-popular family. In recent years they've killed off Emily, Alan and Justus and wrote out Ned and Dillon, plus Charleson is over 40 and we know how
Brian Frons
feels about older actors on his soaps!
READ MORE
By Jamey Giddens on December 30, 2008
Okay, I am taking off my industry insider hat and proudly displaying my fanboy flag. He doesn't get to come out very often these days, since, well, there isn't much on daytime to trigger his appearance. But when it comes to
General Hospital'
s Jason and Elizabeth (
Steve Burton
and
Rebecca Herbst)
aka Liason, I forget for five minutes about all the behind-the-scenes drama in daytime and am actually allowed to adore a soap opera supercouple in a way I haven't been able to since Jack made love to Jennifer or Sonny left Brenda in the rain.
READ MORE
By Regan Cellura on December 30, 2008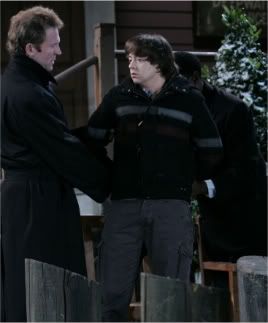 Miss Me? Here's the Scoop! 12.30.08
The Jackal gets busted! Spinelli finds himself the subject of a federal investigation and Agent Rayner has Jason's sidekick put behind bars. Is this all just part of Rayner's plan to bring down Sonny Corinthos? Seems to be the case as SPOILERS say Jason must choose, Spinelli or Sonny. Pick Spinelli Jason! And Stone Cold just MAY be choosing to turn against his former friend to save Spin's butt. The Feds want dirt on Sonny and Jason SHOULD be willing to talk to get Spinelli released.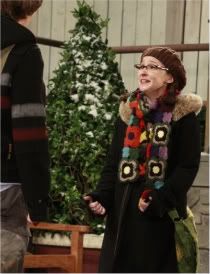 Meet Winnie... the Jackal's should be nemesis and Maxie's reason for getting jealous. Winnie and Spinelli have a lot in common but will he learn she's working for the feds? Will Maxie get a feeling that there is more to this female version of the Jackal? That Maxie is one smart cookie!
Will Maxie finally admit her feelings for Spinelli? That's a RUMOR out there. Is it because of the above mentioned jealousy or the real deal? Maxie and Spinelli kiss!
Robin's Post Partum Depression storyline has not been dropped. It SHOULD be picked back up when the newlyweds return to work. Patrick will be worried about his wife as the newly married docs must learn to balance work and family. Remember that new house they were supposed to be getting? Well it MAY be happening in the new year. Look for Robin to have problems, one where she'll leave Emma with Elizabeth and when patients start kicking the bucket, Patrick is surely going to have his hands full. READ MORE
By Regan Cellura on December 12, 2008
Here's the Scoop! 12.12.08
It's a typical Friday.... not a lot of SCOOP. Q& A DAY! Ask Away....
Liason's run ends today. Jason will tell Elizabeth about the money he's left in an account for her and the boys. I am not sure if he will tell her about the house or if she will know it was made to look like Emily left it all for her.
Punching out his frustrations? RUMORS say Jason works it out on a punching bag.
Lucky and Sam... Sam still wants to investigate the Russian mob. Lucky is against that. When Sam is rescued from the pit, its Lucky she wakes up to at the hospital. Will she be saying the right name as she awakes?
Are Skate headed down the same Liason Lane? Were they broken up to facilitate the Carly Claudia and Sonny pairing? RUMORS say that MAY be the case. Is this another Frons mandated pairing in hopes to boost ratings? Why else would pairing Sonny with the woman responsible for Michael being in a coma be a good idea? I will give them this, it does have some good story potential but that is only if they actually move towards revealing Claudia's role in the shooting. There are RUMORS that we'll see more of Sonny and Claudia getting closer. There are still RUMBLINGS that Ric and Claudia hit the sheets again. READ MORE
By Regan Cellura on December 11, 2008
Steve Burton
and
Rebecca Herbst
(Jason Morgan & Elizabeth Webber) spoke with
Soap Opera Digest
on the end of their popular pairing, Liason. Both actors are sad to see their coupling end.
We had quite the following for a couple who never were together, allows Steve Burton. "I don't write the show. If it was up to me, I would have played it out to see where it went. I would have given it a shot, but that's how the freaking ball bounces. There's nothing I can do about it. We did the best we could with what we were given. We definitely tried to find and play all the moments. I'm bummed out."
According to Herbst, the ending of Jason and Elizabeth came as a surprise to her.
I didn't know that this was happening, " she declares, "I knew of course, there was going to be, once again, some rocky roads for Jason and Liz considering what has happened, but I didn't know they were splitting us up."
Burton and Herbst gave props to their fans who were loyal despite the lack of movement in their couple's story.

By Regan Cellura on December 09, 2008
Here's the Scoop! 12.09.08
Totally forgot to talk about Tracy and Luke yesterday. While I would be all for a Tracy/Luke/Laura triangle I am not so sure I am liking the latest storyline for Jane and Tony. I always love their banter but this is Luke Spencer, I feel like he should be doing more than chasing his wife to the Dominican to stop a speedy divorce. Although this has given me the opportunity to once again call out the GH writers. Remember when you sent Carly to the Domincan to get a speedy divorce from Sonny? We learned then that the Domincan is no longer your source for a quick end to your marriage. Now, I MAY be a little premature as the LATEST SPOILERS say that while Tracy tells Luke she's already been granted the divorce, it's a bluff and Luke SHOULD be getting the opportunity to call her on it. READ MORE