Rebecca Herbst
By Regan Cellura on April 22, 2009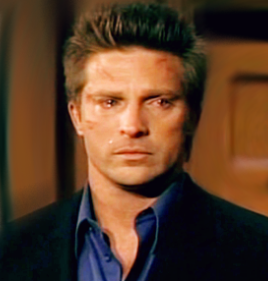 General Hospital
pulled the popular pairing of Liason aka Jason and Elizabeth (
Steve Burton
&
Rebecca Herbst
) but they're not above using the pair to pimp the latest Soap Nation event.
From SOAPnet.com:
This weekend's Soap Nation event at the Stagecoach Music Festival in California promises to be a fantastically entertaining mix of hot country music -- Brad Paisley, Kenny Chesney, and Reba McIntyre (who is being billed as simply "Reba" -- that's so cool!) are among the artists scheduled to perform -- and your favorite stars from "All My Children," "One Life to Live" and "General Hospital"!

So in addition to introducing the acts, the daytime stars you know and love will be signing autographs for fans. And now we have the schedule for those autograph sessions! Highlights include: "Liason" themselves, Steve Burton and Rebecca Herbst, teaming up for the 5pm session on Saturday; and a final session on Sunday that looks like a Hot Ladies of Daytime summit. READ MORE
By Jamey Giddens on April 14, 2009
Here's how!
Give us our couple, we'll tune back in, simple as that! See, this is how the mafia REALLY operates! BWAAAAAA!
By Regan Cellura on April 14, 2009
Here's the Scoop! 04.14.09

Dr. Patrick Drake as Mr. Mom…
When Robin heads out of Port Chuck for treatment, Patrick takes on the role as single father. Who will pitch in to help him? RUMORS say Maxie and Matt MAY be providing assistance. While I love that Matt and Maxie MAY have some more scenes together, especially ones that have them helping out the fam, Maxie is spread all over the place and I think this would be the perfect opportunity to use Mac (John J. York) more. Let Uncle Mac help out, he did raise three girls. Throw a little comic relief into this PPD storyline cause I need something to chuckle at that isn't the ridiculousness of this story. We SHOULD see some brotherly time but SPOILERS have Matt making some roots of his own in PC. Finally! Give Jason Cook something to do! We SHOULD still see Elizabeth helping out, maybe not as much, and mentions of Mercedes.
READ MORE
By Luke Kerr on April 13, 2009
By Regan Cellura on April 08, 2009


Take a look and tell us what you think!
By Regan Cellura on April 07, 2009