Raya Meddine
By Luke Kerr on May 12, 2008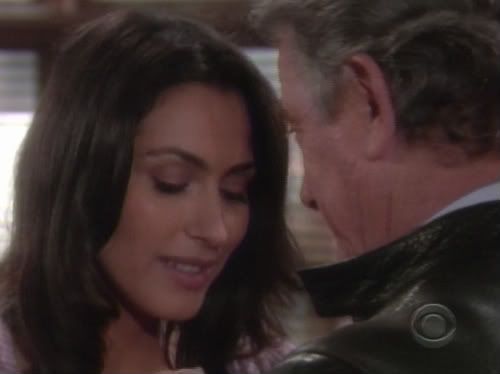 So I'm sitting here blogging away about all the latest daytime related news while watching the
Young & Restless
and all of a sudden I had an intense desire to turn into Linda Blair's Regan from
The Exorcist
and spew projectile green pea vomit all over my computer screens. In the name of all that holy, or this case not, what has the
Young & Restless
come to? This is actual dialogue from a scene between Victor and Sabrina after he gives her what I'm almost 100% positive is an engagement ring.
Victor: The first time I looked at you I knew you were something special.
Sabrina: The first time you touched me (insert orgasmic sigh) I had goosebumps...It was at the Restless Style party...
Victor: I know, I put my hand on your back.
Sabrina: You remember (insert a whispered writhing in her voice)!!!
Victor: Guttural unintelligible sound of agreement.
Victor: You make me happy.
Insert Victor and Sabrina groping each other for several milliseconds of eye bleaching agony for us the viewers.
Sabrina: Haaaaaaaa. (i.e. long sigh of contentment over knowing she's landed the giant bank account.)
Sabrina: First thing I'm going to do is call my mom. She's not going to believe this (Neither do we honey. No way in hell do you belong with Victor. Maybe, if you're lucky, smarmy old Brad Carlton who has proven he has no standards and is just a big RoboHo but not Victor Newman.)
Sabrina: Then I'm going to call Vicky. I want to talk to her. (Oh yeah, that's going to go over well.)
This is what the Young & Restless has come to? This is supposed to be the brilliant writing of the #1 soap? Someone needs to do an exorcism on this show and vanquish Sabrina back to whatever country she comes from.
By Jamey Giddens on April 26, 2008
Victor (Eric Braeden) ticks off his namesake daughter Victoria (Amelia Heinle) next week on Young and the Restless when he brings his latest distraction Sabrina (Raya Meddine) to Baby Reed's christening. Bree Bree tries to make up for playing connect-the-freckles with her BFF's daddy by purchasing a snazzy rattle for the soon-to-be Church-sanctioned kiddo, but Victoria is having none of that.
While I understand Victoria being a bit skeeved out by knowing that her homegirl knows whether her pop likes boxers or briefs, isn't Vicki being a bit of a hypocrite? Her current husband JT is the first love of her former stepdaughter Colleen. Her most-recent former husband Brad was engaged to her mother for years. And then there was Victoria's second hubby Cole Howard, who to envoke AC/DC, shook her mama Nikki all night long before ever hooking up with Victoria. Even though I first sympathized with Vicki's plight, I have since decided it's time Princess Newman grew up. Now if her problem with the relationship was the very valid fear that her father might die of boredom from this craptastical pairing, I would totally understand.