Rachel Melvin
By Brian Peel on June 21, 2008

Days of Our Lives stars and nominees take to the red carpet on their arrival to the 35th Annual Daytime Emmy Awards.
By Jamey Giddens on May 29, 2008
Wanna see your favorite past and present Salemites sweat it out on the B-Ball court for a worthy cause? Here's your chance.
Our pal Brandon Beemer (ex-Shawn, Days/Owen, The Bold and the Beautiful) sent out a bulletin to his My Space friends confirming his appearance at the James Reynolds 19th Annual Days of Our Lives Celebrity Basketball Game held at 7:30 pm, tomorrow, May 30, 2008 at South Pasadena High School's Main Gym at 1401 Diamond Avenue in South Pasadena, CA . The event is to benefit the South Pasadena High School Boys Basketball Program.
Playing this year will be: Bryan Dattilo (Lucas), Kyle Brandt (ex-Philip Kiriakis), Mary Beth Evans (Kayla), Alison Sweeney (Sami), Kyle Lowder (ex-Brady), Arianne Zucker (Nicole), Martha Madison (ex-Belle), Rachel Melvin (Chelsea), Shelley Henning (Stephanie), Rashann Orange (ex-TEK), Jay Kenneth Johnson (Philip), Patrika Darbo (ex-Nancy), Stephen Nichols (Steve), Blake Berris (Nick), James Reynolds (Abe), Nadia Bjorlin (Chloe) and Brandon Beemer (ex-Shawn).
Beemer encourages fans to get their early. Doors will open at 7 pm. There will be a raffle and a silent auction. General Admission tickets are $15 for all attendees. VIP tickets are $165. They include backstage access at the game, a team jersey, a photo with the teams, a gift basket and special seating. Only 40 VIP tickets will be sold.

For more information, call 323-993-3376 or email DaysGame2008@gmail.com
By Luke Kerr on May 28, 2008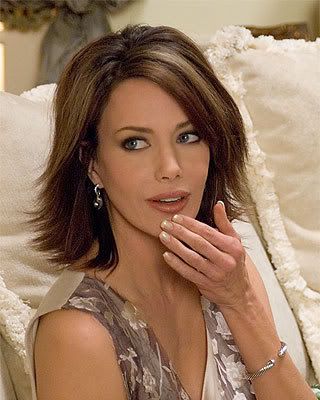 TV Guide Canada's Nelson Branco has published his Most Improved Actors of 2008, naming the actors who he believes have improved dramatically in the first half of 2008.
In addition to the Most Improved Actors of 2008 Branco also named his picks in his "Booster Club" categories including: Most Improved Soap, Most Improved Writers, Most Improved Love Story, Most Improved Network, Most Improved Magazine, Most Improved Direction, Most Improved Casting, Most Improved Producer, Most Improved Hair, Set Design, Lighting and Costume and Most Improved Opening.
So here is my question. If you were going to name your "Top 10 Most Improved Actors" so far in 2008 who would you name? I know several of Branco's picks would make my list.
By Jillian Bowe on May 21, 2008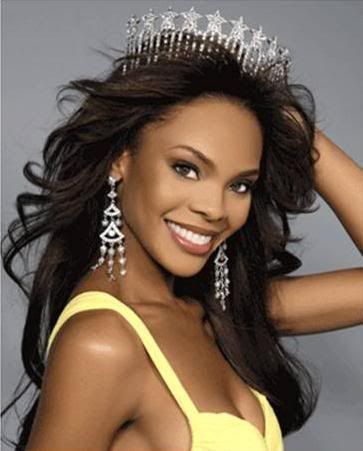 Taking a cue from the rival networks, NBC has snagged Miss USA Crystle Stewart for a guest appearance for Days of Our Lives on June 20. Online rumors are reporting that for her soap debut, Stewart will mix it up with Chelsea (Rachel Melvin) and Morgan (Kristen Renton) as their Alpha Chi Theta sorority advisor at the now popular Salem Health Club.
While Chelsea and Morgan are working out, they notice Miss USA working out and mention the great job Ms. Stewart did on organizing a charity walkathon by Salem University for Breast Cancer awareness. The trio chat it up for a bit where Chels and Morgs shamelessly say they will be rooting for her when she enters Miss Universe that will be aired on.. You guessed it NBC!
So NBC's not only grabbing soap viewership but an audience to the Miss Universe pageant as well. Gotta love that ad and marketing dept of NBC's! The Miss Universe pageant will air on July 13 live on NBC and to get more info on Miss USA you can check her out here.
By Luke Kerr on May 06, 2008


Day of Our Lives' Daniel and Chelsea are steaming up the hospital corridors with their chemistry. Here's a fan clip of the couple.
By Luke Kerr on April 30, 2008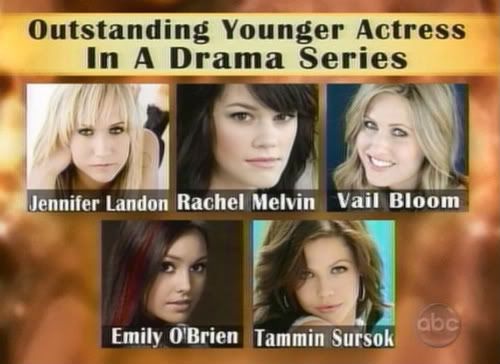 Congrats to Jennifer Landon, Rachel Melvin, Vail Bloom, Emily O'Brien and Tammin Sursok on their Outstanding Younger Actress nominations. May the best actress win.
After months of anticipation we now have our five nominees for Younger Actress. I have to say, if it wasn't for the Supporting Actress category I would call this my most shocking category. Why isn't at least one of the three talented Guiding Light actress who made the prenominations a nominee? Why didn't a single ABC actress get a nomination?
Looking at the prenominations list below and comparing it to the nominees above is there anyone who you feel is missing from this list or who should be on it instead of someone else?
Outstanding Younger Actress Pre-Nominees
AMC: Melissa Claire Egan, Chrishell Stause, and Leven Rambin
ATWT: Jennifer Landon, Alexandra Chando, and Marnie Schulenburg
B&B: MacKenzie Mauzy
DAYS: Shelley Henig, Kristen Renton, and Rachel Melvin
GH: Julie Marie Berman and Kirsten Storms
GL: Mandy Bruno, Bonnie Dennison, and Caitlin Van Zandt
OLTL: Kristen Alderson, Farah Fath, and Brittany Underwood
Passions: Danica Stewart and Hannia Guillen
Y&R: Vail Bloom, Emily O'Brien, Tammin Sursok and Christel Khalil