Patricia Mauceri
By Jamey Giddens on September 04, 2009
Well, at least now I know why
Patricia Mauceri
couldn't be reached for comment regarding her exit from
One Life to Live
. She was waiting for a bigger fish! Enter cable whale
FOX News
. Mauceri spoke out to the "fair and balanced" cabler's website about her dismissal from OLTL after refusing to play out her storyline as written. As I
originally reported
, Mauceri objected to her then-character Carlotta being portrayed as a gay-friendly Latina mother, resulting in the soap having to do an emergency recast with
Saundra Santiago
.
"I did not object to being in a gay storyline. I objected to speaking the truth of what that person, how that person would live and breathe and act in that storyline," she said. "And this goes against everything I am, my belief system, and what I know the character's belief system is aligned to." READ MORE
By Jamey Giddens on June 29, 2009
A show representative has confirmed Daytime Confidential's report of
Saundra Santiago
being tapped to replace
Patricia Mauceri
in the role of Carlotta Vega on
One Life to Live
. OLTL was unable to discuss any details about why Mauceri was let go.
As previously reported, setside sources informed Daytime Confidential that Mauceri allegedly strongly voiced objections to an upcoming plot point in the Kish storyline that portrayed her character as gay friendly. Soap Opera Digest is also reporting that their sources have revealed the same thing we've been hearing.
As for claims made in a Soap Central article that Mauceri's dismissal was part of some elaborate plot to get rid of the actress or garner publicity for the storyline, several network moles say these claims have no merit. READ MORE
By Jamey Giddens on June 29, 2009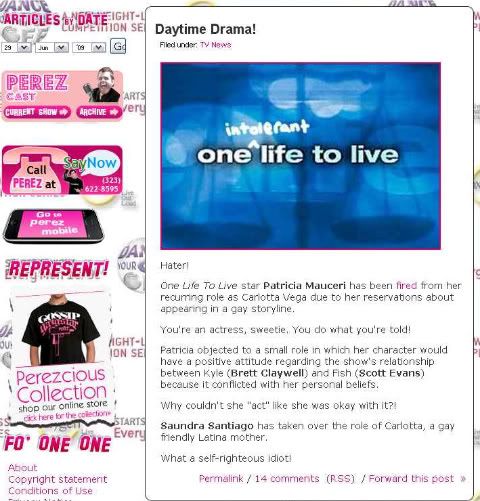 Perez Hilton
has
linked
Daytime Confidential's breaking news item about the recasting of Carlotta Vega on
One Life to Live
. As we
previously reported,
actress
Patricia Mauceri
was reportedly fired from the role and replaced with
Saundra Santiago
after Mauceri allegedly vehemently protested an upcoming beat in the gay storyline featuring Kyle (
Brett Claywell
) and Fish (
Scott Evans
) that had Carlotta, as a result of a comedy of mistaken identities, believing her son Cristian (
David Fumero
) was gay, as opposed to his roommate Fish.
READ MORE
By Daytime Confidential on June 29, 2009
It was the news that rocked the soap-o-sphere this weekend—One Life to Live's Patricia Mauceri (Carlotta) was fired, replaced by Sopranos and Guiding Light actress Saundra Santiago, after allegedly demanding re-writes of a scene showing her character as gay friendly. Daytime Confidential's Jamey Giddens, who broke the story, joins Luke, Regan and Karen from WUBS to discuss the shocking turn of events.In other One Life news, Robin Strasser revealed on her hotline ABC has offered her a "take it or leave it" deal, and the soap superstar proclaims One Life executive producer Frank Valentini will save daytime.
OLTL wasn't the only ABC soap with behind-the-scenes drama exploding all over the Internet this past week. All My Children star Beth Ehlers (Taylor) recently gave an explosive interview to Stardish Radio where she accused AMC head writer Chuck Pratt of "writing camp" and complained about allegedly having to "hedge her performances" due to being paired with real-life and reel life war hero JR Martinez (Brot) whom Ehlers claims "is not an actor". The group sounds off on Ehler's interview.
On the General Hospital front, Regan slams ABC's flagship soap for the lackluster exit of Rick Hearst (Ric), while Luke and Jamey react positively to Sonny the Patriarch and Carly asking the Q's for help. Then Karen provides a helping of her juicy spoilers. It's an episode you won't wanna miss!
All this and much more on today's show.
Help support and improve the Daytime Confidential podcast: Take a few minutes to fill out the two Daytime Confidential listener surveys: Listener Survey A l
Be sure to leave your comments on all the latest goings on in the world of soaps by calling the Daytime Confidential comment line by calling 917-677-9757.
Listen to Daytime Confidential by clicking on the Daytime Confidential Player at the bottom of this post or Download us for FREE via iTunes. Vote for us on Podcast Alley. Add us as a Friend on MySpace and Facebook.


READ MORE
By Jamey Giddens on June 28, 2009

SPOILER ALERT
: More has come to light in regards to what allegedly drove
Patricia Mauceri
to demand re-writes of Carlotta's scenes as part of the "Kish" storyline on
One Life to Live
, resulting in the star
being terminated from One Life to Live and replaced with Sopranos and Guiding Light actress Saundra Santiago
. Here's what a source tells Daytime Confidential:
READ MORE
By Jamey Giddens on June 27, 2009
This Just In: Patricia Mauceri has been reportedly fired from the recurring role of Carlotta Vega on One Life to Live allegedly due to the star's protests about Carlotta's small role in the upcoming gay storyline between Kyle (Brett Claywell) and Fish (Scott Evans), according to a setside source.
" Carlotta was supposed to have a small role in the upcoming "Kish" storyline. She objected to Carlotta's positive attitude about homosexuality, saying it conflicted with her personal beliefs."
The source goes on to say the role of Carlotta was recast with Saundra Santiago (Guiding Light, The Sopranos, and Miami Vice). Her first tape day was Friday 6/26. Santiago previously played the role of Isobella Santi on OLTL.
UPDATE: Reportedly the soap opera wanted to go against stereotype and show Carlotta as a gay friendly Latina mother. The actress allegedly vehemently protested that story decision, resulting in show brass replacing her. READ MORE