Paolo Seganti
By Mark on July 24, 2009
Watch next week's promo of As the World Turns for a quick first look at Lynn Herring as Audrey, Henry's (Trent Dawson) mother.
By Mark on July 22, 2009
Luke (Van Hansis) doesn't want to go back to school. Damian (Paolo Seganti) has the solution: Luke should work with him at Grimaldi Shipping.
By Mark on July 13, 2009
A promo with a first look at Forbes March's character Mason Jarvis.
By J Bernard Jones on June 18, 2009
My absence from Daytime Confidential lately has not been due to the usual business of family and work taking up a lot of my time, but rather a certain lack energy to post about practically any of the daytime serials that clog up my DVR from day to day. This is neither a positive nor a negative thing because there are frequent periods throughout the year when shows kind of coast along and do their their thing, usually between sweeps.
At these times, there is little for the viewer — if that viewer is me — to get all worked up about this plot twist, that character's action, some couple or another or even a whole show's direction. Normally, this state of affairs hits one or two shows at a time. Every once in a while like the last couple of weeks, the stars align and all the serials get caught in the same momentum of drift. All that is required of us is to watch and see where it all goes.
In that spirit, my brain plays a little game of soap opera hopscotch, taking in odds and ends big and small. There is no great elaboration on anything here, just a quick rundown of things I like and not like so much. Your mileage may vary... READ MORE
By Jamey Giddens on June 09, 2009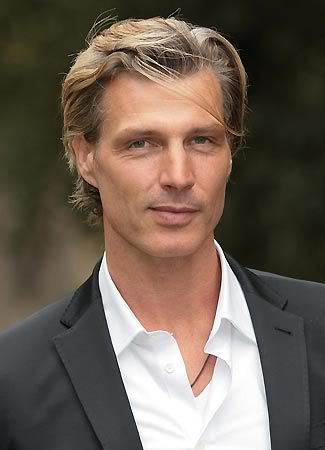 He may have tried to ship his boy Luciano (
Van Hansis
) off to a de-homosexualization camp, but make no mistake, Damian Grimaldi (
Paolo Seganti
) loves his son—and his son's mother.
Michael Fairman
caught up with Hansis and Seganti for
Advocate.com
, just in time for Father's Day. Check out what Seganti has to say about Damian's place in the Snyder's orbit.
Holden has always been Luke's "father." How does Damian feel now about his rival?

Seganti: It's always been a tough road there, because Damian has always been deeply rooted with Lily [Luke's mother]. He is not going there now, because it would jeopardize all the work he has done to get closer to Luke again. And he does not want to lose Luke's trust, and that's the main thing Damian wants ... to rebuild the relationship with his son and take his time. But Damian is still very much in love with Lily. Holden has always been his archrival. He took Damian's place. Damian was kicked out in the old days and it was not his choice. He fought to have custody of Luke and he lost it. He had no choice in the matter. He does not hate Holden; he is just the guy between him and his rightful wife and son. Damian is letting dogs sleep for now, but he is so connected with Lily, and inside he would love to form a family again. But he is not there yet ... so, one step at a time.
By Jamey Giddens on June 04, 2009
Hey guys, gals and gals who like gals, if you're wanting to find a comprehensive guide to all things soapy and gay, c
heck out Soapside
,
Michael Fairman
's new bimonthy column for
Advocate.com
! In the latest installment, Fairman previews his upcoming Father's Day chat with
Van Hansis
and
Paolo Seganti
, the talented men who bring
As The World Turns
' favorite gay coed Luke Snyder and his bio pop Damian Grimaldi to life. Fairman also gives up the soap dish on Y&R alumn
Lauralee Bell'
s
new web series
, her former leaidng man
Thom Bierdz'
s recent jaw-dropping return and encourages
Advocate.com
readers to help my BSS
Eden Riegel
write her Webby Award acceptance speech
.