Nic Robuck
By Jillian Bowe on August 14, 2012
One Life To Live
alum
Nic Robuck
is taking a leap onto the big screen. According to
ABC Soaps In Depth
, Robuck will star in his first feature film,
A Dark Plan
. Robuck stated:
I play the lead character, Shane Dempsey, a sociopath who had a horrible upbringing. He will do anything for the love of others... even kill if he's desperate enough!
By Jamey Giddens on January 16, 2012
Starr might have broken James Ford's heart during
One Life to Live
's final week on the air, but the character's hunky portrayer
Nic Robuck
is feeling no pain! According to
ABC Soaps In Depth
, the actor has booked a guest gig on The CW's
Ringer
, starring fellow ABC Daytime alum
Sarah Michelle Gellar
. Which OLTL alum are you hoping to see pop up in primetime next?
Photo credits: ABC and The CW
By Jamey Giddens on November 17, 2010
Oh my damn...my favorite late night talk show host
Chelsea Handler
went in on
One Life to Live'
s
Starr (
Kristen Alderson
) and James (
Nic Robuck
) on
Chelsea Lately
. Usually I get my knickers in a twist when mainstream programs diss soaps, but Handler's style shows she's in on the joke and let's face it, that was a looong list of cheestastic reasons James gave for not schtupping Starr! Thanks
StefanieM23
for the tip
via Twitter
! Watch the clip after the jump.
READ MORE
By Jamey Giddens on October 21, 2010
Some of ABC Daytime's most popular soap hunks took to a hot tub for a photo shoot and
Entertainment Tonight
was there to film it all!
One Life to Live
's
David Fumero
(Christian),
John-Paul Lavoisier
(Rex),
David Gregory
(Ford) and
Nick Robuck
(James);
General Hospital'
s
Brandon Barash
(Johnny) and
Chad Duell
(Michael) and
All My Children
's
Trent Garrett
(Asher) and
Jordi Vilasuso
(Griffin) were all on hand to dish about soap love scenes and memorable fan encounters. Watch a clip from the show after the jump!
By Daytime Confidential on October 13, 2010
One Life to Live's stars, including Hillary B. Smith (pictured above), turned out for the One Life to Live Fan Club Luncheon on October 9 at The New York Helmsley Hotel. Check out photos from the event after the jump! READ MORE
By J Bernard Jones on August 25, 2010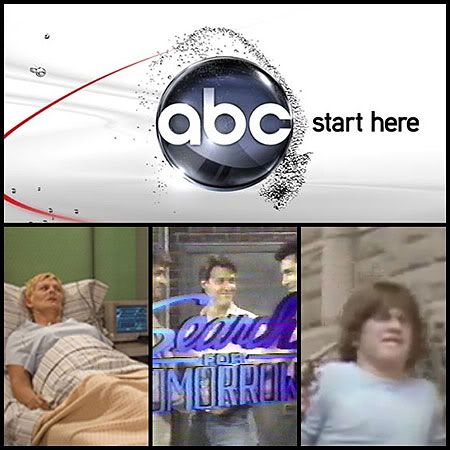 Watching the ABC daytime lineup lately has been a little déjà vu for this old time soap viewer. Perhaps "copying" is too strong a term. Maybe "homage" would be a better word or, perhaps, "sticky fingers." On the other hand, the stories in question here are different from either classic soap opera tropes (boy/girl-meets-hates-falls-in-love-with-girl/boy stuff) or classic soap cliches (supervillain-returns-from-the-dead-with-an-evil-twin shenanigans) because of their very specificity.
All three of the ABC's daytime dramas currently are airing stories or arcs that have been a little too close to the mark of several cancelled Proctor & Gamble shows, begging the question "Does Brian Frons really admire those old, now defunct serials as much as he loves pilfering CBS soap stars?" Let us count the ways: READ MORE