Nia Peeples
By Daytime Confidential on December 04, 2013
The Young and the Restless' Doug Davidson, Beth Maitland and Hunter King were among the celebrities who took part in the Hollywood Christmas Parade. The annual event featured current and former soap stars from General Hospital, The Bold and the Beautiful, Days of Our Lives and One Life to Live, who joined familiar Y&R faces in the parade that benefits the Toys For Tots campaign. Check out more photos of your favorite stars after the jump!
By Jillian Bowe on August 14, 2012
One Life To Live
alum
Nic Robuck
is taking a leap onto the big screen. According to
ABC Soaps In Depth
, Robuck will star in his first feature film,
A Dark Plan
. Robuck stated:
I play the lead character, Shane Dempsey, a sociopath who had a horrible upbringing. He will do anything for the love of others... even kill if he's desperate enough!
By Jamey Giddens on July 31, 2009
She may not have been able to save her marriage to Neil Winters (
Kristoff St. John
) on CBS Daytime's
The Young and the Restless
, but
Nia Peeples
is bound and determined to save our nation's troubled teenagers. Peeples is the executive producer of a new reality series pilot called
The Teen Whisperer,
starring
Mike Linderman
. The series appears to be based on
The Teen Whisperer: How to Break Through the Silence and Secrecy of Teenage Life
, written by Linderman, a therapist and cattle rancher, and
Gary Brozek
. This show would be perfect for ABC Family, I think Peeples has a hit on her hands! Check out the powerful trailer after the jump.
READ MORE
By Jillian Bowe on April 30, 2009
Happy Thursday people! Some interesting developments are headed to The Young and the Restless.

Sharon: Like we've been saying all along, Sharon is knocked up and doesn't know who her baby daddy is! After she takes a pregnancy test due to feeling the symptoms of being with child, Sharon finds out she's knocked up. At first she's in shock and knows since her life is so screwed up she's in no position to have a baby. The irony of Sharon's situation is that she was judging Phyllis a few years ago when she became knocked up with Summer and didn't know who the father was and now Sharon has taken her place. Sharon heads to the GCAC to contemplate her current situation when she sees an unkempt Jack coming down the stairs and, puts the pieces together and realizes that Jack slept with another woman.The other woman is Mary Jane. In a funk, Sharon tells her mom about her pregnancy and she also has to break down and tell her that its between three men. Sharon's mom Doris has no clue about the trysts with Billy and her mom is not too happy about this revelation. READ MORE
By Jamey Giddens on April 21, 2009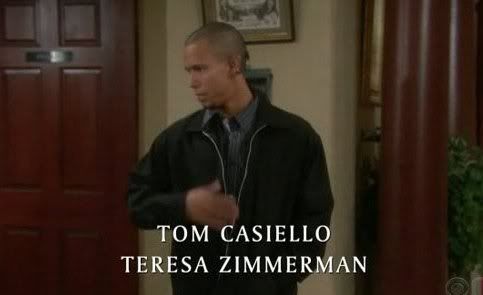 Picture it. Genoa City, Wisconsin. Monday, April 20, 2009. A foster child/custody storyline so boring, so polarizing, so utterly pointless, by comparison it makes
Ryan Seacrest
on the red carpet seem like edge-of-your-seat entertainment, is finally, mercifully climaxing on CBS Daytime's
The Young and the Restless
.
While I knew weeks ago that yesterday would be the day when Neil Winters (Kristoff St. John) and his wife Karen (Nia Peeples) would face off in court with Tyra (Eva Marcille) over the custodial fate of Sally Sing-A-Lot aka Ana. I also knew this episode would be important for another reason. It would be the first air show since officially rejoining the soap opera writing community for former Days of Our Lives scribe Tom Casiello, whose My Space blog became a soap fanboy/girl's wet dream during the 2007-2008 Writers' Strike. Talk about pressure. For his first show, Casiello would have to help breathe life into the only storyline stinker left on the soap opera since the Dream Team of Maria Arena Bell, Paul Rauch and Hogan Sheffer began masterfully restoring The Young and the Restless, following the destructive tenure of Lynn Marie Latham. READ MORE
By Melodie on March 31, 2009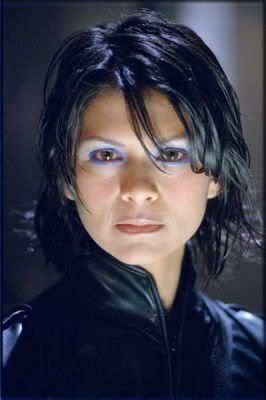 Soap Opera Digest
is reporting that
Nia Peeples
(Karen Winters) is officially out at
The Young and the Restless
. The actress was released from her contract and her final airdate is unknown at this time.