Nell Mooney
By J Bernard Jones on October 15, 2008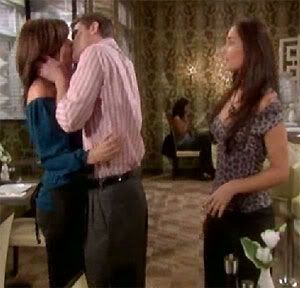 Gentle readers, I apologize for not having posted about Oakdale, but business called me away on business and I haven't been able to get back to the business of Oakdale's business until now:
Carly/Jack/Janet: The chemistry between Maura West & Michael Park jumps off the screen, but I'm just feeling that this seemingly endless seesaw Jack and Carly have been riding has got to stop once and for all. READ MORE
By J Bernard Jones on October 06, 2008
I wasn't going to comment on today's episode of As the World Turns because I've been extremely busy, but two segments were so incredibly good that I couldn't help myself.
The first segment was Chris' goodbye scenes with Kim. Beautifully written and heartfelt, these are the kinds of scenes that the ATWT writers should be penning all the time. READ MORE
By Mark on September 29, 2008
Nell Mooney joins the cast of As the World Turns in the role of Spencer McKay on October 6th. "Spencer will host a variety show with Brad (Austin Peck) and will be keeping a secret from all those in Oakdale" teases CBS.com. Is she just working with Brad or is she here to steal Brad away from Katie (Terri Colombino)?
Nell Mooney is the winner of season 3 of InTurn, the CBS.com reality show where actors compete for a 13-week contract role on As The World Turns. Mooney won with 36% of the votes.