Natalia Livingston
By Regan Cellura on April 28, 2008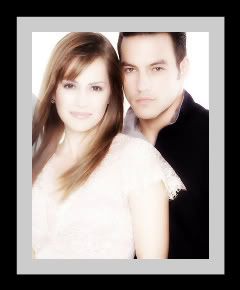 Nikolas and Emily Fans here's a chance to say good-bye to Natalia Livingston as she and Tyler Christopher have set some personal appearances together!
Here's a message from Tyler's Team:
As a way to show their thanks to the fans of the pairing Nikolas and Emily, Tyler and Natalia are doing a series of personal appearances.
Please show your support for both Natty and Tyler even if you weren't a Nikolas and Emily fan these two actors are giving back to all their fans.
The following is a currently list of scheduled appearances. Check Tyler's Official Website if new appearances are added or visit www.coastalentertainment.com.
Saturday, May 31, 2008
Tyler Christopher & Natalia Livingston
Improv
5700 Seminole Way
Hollywod, FL 33314
(954) 981-5653
Showtime: 3:00 p.m.
Tickets: $50.00
Sunday, June 01, 2008
Tyler Christopher & Natalia Livingston
Zanies Comedy Club
2025 8th Avenue S.
Nashville, TN
(615) 269-0221
Showtime: 1:30 p.m.
Tickets: $50.00
Saturday, June 14, 2008
Tyler Christopher & Natalia Livingston
Comedy Connection, Hukelau
Chicopee, MA
(413) 593-5222
Showtime: 9:00 p.m.
Tickets: $40.00
Saturday, June 14, 2008
Tyler Christopher & Natalia Livingston
Comedy Connection
Boston, MA
(617) 248-9700
Showtime: 4:00 p.m.
Tickets: $50.00
In other Tyler News, he and Fiance, Brienne Pedigo have set a wedding date. The pair will tie the knot on September 27, 2008.
By Jamey Giddens on April 24, 2008
Stock up on the Kleenex, or the barf bags, depending on how you feel about the couple, but at any rate Nelson Branco is reporting that May 7 is the last episode for Natalia Livingston's Emily Bowen Quartermaine Smith Cassadine on General Hospital. I guess the brain fart brought on by the Prince's tumor is starting to clear up, so Em can now join the Great Quartermaine Family Reunion in the Sky after one final dance with her most recent true love. I actually used to like the couple before they killed Emily, but this ghost/figment bit is as overplayed on daytime as amnesia and Who's the Daddy? I say good for Nikolas (Tyler Christopher). Maybe now he can focus on little whatshisname! Poor kid. First the Monkey Flu took him Mama off to wrestle in oil on The L Word, then his daddy would rather die of a brain tumor that lets him fantasize about his dead ex than see after him! Hey Em, tell AJ I said to go easy on the Tequila shots! Hey, you have your ideas about heaven and I have mine!
By Regan Cellura on March 20, 2008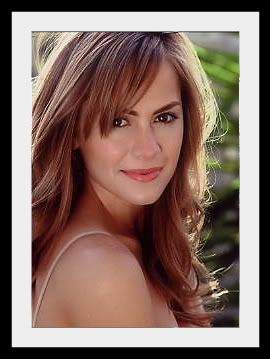 It's a Steve Burton Appearance but he's bringing some friends. One special friend in particular is Natalia Livingston as this will be around the time she will be exiting her role as Emily Quartermaine. Here's a way for fans to come say goodbye and wish Natalia well. Also joining them: Bradford Anderson (Spinelli), Derk Cheetwood (Max) and Young & the Restless Alum Scott Reeves who will entertain the fans.
The Details:

Saturday, April 26, 2008
Brokerage Entertainment Club
Bellmore, New York
516.785.8655 for more information
Sunday, April 27, 2008
East Hanover Ramada Inn
East Hanover, New Jersey
732.899.3900 for more information
By Kelly on February 04, 2008

"Got a little Captain in You?"
When I saw this on today's (02/04/2008) episode of GH all I could think was that Emily looked like one of Captain Morgan's hoes. Then she said that she appears in whatever Nik imagines he wants to see her in... So I guess Nik has a pirate whore fantasy??? Just curious...
(BTW... Sorry about the poor quality of the screen cap... It was a DIY job! )
By Regan Cellura on January 18, 2008
Once RUMORED to be the greatest love story ever told, the story of Nikolas and Emily, post Emily's death, is really not all that great. It seems that too many fans were upset over Emily's death to really get behind the current storyline which has Emily as a figment of Nikolas' imagination. When the RUMORS started, it seemed as Emily would be helping Nikolas not just with his illness but also on his quest to find her true killer. So far, Nikolas does not seem all that interested in finding out who killed his Fiance.
I've mentioned before that this storyline could be cut short due to the fan response. Also a factor, the ever present writer's strike. This was Robert Guza's story. The "greatest love story" was all his vision and without him, can GH carry it on? So far, it doesn't look like it. Throw in the always present RUMORS.... will Natalia re-sign with GH when her contract expires in May? Will she exit earlier than planned and throw Nikolas into Nadine's waiting arms? Will Helena re-surface with an alive Emily in-tow?
Nikolas does in fact have a brain tumor and it is most likely a genetic condition. RUMORS say Sam will also be tested for the same genetic marker. Could this kick off another storyline? Is Sam really a Cassadine?
Patrick wants to operate and Nikolas will refuse, he's afraid that removing the tumor means losing Emily. Nikolas may not have a choice though. RUMORS say Nikolas will be found unconscious and Patrick performs emergency surgery. Will Nikolas and Emily share a tearful goodbye while Nikolas is on the operating table?
What about finding Emily's killer? There will be a scene where Nikolas pays a visit to Jason and Sonny's office. What brings him to Sonnybucks? ZaCrazy confirmed he didn't kill Emily and if RUMORS are correct and Cooper Barrett is not the Text Message Killer, who else on the island would have killed Emily Quartermaine?
By Luke Kerr on December 19, 2007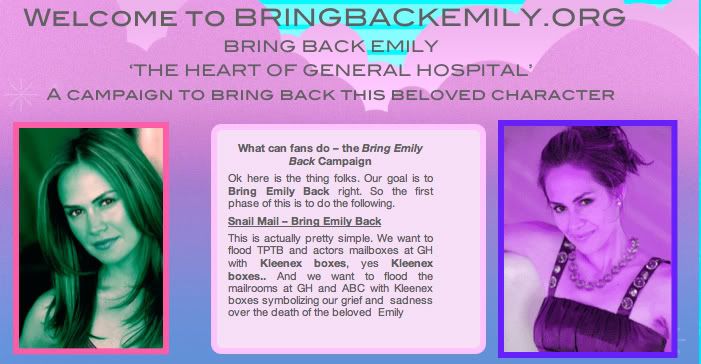 Fans of Natalia Livingston and Emily Quartermaine have lanched the "
Bring Back Emily Campaign
" and they are sending boxes of tissue to the executives at ABC and General Hospital. Be sure to check out their
website
for more details!
Thanks to Louis for the heads up.