Mick Hazen
By Luke Kerr on November 15, 2010
How's this for a family reunion? As The World Turn's Mick Hazen dropped in on a performance of former onscreen dad Michael Park's play Middletown November 11 at the Vineyard Theatre in New York City. Middletown wraps up December 5.
By Mark on September 19, 2010
As the World Turns has released a video with deleted scenes from the show's final episode. You can watch it after the jump. READ MORE
By J Bernard Jones on September 16, 2010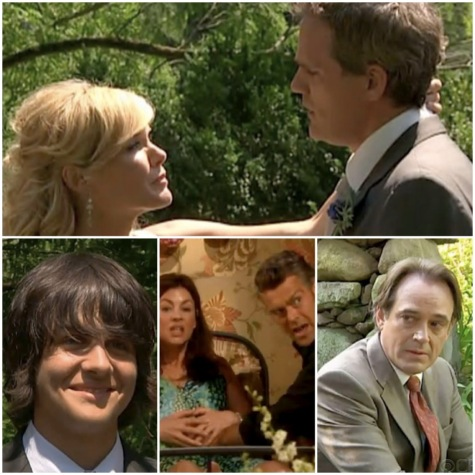 Several days ago, I posted an entry about the fallout from the death of Dr. Reid Oliver (Eric Sheffer Stevens) on As The World Turns. There were three central ideas in that piece. First, despite the very legitimate complaints that any given fan might have, ATWT is providing great human drama here at the end of its run. Second, Reid's tragic passing and donation of his heart to Chris (Daniel Cosgrove) encapsulated that goal mainly by thrusting the Hughes'— the show's core family since its very debut— front and center toward its conclusion. Third, given the soap opera wrapped production months ago, the idea of kicking a dead horse with unrelenting criticism isn't going to make it win the Kentucky Derby.
I have not budged one iota from any of those positions and I am about to incur the wrath of a whole lot more of you by making what I know will be a very controversial statement to many: I believe that in these final days, executive producer Christopher Goutman has made mostly the right decisions.
By Mark on September 09, 2010
After 54 seasons and one unforgettable journey As the World Turns comes to an end. Watch the series finale promo after the jump.
By Daytime Confidential on August 24, 2010
The Paley Center bid As the World Turns and its cast a fond farewell on August 18 in New York City. Executive producer Chris Goutman and head writer Jean Passanante were joined by ATWT stars Don Hastings, Kathryn Hays, Eileen Fulton, Colleen Zenk, Terri Colombino, Van Hansis, Trent Dawson, Mick Hazen and former ATWT star Austin Peck (pictured above). Former Guiding Light star Robert Newman also attended the event. See more photos from The Paley Center's As the World Turns fairwell after the jump!
By Nekeeta Borden on July 30, 2010
I dare to be different, march to the beat of the music I hear inside my head, and root for the underdog. Of course, even the soaps are not safe from my eccentric thinking. I have been thoroughly enjoying As the World Turns for the past few weeks and have some very strong, albeit potentially unpopular thoughts about what I would like to see before my "World" stops turning in September. Please be gentle with me and hurl only fresh tomatoes in my general direction. READ MORE