Michael Park
By Luke Kerr on September 06, 2010
This Week in Daytime,
I teared up at As the World Turns' tribute to Nancy Hughes (Helen Wagner). The episode contained so many wonderful flashbacks. I was in the midst of patting myself on the back for not letting it get to me when they began Nancy's Thanksgiving prayer and I knew I was a goner. Of course, that touching scene was immediately followed by Katie's (Terri Colombino) flashbacks of Nancy. I know each ATWT fan has their own fond memories, but there are three reasons I fell in love with ATWT and Oakdale. 1) I discovered ATWT because it was where my beloved Another World characters ended up. 2) I couldn't get enough of Jack (Michael Park) and Carly's (Maura West) on again/off again relationship 3). Katie and Simon's (Paul Leyden) romance–nurtured by Nancy–hooked me. Share your favorite Nancy Hughes moments in the comments. We miss you Helen Wagner.
By Nekeeta Borden on August 30, 2010
It is with heavy heart that I pen this review for my beloved
As the World Turns
. I still remember that autumn day nearly six years ago, when my college roommate regaled me with tales of CarJack's (
Maura West
and
Michael Park
) magnetic pull despite Jack's amnesia, and Jennifer and Gwen's (
Jennifer Ferrin
and
Jennifer Landon
) heart-wrenching saga over baby Johnny, and I've been hopelessly hooked ever since. As time winds downs, the loose ends of Oakdale's patchwork are being sutured together, some to my delight and others to my annoyed chagrin. Just like your favorite drunken cousin at Uncle Pookie's home going, I'm going to tell it like it is, grief and tender feelings be damned!
READ MORE
By Nekeeta Borden on July 30, 2010
I dare to be different, march to the beat of the music I hear inside my head, and root for the underdog. Of course, even the soaps are not safe from my eccentric thinking. I have been thoroughly enjoying As the World Turns for the past few weeks and have some very strong, albeit potentially unpopular thoughts about what I would like to see before my "World" stops turning in September. Please be gentle with me and hurl only fresh tomatoes in my general direction. READ MORE
By J Bernard Jones on July 01, 2010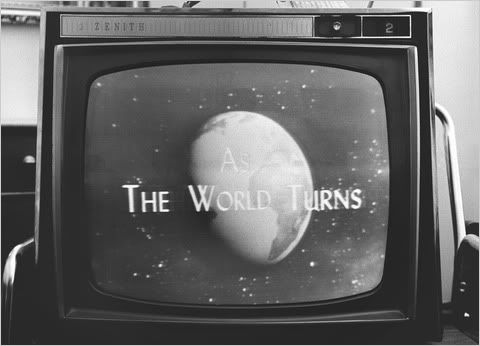 Wednesday, June 23, 2010 was the last production day for As the World Turns.
There seems to be no more appropriate time to begin the 54-year-old series' final reviews before the globe stops spinning on September 17.
This first entry in that effort actually is an overview of where I, as a reviewer & fan, see ATWT's standing first and foremost as a soap opera. The politics, recriminations, ratings analysis, and the business decisions leading to its demise are not my primary concern. Instead, I want to focus on the trials and shenanigans of Oakdale because, in my opinion, this venerable daytime serial — which once held the slot as the number one daytime drama for 20 years! — deserves no less. READ MORE
By Jillian Bowe on June 27, 2010
Congratulations to As The World Turns' Michael Park for winning the Daytime Emmy for Outstanding Lead Actor award. Bittersweet win for all ATWT fans and nice mention of the show. This is Park's first nomination for Outstanding Lead Actor and win. Park has been playing the role of Jack Snyder since 1997, and was nominated in 2001 for Outstanding Supporting Actor.
By Mike Jubinville on May 30, 2010
Couples face off and triangles heat up next week on
As the World Turns
. Carly (
Maura West
) tries to get Jack (
Michael Park
) to see things her way as Vienna (
Ewa Da Cruz
) confronts Henry (
Trent Dawson
) about his feelings for Barbara (
Colleen Zenk Pinter
). Luke (
Van Hansis
) has a confession for Reid (
Eric Sheffer Stevens
), but where will that leave Noah (
Jake Silbermann
)? Check out the promo after the jump.
READ MORE